Sat., Feb. 20, 2010
Kalitta Continues Early-Season Resurgence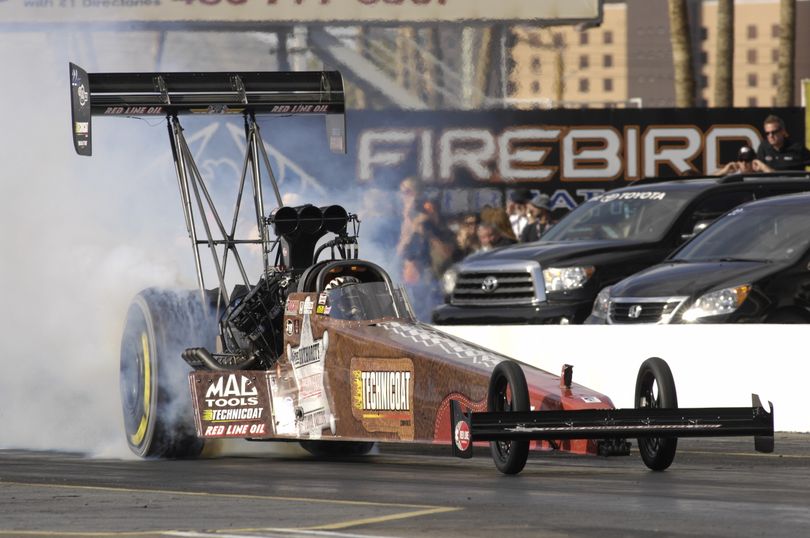 Kalitta finished runner-up to 2010 NHRA Full Throttle Funny Car season opening winner, Larry Dixon, last weekend in Pomona and is out to showcase a potential run for the championship in the division.
Courtesy: NHRA Media Relations
CHANDLER, Ariz. – Doug Kalitta continued his early-season resurgence Friday at Firebird International Raceway with a 3.825-second pass at 317.05 mph to earn the provisional No. 1 qualifying position in Top Fuel at the 26th annual NHRA Arizona Nationals.
The other provisional No. 1 qualifiers at the second of 23 races in the 2010 NHRA Full Throttle Drag Racing Series season were Matt Hagan (Funny Car) and Mike Edwards (Pro Stock).
Kalitta, who has five career top-3 finishes but hasn't finished higher than eighth place in the last three seasons, opened the 2010 season last weekend with a runner-up finish to Larry Dixon at the Kragen O'Reilly Auto Parts NHRA Winternationals presented by Valvoline. If he maintains the top qualifying position tomorrow in his Technicoat dragster, it would be the 29th of his career, but just his first since Pomona 2 2006.
"I wasn't sure you still did this (brought the No. 1 qualifier to the media center), it's been so long," Kalitta said, adding: "We were real hopeful that we would get a good run … conditions were good. I was real glad it held up."
In Funny Car, Hagan set the pace with his 4.068-second pass at 311.34 mph in his DieHard Dodge Charger R/T. It would be the third career No. 1 for Hagan, who was one of the top contenders for the 2009 Auto Club Road to the Future Award.
"I think it's definitely safe to say that we have pretty fast race car after being No. 1 in both sessions," Hagan said. "To have DieHard on the car makes it even sweeter. To go out there and be able to run for that company like that and get them the pole is huge."
In Pro Stock, defending Full Throttle Series champion Edwards earned the provisional No. 1 with a 6.609-second pass at 209.46 mph in his Penhall/Interstate Batteries Pontiac GXP. This would be Edwards' second straight No. 1 to start the 2010 season and his 11th straight dating back to 2009 when he finished with nine straight No. 1s.
"Eleven in a row would be pretty awesome," said Edwards. "Those are Greg Anderson stats right there. It's so hard to do that considering that we race in all kinds of conditions from 4,000 feet to sea level. Hat's off to my team."
Qualifying at the NHRA Arizona Nationals concludes with the third and fourth sessions on Saturday when the fields will be set for Sunday's final eliminations.
---
---