Sun., Feb. 28, 2010
Johnson Denies Teammate Gordon A Win, Gets Back-To-Back NASCAR Sprint Cup Series Victories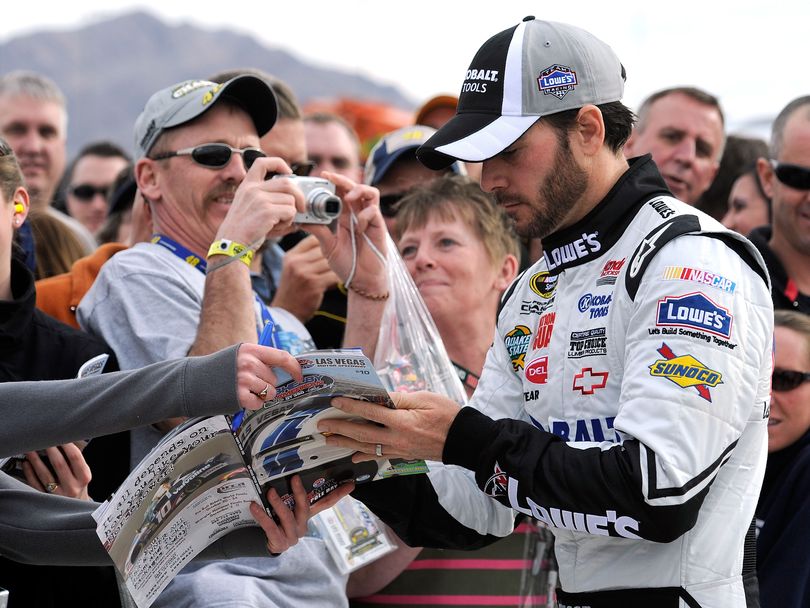 If fans and competitors thought that four-time NASCAR Sprint Car Series champion Jimmie Johnson would struggle in a drive for five straight titles his hot start this season has certainly proved otherwise.
Courtesy: NASCAR Media Relations
LAS VEGAS, NV. -- Jimmie Johnson has done it again. He played possum most of the day and then turned on the afterburner to pass teammate Jeff Gordon with just 16 laps to go and win the Shelby American NASCAR Sprint Cup race at Las Vegas Motor Speedway.
    Gordon led more than 210 laps of the 267-lap event before losing the lead to Johnson, who seems hellbent to win his fifth NASCAR Sprint Cup Championship before Gordon does.
    Johnson won last week at Auto Club Speedway and told members of the media leading up to Sunday's race he could care less about the people who think he's tainting NASCAR racing with his dominance.
   "You compete to win. I'm not gonna apologize for winnning," he said. "I want to win every race."
    While Johnson drove away for Sunday's victory, Kevin Harvick also passed Gordon for the runnerup spot. Gordon finished third ahead of fourth-place Mark Martin. And Matt Kenseth edged Joey Logano for fifth. Logano was sixth, a very impressive finish for the young driver. Tony Stewart was seventh, Clint Bowyer eighth, Kasey Kahne ninth and Greg Biffle 10th.
    Dale Earnhardt, Jr., continued his struggle to compete with the frontrunners by finishing 16th.
    On a sunny, gorgeous afternoon, hometown favorite and pole winner Kurt Busch led the field into turn one but Gordon went to the front shortly thereafter. Two laps weren't completed before the first caution flag waved. Rookie Kevin Conway lost control of his Ford and tapped the wall out of turn four.
    Gordon led on the restart at lap five. When the field settled in at 20 laps, Gordon was leading with the Busch Boys in tow. Newman was fourth with Earnhardt Jr. fifth. Rounding out the top 10 were Biffle, Stewart, Edwards, Montoya and Logano.
    Mike Bliss brought out the second caution flag on lap 46 when he got into the wall in turn four. Gordon beat everyone out of the pits to maintain his lead. The buzz all week had centered on speed with the track record being broken by Kurt Busch and numerous other drivers but Sunday's pace was slower than anticipated due to the sunshine.
     A caution light malfunction brought out another yellow flag right after the restart. The caution lights failed to shut off so NASCAR had to slow the field and fix the problem.
   In the process, Biffle took the lead with Gordon second. On the ensuing restart at lap 57, it was Biffle, Gordon, Kyle Busch, Kurt Busch, Kenseth, Edwards, Johnson, Earnhardt Jr., Stewart, Newman and Burton.
    Gordon quickly went to the front again. Kyle Busch took the top spot on lap 65, and Kenseth moved into second but Gordon was having none of that and went back out front on lap 67.
     By lap 70, last week's winner in California, Johnson, had moved from 20th starting position to third place behind teammate Gordon and Kenseth. 
    At 80 laps, Gordon still led with Kenseth and Johnson right behind. Biffle was fourth, Edwards fifth, Kyle Busch sixth, Stewart seventh, Burton eighth, Kurt Busch ninth and Earnhardt Jr. 10th.
    At lap 88, Hornish Jr. spun off turn four and complained to his crew his car was so loose he couldn't hang on to it. Johnson had a bad pit stop this round when his tire changer had a lug nut problem. He came in third and went back out sixth. Kenseth took the lead out of the pits with Edwards ahead of Gordon.
    At lap 93, after the restart, teammates Juan Pablo Montoya and Daytona 500 winner Jamie McMurray tangled, and Kurt Busch got caught up in it to bring out the fifth caution.
    On the restart at lap 97, Gordon recaptured the lead from Kenseth. Edwards was third. Gordon, at this point in the race, seemed to clearly have the fastest car. Another caution light malfunction prompted the sixth caution period of the day at 108 laps.
    The restart on lap 114 had Scott Speed in front briefly but Gordon sped past before they made a lap. Kenseth was next with Johnson third and Kyle Busch fourth. Burton was fifth.
   At the halfway point (133 laps), it was an all Hendrick Chevrolet race with Gordon leading and Johnson second, a battle of four-time champions. Kenseth was third in a Roush Ford.  Two Childress Chevrolets were running fourth and fifth, Burton and Harvick. Kyle Busch, the defending race champion, was sixth. Rounding out the top 10 were Stewart, Martin, Kahne and Logano. Earnhardt Jr. was 11th.
---
---