Sun., Feb. 28, 2010
Pit-road Woes Can't Keep Harvick From NASCAR Nationwide Win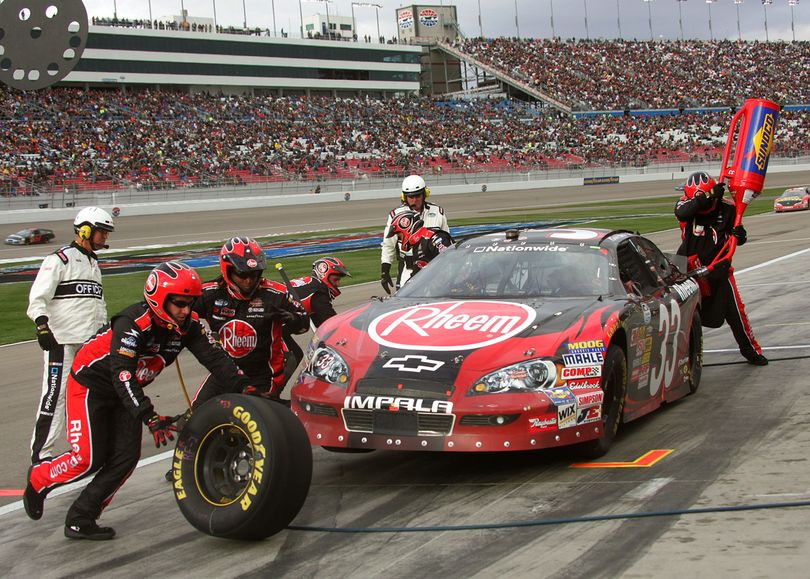 Kevin Harvick overcame some pit road miscues over the course of a day filled with threating weather to pick up his 35th NASCAR Nationwide Series victory of his career.
Sporting News NASCAR Wire Service
 
LAS VEGAS
— The best car in the Sam's Town 300 finally got to the front — just in time to win the race.
Frustrated by slow stops on pit road and a variety of different tire strategies on the part of his competitors, Harvick passed Denny Hamlin for the lead with 25 laps left in Saturday's race at Las Vegas Motor Speedway and pulled away to beat Hamlin by 1.361 seconds.
The victory was Harvick's first of the season and the 35th of his career, second best all-time in NASCAR's Nationwide Series.
Carl Edwards ran third, polesitter Brad Keselowski fourth and Brian Vickers fifth. Trevor Bayne, Justin Allgaier, Paul Menard, Greg Biffle and Steve Wallace completed the top 10. Danica Patrick fell out of the race after a crash on Lap 83 and finished 36th in her final NASCAR race before returning full-time to the IndyCar Series.
Fortunately for Harvick, his No. 33 Chevrolet had enough muscle to overcome what crew chief Ernie Cope termed the team's "worst day ever" on pit road. Harvick lost spots on every exchange of pit stops.
"The car was really fast," said Harvick, who led a race-high 82 laps, most of them early in the race before getting burned by the lackluster work in the pits. "We've definitely got some work to do on pit road, but, fortunately, the car was fast enough.
"I get mad, and they (the crew) know how I am and what I expect of them. … But you can only gripe about it so long, and then you have to go back and drive the car."
Kyle Busch led 43 laps and was chasing Harvick and Hamlin during the final 25-lap green-flag run before contact with the wall in Turn 2 slowed his progress and dropped him to 16th at the finish. Busch, however, had the strongest car at the midpoint of the 200-lap race and led Vickers by 3.537 seconds when NASCAR yellow-flagged the race for the fourth time on Lap 104 because of a light rain shower.
That caution came 21 laps after Patrick's No. 7 Chevrolet slammed into the outside wall, thanks to contact from Michael McDowell's Dodge. Patrick, who pitted for fuel on Lap 17 and ran as high as third during a cycle of green-flag stops, had returned to the track with fresh tires and was closing quickly on McDowell, who was logging laps after blowing a tire and hitting the wall on Lap 16.
As Patrick ducked to the inside to make the pass, McDowell turned down and took away her line.
"Holy (expletive)! He (expletive) turned down," Patrick fumed on the radio right after the wreck. "He's got a broken rear bumper, and he's (expletive) trying to race!"
McDowell took full responsibility for the incident, which relegated Patrick to a 36th-place finish in her final Nationwide race before her scheduled return to the series at New Hampshire in June.
"It was completely 100-percent my fault," McDowell said. "The closing rate was so much, there just wasn't much time to make a decision."
Note:
Edwards retained the series points lead by 41 over second-place Keselowski, 48 over Vickers in third and 56 over Allgaier in fourth.
---
---