Wed., Jan. 27, 2010
Force Cars Fast In NHRA Pre-Season Testing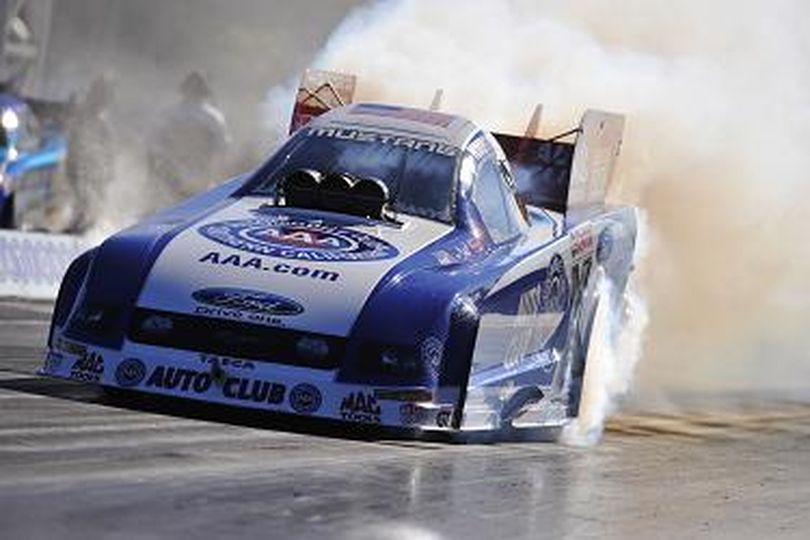 John Force Racing's Funny Cars have shown the strongest runs in pre-season testing being held in Phoenix, AZ this week. Robert Hight, defeding NHRA Full Throttle Funny Car champion, led the three car team and all participants with a 4.05-sec. pass at over 310 mph.
Courtesy: NHRA Media Relations
FORCE CARS FAST IN TESTING; BERNSTEIN TOPS CHARTS IN TOP FUEL IN PHOENIX: The John Force Racing Funny Car trio, led by defending NHRA Full Throttle Drag Racing Funny Car champion, Robert Hight, showed strong runs as pre-season testing continued through the weekend and into Monday at Firebird International Raceway in Phoenix. Hight's Auto Club Ford Mustang clocked a 4.05-second run at over 310 mph to wrap up Monday's test session, with both teammate Ashley Force Hood and team owner John Force posting times just under the 4.10-second mark. "It was perfect timing for that run because it was the first run with the 2010 Mustang body," said Hight. "I knew it was a good run. It felt good the whole way. It was cool to hear the excitement of the guys on the radio. We have a pretty good baseline going into Pomona." The Force team was joined by fellow Funny Car drivers Tim Wilkerson, Bob Tasca and Cruz Pedregon during the weekend test session. In Top Fuel, Brandon Bernstein took advantage of the warm weather and clear skies Sunday as he drove his newly painted Copart dragster to a 3.873-second run to lead the class. Bernstein was joined in the test session by Top Fuel pilots Doug Foley and Troy Buff.
COPART, INC. NAMED OFFICIAL ONLINE VEHICLE AUCTION OF NHRA: NHRA announced this week that Copart, Inc., a leading provider of vehicle auction services, has been named the Official Online Vehicle Auction of NHRA. The agreement follows Copart's designation last September as the primary sponsor of Kenny Bernstein Racing's Top Fuel dragster driven by Brandon Bernstein. The comprehensive official sponsor program in place with NHRA will complement Copart's team sponsorship with KBR to maximize exposure. As part of the official sponsorship, Copart will have a major presence as all 23 NHRA Full Throttle Drag Racing Series events through trackside signage, public address announcements, an inflatable at the top end of the race track, and big screen advertising spots. Besides pit-side hospitality with the team, Copart intends to engage in additional corporate hospitality at many of the national events.
FOUR-LANE RACING TO BE SHOWCASED IN FULL THROTTLE SERIES DURING INAUGURAL NHRA FOUR-WIDE NATIONALS AT ZMAX DRAGWAY: For the first time in NHRA national event history, qualifying and eliminations for Top Fuel, Funny Car, Pro Stock and Pro Stock Motorcycle at an NHRA Full Throttle Drag Racing Series event will be conducted four-wide instead of two. The inaugural NHRA Four-Wide Nationals is scheduled for March 25-28 at zMAX Dragway near Charlotte, N.C. "We had so much positive feedback from our fans and drivers after the four-lane exhibition last September that we were comfortable adding this unique twist to an official NHRA national event," said Tom Compton, president, NHRA. "Once again, NHRA will be making history at zMAX Dragway. With all four of our Full Throttle Series categories competing in four-wide racing it will certainly be a spectacular event to see."
"Watching these nitro cars thunder four-wide down the world's only four-lane concrete strip is exactly what we had in mind when we built zMAX Dragway," said Bruton Smith, chairman and chief executive officer of Speedway Motorsports and creator of zMAX Dragway. "We're making history with horsepower at the Bellagio of drag strips and race fans will be treated to a competition unlike any thing that's ever been seen before. This will blow them away."
The rules for the NHRA Four-Wide Nationals at zMAX Dragway will be as follows:
 *Qualifying will be conducted using four lanes
 *Each category winner will be determined in three rounds of eliminations
 *The two drivers to cross the finish line first in each of the four first rounds of eliminations will advance to the second round
 *The two drivers to cross the finish line first in each of the two second rounds of eliminations will advance to the final round
 *Each final round will feature four drivers in each category, and the single driver to cross the finish line first in the final will be declared the winner of the race, the second runner-up and so on.
HE SAID, SHE SAID

A CHANCE FOR REDEMPTION: Funny Car driver Tim Wilkerson, who participated in the four-wide exhibition event held at the 2009 NHRA Carolinas Nationals at zMAX Dragway, on racing four-wide again at the Inaugural NHRA Four-Wide Nationals, March 25-28 at zMAX Dragway: "The whole thing was a gigantic hit, with the fans and the racers, and it was really fun to be a part of it. Unfortunately, we missed on our tune-up a little, over there in one of the two lanes that hadn't been run on, and we came in last. Now we have a chance to make up for that, and this time it will count."
INSIDE THE NUMBERS
2006: That's the year that Melanie Troxel earned her first NHRA Full Throttle Drag Racing Series win in Top Fuel at the 2006 NHRA Winternationals. Troxel then set an NHRA record for the most consecutive final rounds to start a season (5), with one of those being a second career win (Las Vegas 1). But it all began with her first win at the NHRA Winternationals. Troxel is set to return in the Funny Car class at the 50th annual Kragen O'Reilly NHRA Winternationals.
DID YOU KNOW…

…that seven-time NHRA Full Throttle Drag Racing Series Top Fuel world champion Tony Schumacher added yet another impressive credential to his list last week when he was named the 2009 Speed Performer of the Year. Schumacher was presented with the Mario Andretti Trophy for his accomplishment and edged out NASCAR champ Jimmie Johnson and Superbike rookie Ben Spies to become the first NHRA recipient of the prestigious trophy.
COMING ATTRACTIONS
KRAGEN O'REILLY NHRA WINTERNATIONALS, AUTO CLUB RACEWAY AT POMONA, Feb. 11-14: The 2010 NHRA Full Throttle Drag Racing Series will kick off in sunny Southern California with the 50th anniversary of the Winternationals. Defending event winners include Doug Kalitta (Top Fuel); Ron Capps (Funny Car); and Jason Line (Pro Stock).
NHRA ARIZONA NATIONALS, FIREBIRD INTERNATIONAL RACEWAY, Feb. 19-21: The traditional second stop on the NHRA Full Throttle Drag Racing tour, competitors will head to the Valley of the Sun for the second race in the 2010 season. Defending event winners include Antron Brown (Top Fuel); Ron Capps (Funny Car); and Jeg Coughlin (Pro Stock). 
NHRA GATORNATIONALS, GAINESVILLE RACEWAY, March 11-14: The traditional season opener for the Pro Stock Motorcycle category, the NHRA Full Throttle Drag Racing Series heads to this historic event in the swamp lands of Florida. Defending event winners include Larry Dixon (Top Fuel); Bob Tasca (Funny Car); Jason Line (Pro Stock); and Hector Arana (Pro Stock Motorcycle).
---
---