Tue., March 2, 2010
Kopp and AMA Racing Featured on SPEED This Weekend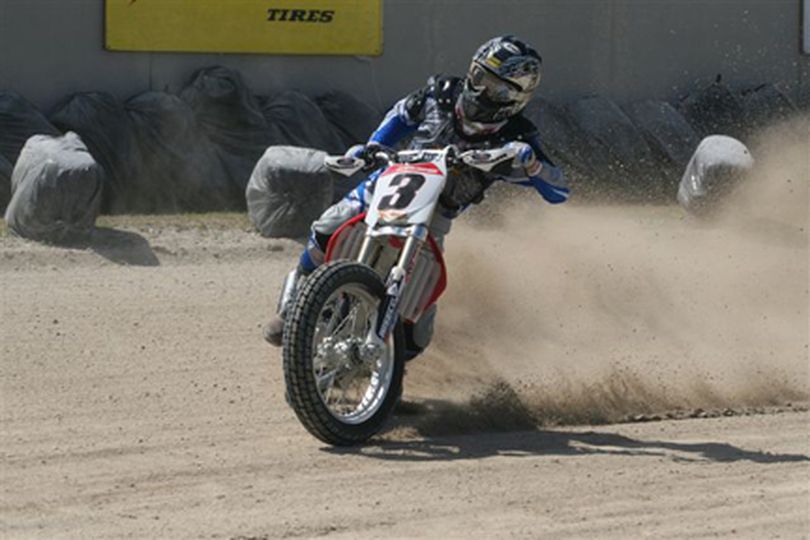 Spokane fans out to catch a glimpse of Mica's flat track ace, Joe Kopp, can tune into SPEED this weekend for AMA motorcycle action from Daytona International Speedway. Kopp is the defending winner of the race and will be out to show the nation his racing expertise.
Courtesy: AMA Pro Racing Communications
DAYTONA BEACH, FL- AMA Pro Racing and Daytona International Speedway are pleased to announce the Daytona Short Track National will air in high-definition Sunday, March 7th on SPEED at 6 p.m. ET.
Back-to-back Daytona Short Track Nationals will kick off the 2010 AMA Pro Flat Track Grand National Championship at the new DAYTONA® Flat Track on March 3rd and 4th. After traditionally being staged at Daytona Beach Municipal Stadium, the events now have a new home on a quarter-mile lime rock dirt track located in the West Lot outside NASCAR Turns 1 and 2.
The one hour show will feature highlights from March 3rd with coverage of the March 4th race.  The Daytona Short Track Nationals have a tradition as two of the most difficult nationals of the year just to make the main events, as over 300 entries are expected over the two days. Speed will capture the excitement and thrills of handle bar to handle bar action on the ultra fast quarter-mile track. 

Henry Wiles will make his first appearance of the year carrying the No. 1 plate on his Kawasaki 450 after winning the 2009 AMA Pro Grand National Expert Singles division. Defending Pro Singles National Champion Brad Baker will make his debut on a Honda 450 carrying the No. 1 in the Pro Singles National. 

"We are thrilled that our season opener on the new DAYTONA® Flat Track will be on SPEED," AMA Pro Racing Director of Flat Track, Mike Kidd said. "This is a great opportunity for our fans, riders, teams and sponsors to showcase one of the most exciting forms of motorcycle racing in the country."

SPEED™ is the nation's first and foremost cable television network dedicated to motor sports and the passion for everything automotive. From racing to restoration, motorcycles to movies, SPEED delivers quality programming from the track to the garage. Now available in more than 79 million homes in North America, SPEED is among the fastest-growing sports cable networks in the country and, the home to NASCAR on SPEED and an industry leader in interactive TV, video on demand, mobile initiatives and broadband services. For more information, please visit SPEEDtv.com, the online motor sports authority.
AMA Pro Racing is the premier professional motorcycle racing organization in North America, operating a full schedule of events and championships for a variety of motorcycle disciplines.  Learn more about AMA Pro Racing at www.amaproracing.com.
---
---