Fri., March 12, 2010
Ashley Force Hood fights 'female driver' tag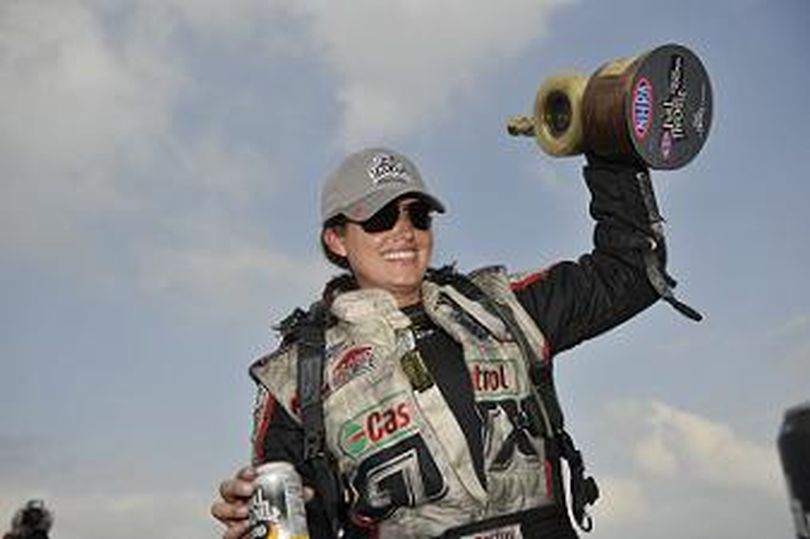 NASCAR has gone to great lengths to create a hystery for Danica Patrick's arrival to the Nationwide Series while NHRA Full Throttle Funny Car driver, Ashley Force Hood, works just as hard for acceptance in her sport on an equal playing field with her male competitors.
Courtesy: NHRA Media Relations
Gainesville, FL-While NASCAR tries desperately to characterize Danica Patrick as the best female driver in modern-day stock car racing, Ashley Force Hood is trying just as hard to escape such labeling in an NHRA Full Throttle Drag Racing Series that moves this week to Gainesville Raceway for the 41st renewal of the Tire Kingdom Gatornationals.
Although she has been remarkably successful in her first three pro seasons, earning 2007 Rookie-of-the-Year honors, becoming the first woman to win an NHRA Funny Car event as well as the first to drive a Funny Car to victory in the Mac Tools U.S. Nationals, Force Hood even now is reluctant to fully embrace her female celebrity.
"I really think the whole gender thing is kind of old news," said the daughter of 14-time NHRA Funny Car Champion John Force.  "We have a lot of women in our sport who have won races and championships.  I was born a female.  I had no control over that.  Otherwise, I'm just another driver trying to improve and become more competitive, just like everyone else.
"I'm a female driver, but I'm backed up by a crew of 10 guys," she said of her success at the wheel of a Castrol GTX Ford Mustang in which she set the current national speed record at 312.13 miles per hour.  "They're the ones who have made it possible for me to develop and made me look probably better than I really am.  As the only female (on the team), I get a lot more credit and attention than I probably deserve.
"Now if we had an all-girl crew with a female driver, that would be something to talk about.  I think someday that will happen."
As for Danica's bid for stock car racing success, Ashley is supportive, if not that knowledgeable.
"I think a lot of people want a rivalry between us and want me to root against her," Ashley said of the driver who now is concentrating her efforts on open wheel racing after making a couple of starts in NASCAR's secondary Nationwide Series. "Honestly, I don't know that much about the racing that she does.  I really only pay attention to drag racing.
"I've met her only a couple times," Ashley continued.  "Before I got married, we were both at an event for our sponsors.  She came over and introduced herself and was asking me how the wedding plans were going, such the opposite conversation I'm sure most people would think two women race car drivers would have.  It was just neat.  I only talked to her for a few minutes.  She's very nice.
"I think for any driver, whether male of female, it's tough in motor sports.  It's not an easy thing to win races and I know the pressure is put on a lot of new drivers, so I support her.  I hope she does well."
As for Ashley's own career, it no longer is a subject of skepticism.
After failing to win as a rookie, she earned a breakthrough victory at Atlanta in 2008 and last year had a breakout season, winning twice in eight final round appearances, finishing second in points behind teammate and brother-in-law Robert Hight and starting from the No. 1 qualifying position a category-best six times.
That performance established the 27-year-old graduate of Cal State-Fullerton as one of the pre-season favorites to win the Full Throttle championship that has gone to a John Force Racing driver 16 times in the last 20 seasons.
After a slow, though certainly not disastrous start to the 2010 season, Ashley is hoping to jump start her title bid on a Gainesville track on which she has won before, although not in a Funny Car.  
In 2006, her final year behind the wheel of an A/Fuel dragster prepared by Jerry Darien, the former high school cheerleader won the Top Alcohol Dragster championship at Gainesville Raceway on the same day her dad was the Funny Car runner-up.
---
---