Wed., March 24, 2010
NHRA Full Throttle Drag Racing Series Prepares To Go Four-Wide At zMAX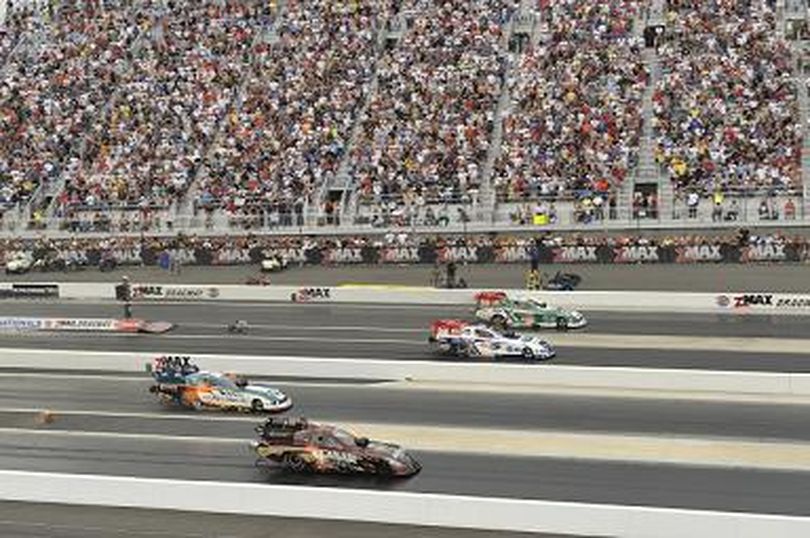 For the first time in a points race on the NHRA Full Throttle Drag Racing Series will be held on the four-lane zMAX Dragway in Charlotte, North Carolina. Last season Top Fuel and Funny Car teams staged the first-ever race four-wide for fun-this weekend event carries much more prestige.
Courtesy: NHRA Media Relations
CONCORD, N.C. – In the classic movie "Hoosiers," the small-town basketball coach pulled out his tape-measure to show his underdog players that even though they were competing for the state title in a massive arena, the basket was still set at 10 feet and the general fundamentals of the sport remained the same.
The same theory is basically true for NHRA Full Throttle Drag Racing Series teams that will enter a somewhat unfamiliar realm at the spectacular zMAX Dragway March 25-28 during the inaugural NHRA Four-Wide Nationals. The unique race will be the first in NHRA history where teams will compete in four lanes instead of the traditional two.
If you watch closely, you may see some crew chiefs and team owners with their tape measures in hand, giving similar pep talks to their drivers. The lanes will still be approximately 30 feet wide. Top Fuel and Funny Car racers will have a set competition distance of 1,000 feet, and Pro Stock and Pro Stock Motorcycle teams will race to a quarter-mile finish. Amber lights. Green light. Win light.
All of the basic rules of drag racing will be in place.
It will just be double the fun. Four cars will roll to the starting line for each round instead of two. Four cars will perform their burnouts side-by-side-by-side-by-side. Four cars will launch in each qualifying session and elimination round. Aside from a few differences in protocol during the lane-choice process, everything will be business as usual.
For the driver, once he or she is strapped in and performs the burnout, it will be Drag Racing 101 all the way. Drivers always say they race the track, focus on their lane, and never what their opponent is doing. In this case, it will be opponents.
Top Fuel driver Brandon Bernstein, who pilots the Copart/Lucas Oil dragster, says the inner-focused mental game plan required to be successful at this event is easier said than done, given all the moving parts. But that's how he's going to approach the weekend.
"Basically from inside the cockpit, my job is the same," Bernstein said. "However, you have the added challenge of trying to concentrate on what three other drivers are doing instead of just one. It will be easy to become distracted with a lot going on during the staging process so focusing on my Christmas tree and my lane will be my objective."
Though the driver will try to stick to his or her general pre-race routine, the experience for the fans in the grandstands will be anything but routine. Four Top Fuel dragsters or Funny Cars blasting down the dragstrip simultaneously will be an amazing spectacle for all to witness throughout the entire weekend.
"With two 8,000-horsepower nitro-breathing dragsters or Funny Cars on the ready line, it's bone-rattling, but with 32,000 horsepower on the starting grid, it's pretty indescribable," Bernstein said. "This track is one of the finest facilities there is, and this is the only drag strip where four-wide racing can be contested as we speak today. It is going to be a real fan sensory overload, and we're excited that we're going to be on-site for this historical occasion."
Bernstein was one of four Top Fuel drivers who participated in a four-wide exhibition race during last season's NHRA Carolinas Nationals in September.
"We have an idea of what to expect," Bernstein said. "We'll get to 'warm up' with some qualifying runs, so that will give us more time to adjust.  I think it will be pretty awesome for the fans."
• FOUR-WIDE RULES BREAKDOWN: Lanes will be identified from left to right facing downtrack as 1-4; Qualifying sessions and elimination rounds will be conducted using all four lanes; The standard Friday qualifying procedure of a top 12 format will not be in use at this event; Two Christmas trees will be in use, one between each pair of lanes; The Compulink Autostart system will continue to be utilized and it will not activate until all four vehicles are pre-staged and one vehicle has staged; The ladder structure will feature Race A: qualifiers 1, 8, 9, 16, Race B: qualifiers 4, 5, 12, 13, Race C: qualifiers 2, 7, 10, 15, and Race D: qualifiers 3, 6, 11, 14 ... Race A and Race B will be on one side of the ladder, while Race C and Race D will be on the other; Lane choice for eliminations goes to the driver with the quickest E.T., then the second-quickest, and so on; The first two drivers in each elimination round to cross the finish line advance to the second round and final; In the final round, teams will finish in the order they cross the finish line (barring any red-light starts).
• SCHEDULE: Full Throttle Series qualifying sessions are scheduled for 1:15 and 3:45 p.m. on March 26 and 11:45 a.m. and 2:15 p.m. on March 27. Final eliminations begin at noon on Sunday, March 28.
• ON TV: ESPN2 and ESPN2HD will televise two hours of qualifying highlights at 9 p.m. (ET) on Saturday, March 27. ESPN2 and ESPN2HD will televise NHRA Race Day, a 30-minute pre-race show, at 10 a.m. (ET) on Sunday, March 28. ESPN2 and ESPN2HD will televise two hours and 30 minutes of eliminations coverage beginning at 5 p.m. (ET) on Sunday, March 28.
• LUCAS OIL SERIES: The inaugural NHRA 4-Wide Nationals also will feature competition in six categories in the NHRA Lucas Oil Series, where the future stars of the NHRA Full Throttle Series earn their racing stripes. All Lucas Oil Series competition at this event will be conducted in the traditional two-lane format. Lucas Oil Series qualifying begins at 9 a.m. on March 25. Lucas Oil Series eliminations begin at 8:30 a.m. on March 26.
• ON THE WEB: Get live timing, scoring, multimedia and the latest news updates from every NHRA Full Throttle Drag Racing Series event on the Internet at www.nhra.com
---
---