Mon., March 29, 2010
Evergreen Speedway Champion Picks Up Win At ASA Northwest Late Model Tour Opener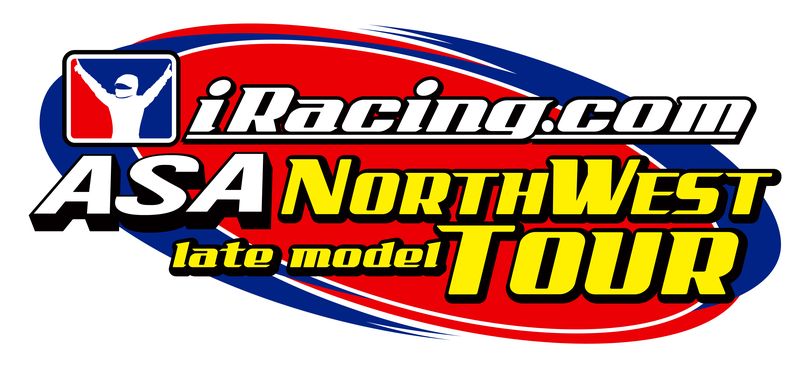 Two time Evergreen Speedway champion, Naima Lang, wins season opening event on the ASA Northwest Late Model Tour which makes a stop at Stateline Speedway in June.
Courtesy: Scott Ellsworth, ASA NWLMT Media Relations
 Marysville, WA (March 29, 2010): The first race of the 2010 season for the iRacing.com American Speed Association Northwest Late Model Tour had a first ever winner. Naima Lang (Snohomish, WA) followed up his last 2 in a row late model championships at Evergreen Speedway by winning the 'Season Opener 125' at his home track. Two other locals filled out the top three. James Mugge (Everett, WA) was second. Third place finisher was tour regular Kelly Mann (Monroe, WA).
Lang showed his knowledge of running on the big 5/8-mile oval by passing his friend Jason Fraser on lap 69 of the 125 lap feature. After gaining the lead Lang was able to quickly open an insurmountable lead. Fraser tried to stay with Lang to no avail. The only time that Lang's chances at a win were in jeopardy was when there was a restart with five laps to go. Fraser's car had a mechanical problem and ending his night early by oiling down the track. With the clean up completed, the restart had Mugge and Lang side by side with Mann directly behind. Lang used his knowledge by pulling off the perfect start and was never headed as he cruised to that first victory.
"I know this track better than the back of my hand. We had a great setup. I never thought I would ever win a tour race" said a smiling Lang on the victory podium.
The race only had three cautions with long green flag runs in between. This type of race fell into the hands of those driving crate motor powered cars.
Next up for the iRacing.com ASA Northwest Late Model Tour is a first stop at Southsound Speedway in Rochester, WA on Saturday May 1, 2010.
For more information contact ASA NWLMT at 253-312-1080 or Southsound Speedway at 360-858-1464.
iRacing.com ASA Northwest Late Model Tour
Official Order of Finish - 'Season Opener 125' - 5/8-mile oval
Evergreen Speedway – Monroe, WA - 3/27/2010
Fast Time: Kelly Mann (Monroe, WA) – :22.731
Trophy Dash: Jason Fraser (Snohomish, WA)
125-lap feature: 1-Naima Lang – 125 – Snohomish, WA; 2 - James Mugge – 125 – Everett, WA; 3 - Kelly Mann – 125 – Monroe, WA; 4 - Jeff Knight – 124 – Monroe, WA; 5 - Mike Holden           - 124 – Snohomish, WA; 6 -         Harold Raczynski – 121 – Duvall, WA; 7 - Jason Fraser – 120 – Snohomish, WA; 8 - Shane Harding – 120 -  Langley, BC; 9 - Darrell Midgley – 88 – Victoria, BC; 10 - Joey Tanner – 70 – Portland, OR; 11- Jay Sauls – 59 – Puyallup, WA; 12 - Bobby Baker – 53 – Wallula, WA; 13 - Brent Harris – 34 – E. Wenatchee, WA; 14 - Tim  Minister - 16 – DNS - Pete Harding – 0 – Surrey, BC
---
---