Mon., March 29, 2010
Harraka Maintains Momentum-Picks Up Where Leaving Off 2009 With All-American Speedway victory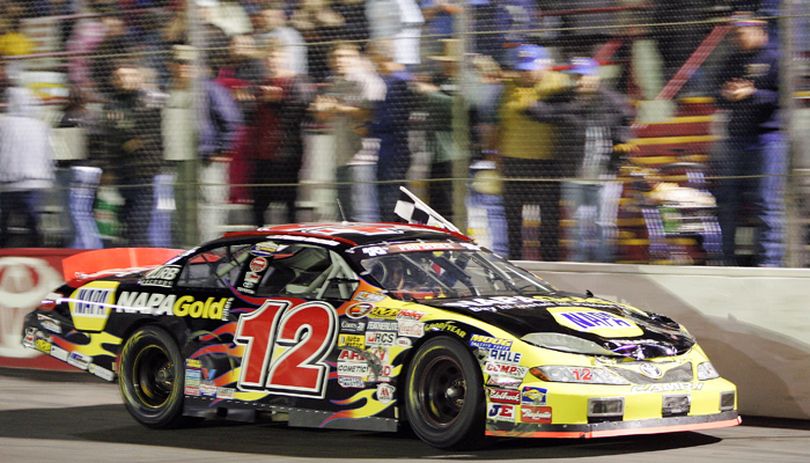 Paulie Harraka was part of a historic NASCAR evening as K&N Filters kicked off their sponsorship of the NASCAR West Series in grand fashion at All-American Speedway located in Roseville, CA just outside of Sacramento.
Courtesy: Kevin Green, NASCAR Public Relations
ROSEVILLE, Calif. – Paulie Harraka did not allow time away during the off-season to slow his momentum in the NASCAR K&N Pro Series West. He closed out 2009 with a victory at All American Speedway and he kicked off the 2010 championship campaign with a victory there – winning the Toyota/NAPA Auto Parts Bonus Challenge at the .333-mile fairgrounds track in Roseville, Calif., on Saturday night.
The 20-year-old driver from Wayne, N.J., faced plenty of competition again this time as Jonathon Gomez mounted a fierce challenge – with the two young drivers swapping the lead and going wheel-to-wheel on many occasions. Harraka edged Gomez in a two-lap dash to the finish, after a late-race caution led to a green-white-checkered finish.
"Tonight was old school short track racing at its best," said Harraka, who won $8,100 in prize money and posted awards. "Right from the beginning, the racing was tight and doors were banging. Fortunately for us, NAPA has the toughest parts you can buy, so we were able to hold everyone off and bring this one home," he said of his No. 12 NAPA Gold Filters Toyota.
He admitted, however, that there was plenty of drama with the last restart.
"When the final caution came out, things were pretty tense over the radio," he said. "I asked the crew to be as quiet as possible so I could focus. My Toyota Camry jumped off the starting line, which was really important. As soon as I heard my spotter say "clear by one (car length)," I knew the win was ours."
The win by Harraka, his third career series victory overall and his third win in four championship races going back to last season, capped off a big day for the NASCAR Diversity driver program. Earlier, another member of the Diversity program, Darrell Wallace Jr., became the first African-American to win in series history by taking the victory in the NASCAR K&N Pro Series East race at Greenville (S.C.) Pickens Speedway.
With their victories, both drivers secured a spot in the NASCAR Toyota All-Star Showdown following the 2010 season.
Harraka started from the pole at Roseville, after turning in a fast time of 87.198 mph earlier in the day in qualifying. It marked his third career pole – with all three coming at the Northern California track he adopted as his home track while racing his way to a championship in the NASCAR Whelen All-American Series Late Models several years ago.
"I still can't believe we qualified on the pole by that much," Harraka said. "We were one of the earlier cars to hit the track, so I went up to the spotter's stand with my crew chief to watch the rest of the cars go out. What a nail-biting thing to go through."
Harraka and Gomez, who started alongside on the front row, swapped the lead of the race four times, with Harraka leading 125 of the 160 laps.
He won by a margin of .569 seconds, with Gomez of Twin Falls, Idaho, shadowing him in the No. 22 Heritage Cattle/Century Boatland Chevrolet. Series rookie Josh Combs of Sacramento, Calif., made his first start championship series race a successful one by finishing third in the Grape King/Sunrise Ford/Lucas Oil Ford. Gary Lewis, a multi-time champion in the former NASCAR Northwest Tour, also had great results in his first NASCAR K&N Pro Series West race – with a fourth-place finish in the SEFNCO Communications/Montana Raceway Park Chevrolet. David Mayhew of Atascadero, Calif., recovered from two incidents to finish fifth in the MMI Services/Ron's Rear Ends/KHI Chevrolet. Rounding out the top 10 were Luis Martinez Jr., Greg Pursley, Travis Milburn, Moses Smith and Blake Koch.
Eric Holmes, who was shooting for a third straight win in the Roseville event, tangled with a lapped car and finished 17 laps off the pace in 21st position.
The pace of the race was slowed by just four cautions for 36 laps.         
The Toyota/NAPA Auto Parts Bonus Challenge, which will air on SPEED on April 8 at 6 p.m. ET., kicked off the 2010 season for the NASCAR K&N Pro Series West.
The next event on the schedule is the Jimmie Johnson Foundation 100 at Phoenix (Ariz.) International Raceway on April 8.
---
---