Tue., March 30, 2010
Lewis Has Successful NASCAR West Series Debut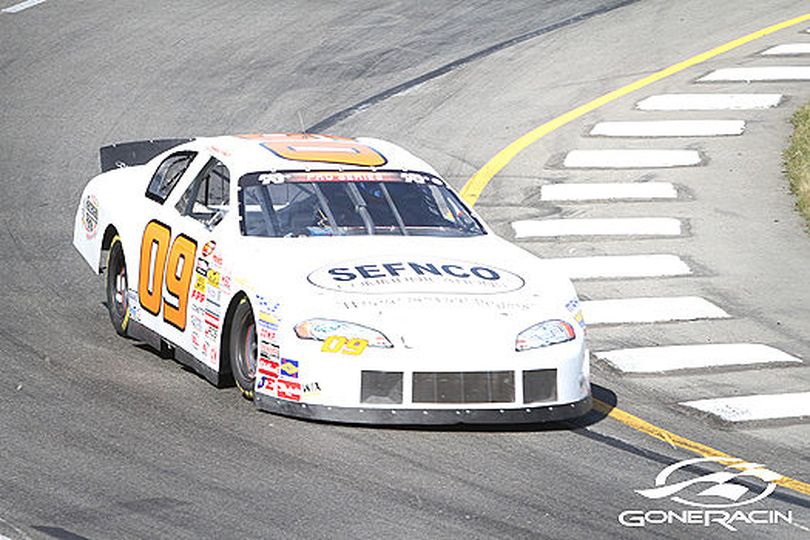 Three-time Idaho and Montana 200 champion, Gary Lewis, advanced from his 15th place starting position to close his debut on the NASCAR K&N Pro Series West with a top-5 run.
Courtesy: Gary Lewis Racing LLC
SNOHOMISH, Wash. (March 29, 2010)-For the first time in over 16 years Gary
Lewis jumped behind the wheel of a race car and found rookie stripes
across the back. At the conclusion of the season-opening Toyota/NAPA Auto
Parts Bonus Challenge for the NASCAR K&N Pro Series West the four-time
late model touring champion demonstrated that the status might be short
lived.

Utilizing just over 30 minutes of practice in an available 90 minute
session, Lewis drove his No. 09 SEFNCO Communications Chevrolet to the
front and captured a fourth place finish in his series debut.

Quite an accomplishment for his first visit to All-American Speedway in
Roseville, Calif., site of Saturday's event and for the first time sitting
in the Midgley Motorsports short track Monte Carlo.

"I would like to thank Midgley Motorsports for giving me the opportunity
to race in this event," Lewis said. "Practice was a bit of a mess as we
had some brake issues. The rear wheels would go into a violent wheel hop
when I touched the brake pedal. We didn't find the problem until after
practice was done and over. After that I had no idea what we had and no
chance of setting the car up to my liking."

Once the green flag fell it did not take long for the Snohomish, Wash.
native to settle into a solid racing groove, he added.

"As the race went on I was just trying to adapt to what I had and learn
what to do with it. I was able to make (the race car) work but everything
had to be just perfect as we still had a very bad wheel hop under braking.
At about lap 125 I was wishing it was a 200-lap race because I was
starting to find my groove with the car."

Many in attendance were surprised by the performance Lewis gave in the
Montana Raceway Park Monte Carlo but one person who never doubted the
potential for success was the driver himself.

"I told the team to be ready for tech because after the race that's where
we would be. After practice I was not so sure of that with the problems we
had but thanks to my guys and everybody with Midgley Motorsports we were
able to work our way up to the front and get that fourth place finish,"
Lewis said.

Holding a top-5 points position in the driver standings on NASCAR's
premier development series was not at the front of Lewis' mind heading to
California. The potential to stay in that position is very real, he noted.

"Personally at this point in my career I'm just looking for new
challenges," Lewis explained. "I had a blast racing on the 1.5-mile track
in South Africa in this type of car and would love to keep going with the
NASCAR K&N Pro Series West if I had the opportunity.

"I love racing my late model and we have some serious talent in the
Northwest but I just want to try something new. I believe these type of
cars fit my driving style even better than the late models."

To have an opportunity to race in the West Series means getting regional
businesses behind the effort, Lewis noted.

"All of the things we were able to do on Saturday would not be possible
without the support of SEFNCO Communications, Montana Raceway Park and The
Sign Factory USA. The (NASCAR K&N Pro Series) West and East Series is
where I want to be. I know I can win races and compete if given the
chance."

Race day and package sponsorship is available for the 2010 season
supporting the Northwest's premier driver-–Gary Lewis. To learn more about
Gary Lewis Racing log onto www.garylewisracing.com or look-up Gary Lewis
Racing LLC on Facebook.
---
---