Sat., May 8, 2010
Hamlin holds off Kyle Busch for NASCAR Nationwide Series Darlington win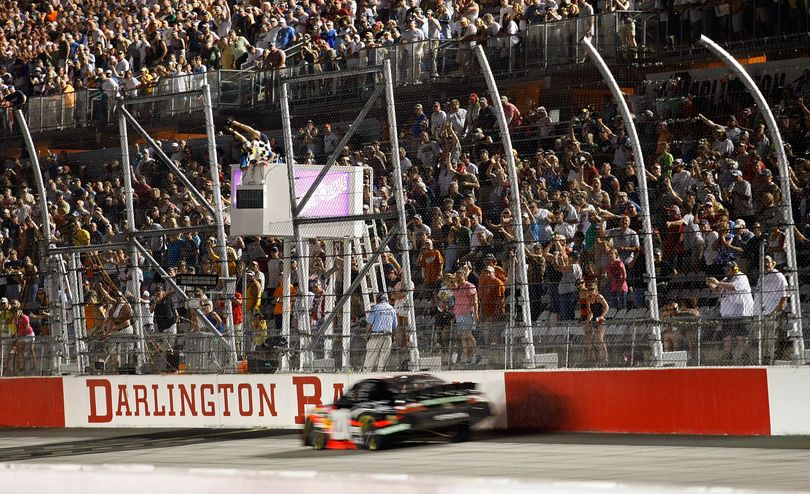 If Denny Hamlin's knee is bothering him, last night's strong run to victory at Darlington may have provided great medicine.
Sporting News NASCAR Wire Service
DARLINGTON, S.C.—Talk about a glutton for punishment.
Less than six weeks removed from ACL surgery on his left knee, Denny Hamlin opted for a weekend double at the track he considers one of the most grueling on the NASCAR circuit.
So far, so good. Staying out on old tires while other contenders came to the pits under caution on Lap 123, Hamlin held off teammate Kyle Busch, who also stayed out, to win Friday night's Royal Purple 200 Nationwide Series race at Darlington Raceway.
Hamlin led the final 63 of 147 laps in winning his 10th race in the series in his second start of the year. On Saturday night, he'll start eighth in the Showtime Southern 500 NASCAR Sprint Cup Series race.
"Great race car," Hamlin said in Victory Lane. "Congratulations to (crew chief) Kevin Kidd. This is his first win with Joe Gibbs Racing after taking over for Dave Rogers. When you have a car that drives as good as this one did today, it makes your job a whole lot easier."
Busch had a strong car but couldn't pass Hamlin on a succession of restarts late in the race. Busch pulled even with Hamlin to the inside entering Turn 1 on a restart with five laps to go, but Hamlin had momentum around the outside and gradually inched away to win by .625 seconds.
"If you don't get out first after the last pit stop, you're stuck," Busch said. "You just can't pass out there. It's just so aero-sensitive. You fight for track position here. That's all you can do. Tires don't mean a whole lot, but track position does."
All told, Hamlin led 111 laps and Busch 17. Jamie McMurray finished third, followed by Kasey Kahne and Jason Leffler. Carl Edwards, Brad Keselowski, Kevin Harvick, Brian Vickers and Paul Menard completed the top 10.
Hamlin's Friday schedule included a two-and-a-half-hour Nationwide practice session, starting at 8:30 a.m. ET, followed by two 90-minute Cup practices, qualifying in both series and, finally, the race.
"I knew it was going to be a challenge," Hamlin said. "I knew it was going to be a very, very long day. I tried to conserve as much energy as possible. I didn't run a ton of laps in Nationwide (practice). I didn't run a ton of laps in Cup.
"I was just trying to conserve some energy for (Friday night) and then for (Saturday). Having all day to rest tomorrow will help."
Keselowski holds a 55-point lead over Busch in the NASCAR Nationwide Series standings.
---
---