Mon., May 17, 2010
Dixon, Hight, Coughlin And Hines Pick UP NHRA Wins At Atlanta Dragway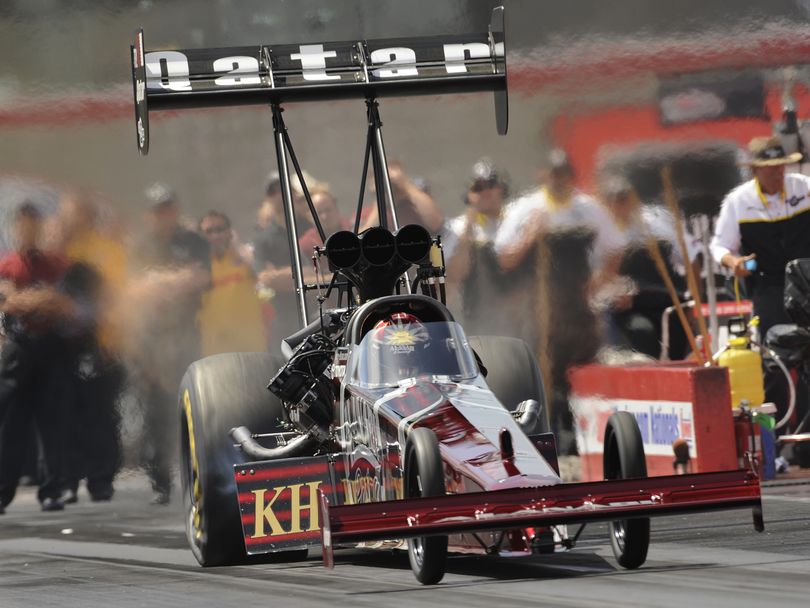 Larry Dixon continues to show the strong hand in the 2010 chase for the NHRA Full Throttle Drag Racing Series championship in the Top Fuel divison.
Courtesy: NHRA Media Relations
COMMERCE, Ga. – Larry Dixon tied Joe Amato for second on the NHRA Top Fuel wins list by racing to his 52nd career victory Sunday at the Summit Racing Equipment NHRA Southern Nationals at Atlanta Dragway.
Robert Hight, Jeg Coughlin and Andrew Hines also were winners in their respective categories at the eighth of 23 events in the NHRA Full Throttle Drag Racing Series.
Dixon powered his Al-Anabi Racing dragster to his fourth win of the season and increased his series lead by outrunning Brandon Bernstein in the final round. Dixon covered the race distance in 3.913 seconds at 311.49 mph, but ultimately didn't need the performance as Bernstein suffered a rare red-light start in his Copart/Lucas Oil dragster.
"[Brandon] took a shot at the Tree and went .003 red, but if he goes .003 green he has a chance to win the race," Dixon said. "He has a good car and if you get eight-hundredths on a guy, there's not eight-hundredths between our cars. We went up there with what we thought the track could take, and you have to hope it's enough, and today it was. The car was flawless; we had a really tight package. To have seven runs between an .86 and a .91 that's pretty stout, and then to have an .82 for the pole just adds to it."
Dixon beat Steve Torrence, T.J. Zizzo and rival Tony Schumacher in earlier rounds for his fourth Atlanta Dragway win. A strong student of NHRA history, Dixon is humble about tying five-time world champ Amato, a legendary figure in the sport.
"I feel the same way [about tying Amato] as I do against the other people I grew up looking up to: Unworthy," said Dixon, who now leads second place Cory McClenathan by 112 points as he works on earning his third world championship title.  "To be able to reach a number that [Amato] got ... well, I'm a few championships behind him still. The guys I looked up to didn't get 23 chances a year to win."
Defending Funny Car world champ Hight earned his second consecutive victory of the season, holding off recent Atlanta Dragway dominator Ashley Force Hood in the final round. Hight posted a winning run of 4.185 at 298.01 in his Auto Club Ford Mustang, while Force Hood's Castrol GTX Mustang trailed with a 4.232 at 297.48 in her third-consecutive event final.
"No matter what, we couldn't lose, it was going to be a Force win," said Hight, who beat Melanie Troxel, Tim Wilkerson and defending event winner Jack Beckman to advance to the final. "But to leave here 1-2-3 in points is pretty big right now, especially this early in the season. We were real happy with the way we finished last season and were looking forward to this year, but like last year we struggled again. We didn't get it turned around until Sunday morning in Madison when Jimmy Prock made a wholesale change to the car and we haven't looked back since. This Ford Mustang has been unbelievable all weekend. Jimmy definitely has a handle on the car; to run .18, .18, .19, and .18 again, that's unheard-of in these fuel cars."
John Force maintained his series lead despite a second round loss to the eventual runner-up. Force Hood and Hight are second and third in the standings respectively.
Coughlin became the fourth Pro Stock racer in NHRA history and the ninth in the Full Throttle Series to earn 50 victories when he outran Rickie Jones in the final round. Coughlin took his second win at Atlanta Dragway with a performance of 6.659 at 207.21 in his JEGS.com Chevy Cobalt to hold off the hard-charging Elite Motorsports Pontiac GXP of the 22-year-old Jones, who finished in 6.686 at 206.35.
"I was fortunate to eclipse the 50-win mark – including my Lucas Oil wins – a few years ago and thought I was done with 50 but was reminded here lately of the next plateau," said Coughlin, who outran Ronnie Humphrey, V. Gaines and top qualifier Allen Johnson in earlier rounds. "To celebrate it here, in JEGS' 50th anniversary year, I'm very happy."
Coughlin said he was ready for the quick-reacting Jones in the final. Jones used a series of holeshot starts to upset series points leader Mike Edwards in the first round, three-time world champ Greg Anderson in the quarterfinals and Johnny Gray in the semis to advance to his second career final.

"Rickie used to come to the ropes when he was 11 or 12 years old and wanted to hit the practice 'Tree against me and he's been telling me for years he's coming after us," Coughlin said. "It's neat to see him growing and getting to do what he loves to do, so congratulations to him. He had a great day."
Coughlin moved to third in the point standings with the win, behind leader Edwards and second place Johnson.


In Pro Stock Motorcycle, three-time world champ Hines raced to the victory over defending series champ Hector Arana. Hines earned his second win of the season and 20th of his career with a 6.968 at 190.24 on his Screamin' Eagle Vance & Hines Harley-Davidson in the final, while Arana's Lucas Oil Buell slowed with a 7.047 at 188.12.
Hines raced to early round wins over Mike Berry, Craig Treble and David Hope.
"This is about as good as it gets," Hines said. "It was a good, clean race in the final. I had to push it in the final. I knew Hector was strong. He had been running good all weekend, and he qualified No. 1, so I held onto the clutch lever with just the lightest amount of pressure that I could, and I was .006. That was a little closer than I wanted it, but I'll take it. He's a tough competitor. He's the world champ from last year, and it doesn't put a bigger smile on our face than to beat him."
With his third runner-up finish of the season, Arana maintained his series lead over Matt Smith and Hines, who moved to third overall with the win.
The NHRA Full Throttle Drag Racing Series continues next weekend in Kansas with the O'Reilly Auto Parts NHRA Summer Nationals at Heartland Park Topeka.
---
---