Sun., May 30, 2010
Rocky Mountain Challenge Series Invades Salt Lake City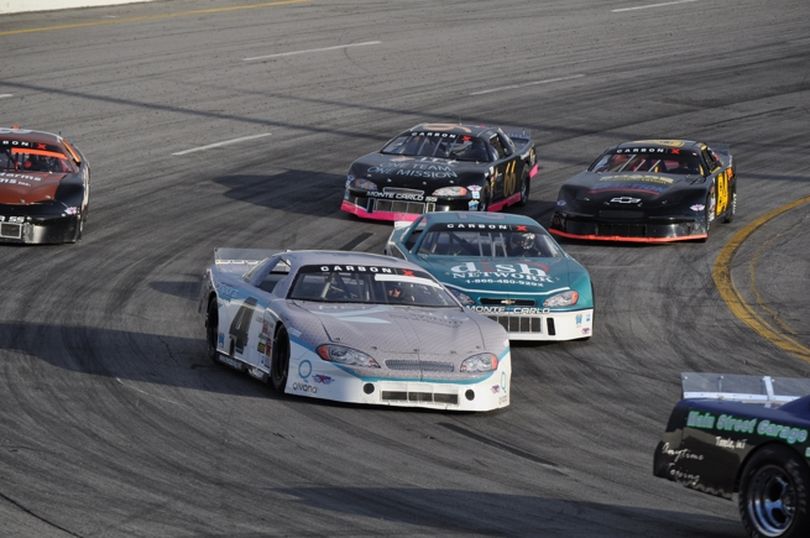 In a rare Memorial Day event, the Rocky Mountain Challenge Series rolls into Salt Lake City for a 125-lap showdown at Rocky Mountain Raceways. With inverts that start the fastest cars in the back of the grid and pay off drivers based on overall points earned in a day, the series is a top draw for fans across the region.
Courtesy: RMCS Media Relations
BOISE, IDAHO (May 30, 2010) The CarbonX Rocky Mountain Challenge Series returns to the ultra-fast and wide Rocky Mountain Raceways located outside Salt Lake City, Utah for the second time in a month.  The annual Memorial Day event draws the top racers within the region for this special 125-lap that has proven to be a fan favorite over the years.

Steve Jones of Boise, Idaho leads the point standings on the strength of his first career series win coming at RMR just three weeks ago. His 29-point advantage over Brett Thompson of Jerome, Idaho is razor thin when it comes to how the RMCS awards points at each event. "Winning at RMR was real special," Jones said. "RMR is an awesome track and to finally get me first win was big but this series is tough and you are only as good as your last race. We were pretty good but this is a different race this time out and tire management is going to be key."
Brett Thompson
holds down the second spot in the point standings after two straight third place finishes this season. He is hoping the third time is a charm and picks up his first win on Monday. "I am having a lot of fun in the series so far this season," Thompson said. "We are better than our finishes indicate and a win is definitely in our future."

Local racing icon Zan Sharp of Wellsville, Utah is coming off a strong second place performance three weeks in his first outing of the year. Sharp has three victories at RMR with seven top five performances and three Sharp Powder Coating Fast Time Awards. Sharp last won this event back in 2004. "We had a good run last time out and I would sure like another Memorial Day win," stated Sharp.

Lynn Hardy is the track record holder at RMR with a quick lap of 14.944 seconds/90.377 mph. Hardy rolled to a fourth place finish three weeks and currently sits 6th in the point standings in his first full RMCS season in five years. 

Two straight top five finishes has Las Vegas, Nevada's Thane Alderman in third place in the standings. Alderman's last series victory was at RMR in 2008 and he would like nothing more than to return to victory lane on Monday. "I really like racing at RMR," Alderman offered. "The facility is first rate, the crowds are great, and the RMCS always puts on a good show. We have worked real hard over the winter to get back into competitive form and we feel we have a great car for the race."

Former series champion John Newhouse of Twin Falls, Idaho is only planning on running a partial schedule this season in order to concentrate on his son and daughter's racing program. Newhouse sits 5th in the standings and has been a car to beat so far this season. "The most fun I have had racing has been in this series," stated Newhouse. "The competition is tough and as long as we are running well I will probably keep making the shows." Newshouse is searching for his first RMR win but has three runner-up finishes and 11 top five finishes.

Drivers who have won at RMR include: James Eaton (4), Sharp (3), Hardy (2), Minegar (2), John Dillon (2), and seven other drivers with one win apiece. Dillon is the only repeat winner at RMR in the last eight RMCS races.

After picking up his first career series victory in round one this season was Bruce Quale of Twin Falls, Idaho ranks 4th in the standings and is coming off a 7th place performance at RMR three weeks ago. Jones leads Thompson by 29 points with Alderman, Quale, and Newhouse rounding out the top five in the standings. Hardy, Russell Butler, Eric Rhead, Travis Monett, and two-time series champion Dave Minegar round out the top ten in the standings after two races.


The RMCS utilizes a racing format not found in ANY other regional touring series around the country. The top 20 qualifiers are inverted for every race putting fast time in the 20th starting position. This format ensures race fans see what they paid for and that is passing. Each driver is awarded three points per position gained in the event. Points are also awarded for qualifying and heat race finishes. Through the history of the series, the winning driver has averaged a 15th place starting position. To ensure competition, the RMCS pays it purse based on total point accumulation for the event and provides several special performance awards for each event.

The CarbonX Rocky Mountain Challenge Series is a regional touring series that allows all competitors to race and gain experience on different types of racetracks. It is a high-quality professional racing series that offers maximum opportunity at an affordable price serving the intermountain West. The motto of the series is to "Race Hard and Have Fun!" For all the latest news and information regarding the CarbonX Rocky Mountain Challenge Series log onto www.rmcsracing.com. Follow all the racing action from throughout the West by logging onto www.racingwest.com.
---
---