Mon., Nov. 8, 2010
Hamlin Wins At Texas, Takes Chase Lead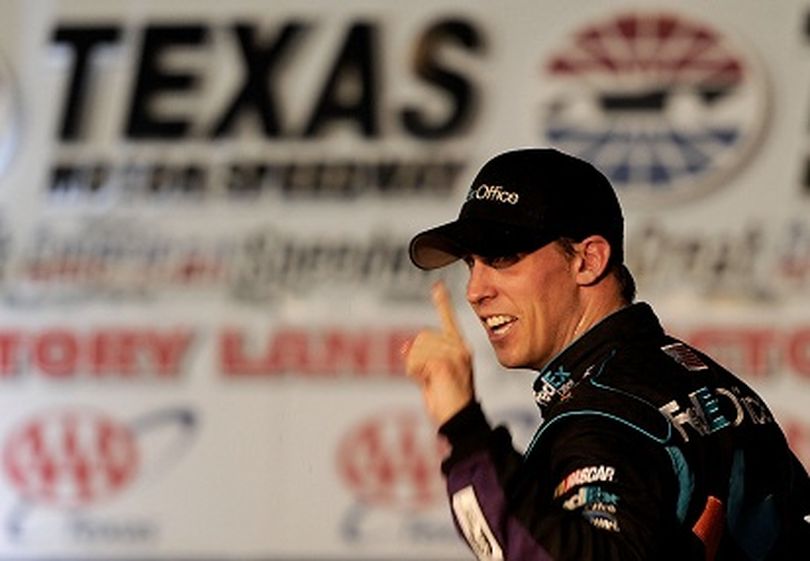 Denny Hamlin stormed past Matt Kenseth late on Sunday afternoon en route to his eighth victory of the season. The win at Texas Motor Speedway moved Hamlin atop the driver's standings in NASCAR Chase for the Sprint Cup.
By Reid Spencer
Sporting News NASCAR Wire Service
FORT WORTH, Texas (Nov. 7, 2010) — Denny Hamlin's victory in Sunday's AAA Texas 500 wasn't a knockout blow to Jimmie Johnson's title hopes, but it did deliver a stinging message to the four-time defending NASCAR Sprint Cup champion.
Hamlin's win, his series-best eighth of the season, his second straight at Texas Motor Speedway and the 16th of his career, was perhaps more effective than the haymaker Jeff Gordon—yes, Jeff Gordon—tried to lay on Jeff Burton after Burton wrecked the No. 24 Chevrolet under caution on Lap 190.
And Hamlin's victory certainly wasn't as surprising as crew chief Chad Knaus' dismissal of Johnson's No. 48 over-the-wall crew after a series of blown pit stops. With Gordon's No. 24 crew available, Knaus knocked his own crewmen out of the box; the last straw was slow work on the right front tire under caution on Lap 194.
Johnson minimized the damage with a ninth-place finish, but repeated loss of track position helped transform his 14-point lead over Hamlin entering the event into a 33-point deficit as the series heads to Phoenix with two races left.
In a three-lap sprint to the finish, after Patrick Carpentier spun in Turn 2 to cause the ninth caution of the race, Hamlin swapped the lead with Matt Kenseth and surged ahead for good when Kenseth ran out of room in Turn 2 on Lap 333 of 334 and had to back out of the gas.
Kenseth held second, matching his best finish of the season, with Mark Martin running third, Joey Logano fourth and Greg Biffle fifth. Biffle led a race-high 224 laps but lost first and second gears in his No. 16 Ford and couldn't accelerate on restarts.
Kevin Harvick came home sixth and remained third in the standings, now 59 points behind Hamlin.
Despite holding the points lead, Hamlin promised to race aggressively next Sunday at Phoenix and in the season finale Nov. 21 at Homestead-Miami Speedway.
"I'm going to race Phoenix as if I'm 33 behind to be honest with you," Hamlin said. "There's no comfortable margin going into Homestead, because anything can happen. So for me—Phoenix being an up-and-down racetrack for me—I've got to really be focused on practice day to get what I need, to give (crew chief) Mike (Ford) the information that I need and just 100 percent stay focused is all I can do.
"But like I say, I'm not going to be conservative having the lead. I'm going to want to stretch that out before we get to Homestead. So that's pretty much my mindset."
Trailing with two races left in the Chase is an uncharacteristic position for Johnson, who has been the frontrunner after eight races in each of the past four years.
"The last four years, we've been in a different position," Johnson said. "I've lost plenty of championships in the past, and this is racing, and it doesn't come easy, and you are not going to get what you want every single year and every single weekend.
"I can promise you this—I am trying as hard as I can. I know my team is. We're doing everything we can. Thirty-three points back is not where we want to be, but we're going to work to get back on top."
Gordon's pit crew helped salvage a respectable finish for Johnson. After the change, the No. 24 crew performed flawlessly for three stops. Nevertheless, Knaus expected to have his regular crew back next week in Phoenix.
Notes: Driving the No. 21 Wood Brothers Ford, Trevor Bayne, 19, finished 17th in his Cup debut. … Kyle Busch drew a two-lap unsportsmanlike conduct penalty for flipping off a NASCAR official on pit road after being held a lap for speeding on exit in an attempt to beat the pace car to the scoring line.
---
---