Mon., Nov. 15, 2010
John Force captures 15th NHRA Funny Car championship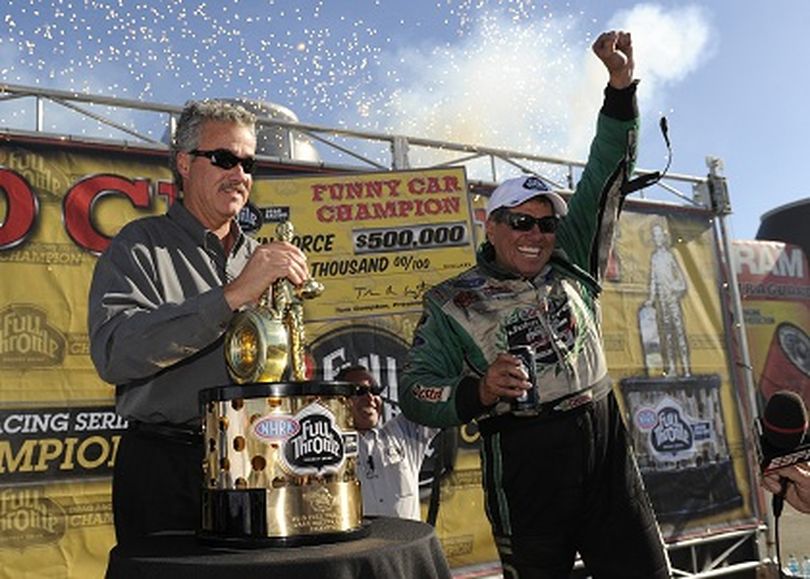 John Force became the oldest champion in the history of the NHRA Full Throttle Drag Racing Series as he picked up the win on Sunday afternoon to secure the title. The emotional championship comes just three years after a horrific accident in Dallas nearly put Force into retirement.
Courtesy: NHRA Media Relations
POMONA, Calif. –John Force clinched his NHRA-record 15th Funny Car championship on Sunday to complete an improbable and emotional comeback from the horrific accident in Dallas three years ago that left his racing future in serious jeopardy.
The 61-year-old Force – who also won the race, his sixth of 2010 – became the oldest champion in NHRA history on the same day that the Series crowned its youngest champion as well, 20-year-old Pro Stock Motorcycle rider LE Tonglet. Earlier Sunday, Larry Dixon clinched his third Top Fuel championship and first since winning back-to-back titles in 2002-03.
With the championships decided by the semifinals, attention turned to the individual event champions and the three drivers who joined Force in the Winner's Circle at the 46th annual Auto Club NHRA Finals, the 23rd and final race in the 2010 NHRA Full Throttle Series season, were: Antron Brown (Top Fuel), rookie Shane Gray (Pro Stock) and Eddie Krawiec (Pro Stock Motorcycle).
Force came into eliminations trailing 27-year-old Matt Hagan by 38 points and since he was on the opposite side of the draw from Hagan, he needed help if he was to get around Hagan and win his 15th title.
And he got it. Right away.
Hagan met longtime Force ally Bob Tasca, who qualified 13th, in the first round and Tasca stunned the angus cattle farmer with in impressive 4.148-second pass in his Motorcraft/Quick Lane Ford Mustang. Hagan led through the 660-foot timer in his DieHard Dodge Charger, but he was losing power near the finish and slowed to a losing 4.162.
"The shot around the world was by Bobby Tasca in the first round," Force said. "We knew we couldn't get him until the final round (and that was too late) so somebody had to get him and Bobby got him."
With the door open, Force blew through by defeating Gary Densham with the second-quickest pass of R1 (4.116) and Bob Bode with the quickest pass of the quarterfinals (4.162). Bode actually kept Force honest with a 4.225 at 295.34 mph.
"To come back… this is my life, if they took the driving away from me I'd get so big, I'd turn into Marlon Brando," said Forc, who defeated Jeff Arend in a photo finish in the Funny Car final. "I'm going to be another five years so you're all stuck with me."
Added Hagan: "To mix it up with the best is pretty special. We got the points lead … and he took it back."
Indeed, Force led for 18 of the first 20 races before Hagan took the lead in Reading and held onto it through Las Vegas.
"To finish second, we were definitely bummed, it hurts inside, we had a legitimate shot at this thing," Hagan said. "I'm probably going to lay in my bed for many days to come and think about what we could have done differently to have come out with a different outcome."
In just his second full season, Hagan finished three wins (one in the Countdown), two runner-ups (both in the Countdown) and four No. 1 qualifiers (two in the Countdown).
"We've had a great season, nothing to hang my head about," he said.
Teammate and mentor Tony Schumacher said of Hagan: "I'm brokenhearted for him. What a great kid."
The Top Fuel championship went according to form with Dixon clinching the title with his first-round win over Mike Strasburg.
"I've never had so much excitement for a first-round win in my life," said Dixon, who drives the Al-Anabi dragster for team manager and renowned tuner Alan Johnson, crew chief Jason McCulloch and team owner Sheik Khalid Al-Thani.
"If you want to win in this sport you have to surround yourself with talent and I believe we have the best in the business," Dixon said. "(Alan), he has his own team again, so I'm very proud of him. And I know if (his brother) Blaine (Johnson) was still here, he'd be the one talking to you right now."
Dixon entered eliminations with an 82-point lead over Schumacher and the rival U.S. Army team, which needed to win the race, set the national record and have Dixon lose in the first round. Any hopes of another Tony Schumacher miracle – he famously won the 2006 and 2007 titles on the last pass of the season – were put to rest early with Dixon's first-round win.
"Everyone has to realize, we love to battle and it's been an amazing battle," Schumacher said. "We got beat, no way to beat around the bush. They deserve to be the champion right now."
Tonglet, like Force, got an assist along the way to his championship, but his came from the rider in front of him in the standings, Andrew Hines, who red-lighted aboard his Screamin' Eagle Vance & Hines Harley-Davidson in the first round.
Tonglet did not let the opportunity slip, powering his NitroFish Gear Suzuki to the second-quickest runs in each respective session en route to the first-round win over Matt Guidera and quarterfinal, championship-clinching win over Steve Johnson.
"It feels awesome. The way the year started, we didn't think this was possible. It's just been unbelievable since Indy. I can't thank Kenny Koretsky and NitroFish enough," Tonglet said.
Tonglet is the third rookie to win an NHRA Full Throttle Series championship, joining Gary Scelzi (1997, Top Fuel) and Frank Hawley (1982, Funny Car).
The Pro Stock championship was decided on Saturday when Greg Anderson successfully qualified into the field. The title was Anderson's first since he won three straight from 2003-05.
Among the event winners, Brown (3.840 at 311.99) defeated Shawn Langdon (4.185 at 306.46) to win repeat as Top Fuel champion of the Auto Club NHRA Finals. Brown became the first driver not named Dixon, Schumacher, Kalitta or McClenathan to win a Top Fuel race this season.
In Pro Stock, Gray capped off his impressive rookie season with the first win of his career, holeshotting one of the best in the business (Jeg Coughlin), 6.566 (.010 RT) at 209.20 mph to 6.568 at 210.18.
In Pro Stock Motorcycle, Hector Arana red-lighted, but it wouldn't likely have mattered because Krawiec delivered the quickest run in the history of the Pro Stock Motorcycle class aboard his Screamin' Eagle Vance & Hines Harley-Davidson, a national-record pass of 6.811 seconds.
---
---