Thu., Oct. 7, 2010
Anderson pins hopes for trifecta on a used car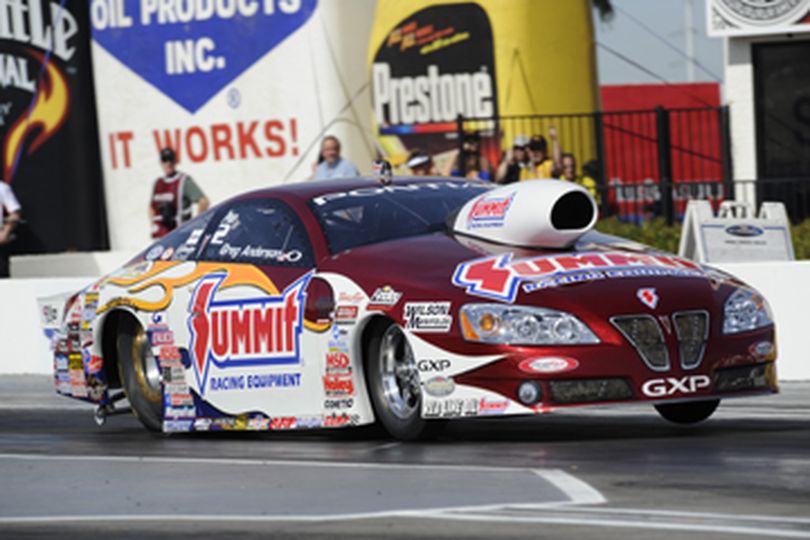 Should Greg Anderson win the NHRA Full Throttle Drag Racing Series Pro Stock championship it will come behind the wheel of a used car in their race team's fleet.
Reading, PA-Greg Anderson and the Summit Racing team come into this weekend's Toyo Tires NHRA Nationals in Reading, Pa., as a leading contender for this year's NHRA Full Throttle Pro Stock championship, with wins at the last two races in Charlotte and Dallas pulling them to within one round of the points lead. Ironically, this late-season charge has come in a most unlikely vehicle, a 2009 chassis with over 500 runs that only a month ago had been relegated to breaking in tires at the KB Racing team's shop in Mooresville, N.C. As Anderson explains, it was a well-calculated move made by his talented tandem of crew chiefs Rob Downing and Tommy Utt.
"After falling behind in Indy we knew we needed to shake things up if we were going to get back in the hunt for the championship, so Rob and Tommy made the call to change cars, and it was obviously a good one," said Anderson. "On the outside, it probably seemed like a risky move to park a car that had won two races and go back to another Summit Racing Pontiac we hadn't used since last year, but it really wasn't that big of a gamble, and I guess it's somewhat appropriate given my background as a former used-car dealer.
"Seriously, however, there really was nothing wrong with the old car to begin with, just as there was nothing wrong with one we just parked last month. After all, we've won races in both. It's just that they weren't working well at that particular time, so we switched chassis to try something different.
"In the case of the Summit Racing Pontiac we're using now, it's fairly similar to the one Jason (teammate Line) is driving. We'd made significant gains over the last few months with Jason's car, so the thought to go back to this chassis had actually been in the back of our minds for some time, because we wanted to see if it would react as well as his did. Fortunately, it performed as we expected and we're heading to Reading back in the game."
Despite their recent run of success, Anderson is quick to point out that a lot of work remains to be done, as evidenced by the long hours put in by every member of the crew since the last race. With only three races remaining, every point-earning opportunity must be maximized, including in qualifying, where bonus points are awarded for the top three performers in each round. In addition, with cooler temperatures forecast for the Reading area this weekend, the possibility exists for a new national record to be set, with twenty points awarded to the racer accomplishing the feat. With so much on the line, the room for error is non existent.
"This Summit Racing team is of the mindset that to win the championship, we need to win these last three races," said Anderson. "To do that, we'll need to be 100% mistake-free the rest of the way, because our competition is not going to make big mistakes. Everyone on this KB Racing crew has to be on high alert and super focused. It's a tall order, but this group is not only capable, but committed to doing just that.
"This weekend we also have the possibility of being able to set the national elapsed time record, which is worth an extra twenty points, and if it's out there, we need one of our cars to get it. It doesn't necessarily need to be me doing it. In fact, Jason would be the favorite of our three cars right now. As long as it's not one of our competitors, we're fine.
"Even though we've come a long way in the last few months, we're still a work in progress, with areas that need improvement. For example, in the last few races, Jason's Summit Racing Pontiac has been great in qualifying but had a couple missteps on Sunday, while mine has been a little off in qualifying and flawless on race day. It's hard to explain why, but our goal for this weekend is to have all three cars including Ronnie's (Humphrey) Genuine Hotrod Hardware car running strong all weekend. As long as we continue to improve, we have a great shot."
Finally, Anderson and his Pro Stock brethren will have the advantage of racing on a track that has proved to be favorable to their naturally-aspirated engines. Located on the outskirts of Reading, PA, Maple Grove Raceway can offer the perfect combination of cool temperatures and a racing surface capable of handling whatever the "factory hot rods" throw at it. It is a formula that has worked well for the three-time champion, with two wins in his prior visits to the Keystone State, a total he hopes to add to this weekend.
"Racing in the conditions we're forecasted to have in Maple Grove is something a Pro Stock racer and engine builder looks forward to all season," said Anderson. "It lets you show how powerful your engines are, how good your race cars are, and just how good of an operation you have. This is a race where you can put everything you can on the track, with whoever has the most coming out on top.
"Fortunately, we're coming into Reading at a time where this Summit Racing team has made some gains and closed the gap on the cars that were ahead of us. The reason we're able to do that is some extremely hard work by everyone on this team, from the engine shop to the car guys. It's been a group effort, with improvements in numerous areas. Every single person on this KB Racing team has had a hand in this comeback, and they should be proud of what they have accomplished. But with three more races, we're not going to sit on what we have. We're going to try and keep getting better, doing whatever we can to secure the championship."
---
---