Mon., Sept. 13, 2010
Force Hood In Hunt For NHRA Championship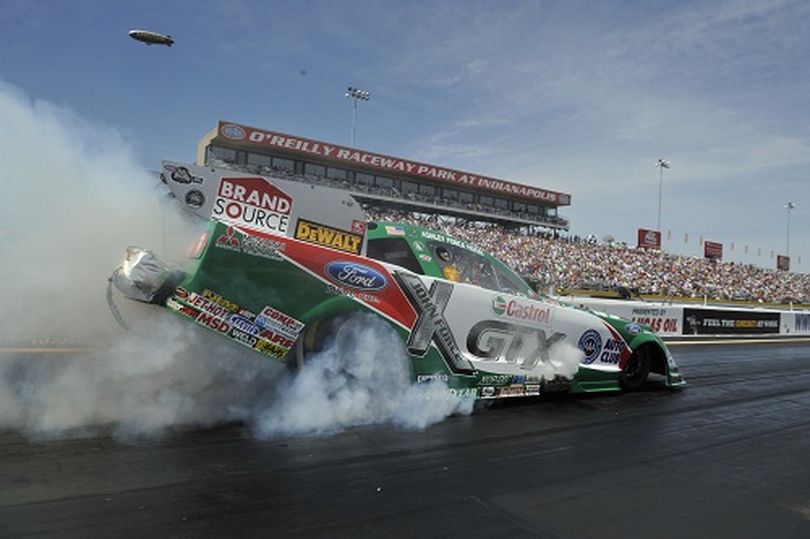 Ashley Force Hood comes into Charlotte this weekend fresh of a strong run in the U.S Nationals. Picking up her first win of the 2010 season to move atop the Funny Car drivers standings, Force Hood has the attention of her competitors.
Courtesy: NHRA Media Relations
CONCORD, N.C. – Ashley Force Hood will be the first to admit that after landing a lackluster eighth place effort in the regular season, she wasn't expecting to be suddenly thrust into the playoff spotlight in the NHRA Full Throttle Countdown to the Championship.
But that's what a stellar performance at the prestigious Mac Tools U.S. Nationals can do for a driver in the blink of an eye. One minute you are trying to figure out how to salvage a top 10 points finish. Then, in an instant, you find yourself at the top of the series standings and in need of a home decorator to make room for a special trophy.
Force Hood raced to her first victory of the season at the annual Labor Day classic and in the process moved four positions up the Funny Car championship ladder, within striking distance of her 14-time world champ father, series leader John Force. The victory, along with the generous points reset for the six-race Countdown playoffs, have given new life to the Castrol GTX Ford Mustang Funny Car team, who was able to post only two runner-up finishes during the 17-race Countdown to 10.
Force Hood will try to continue her march to join Shirley Muldowney and Angelle Sampey as the only female world champions in the NHRA Full Throttle Drag Racing Series at the third annual O'Reilly Auto Parts NHRA Nationals, Sept. 16-19 at spectacular zMAX Dragway near Charlotte, N.C.  Cory McClenathan (Top Fuel), Robert Hight (Funny Car), Mike Edwards (Pro Stock) and Hector Arana (Pro Stock Motorcycle) are the defending winners of the race, which will be televised on ESPN2 HD and ESPN3.com.
Additionally, Force Hood would become the first female to ever win a title in the 7,000-horsepower Funny Car category. She says despite the early season struggles, which included seven first round losses and six second round exits, her team continued to work hard and focus on the Countdown. Now that they have the momentum early in the playoffs, they want to ride the wave.
"My team has stayed positive," said Force Hood, who now sits 69 points out of first. "We were hating the points structure last year, but we are loving it this year. You get a second start to your season."
Her victory at Indy could signal a warning sign for the competition. She qualified sixth and her car was very consistent and adaptable to different conditions throughout eliminations. Before taking out her famous father in the final, she beat playoff contenders Del Worsham and Jack Beckman in head-to-head meetings in earlier rounds.
"At one of the races Guido (crew chief Dean Antonelli) said we are not going to win the championship on luck," Force Hood said. "We are going to win it on consistency and doing our job from one end of the track to the other."
She knows winning the title will be a tough chore. She finished second overall last season to teammate Robert Hight. In addition to the elder Force and Hight, there are a host of other drivers who are still in championship contention and hoping to add their names to the NHRA history book, including Beckman, Matt Hagan, Ron Capps, Bob Tasca, Worsham and Tim Wilkerson, among others.
"It is going to be interesting," Force Hood said. "It is going to be exciting. That is what the fans want to see and that is what we want to be a part of."
In Top Fuel, Larry Dixon opened the playoffs with a victory and extended his series lead in his Al-Anabi Racing dragster. Dixon, a two-time world champ, has posted 10 victories in 10 final rounds this season – an NHRA record – and seems poised to try and go the distance against a tough field of competitors, which includes seven-time champ Tony Schumacher and the title-hungry veteran McClenathan. Other pre-race favorites include Brandon Bernstein, Doug Kalitta, Antron Brown and Shawn Langdon, who moved into fourth place overall in the point standings with a semifinal finish at Indy.
Edwards leads the Pro Stock field, but it was a surprising Greg Stanfield that moved into playoff contention with a win at Indy. Stanfield jumped to third place in the points with an aggressive holeshot victory over the defending world champ in the Indy final. Others to watch in the 200-mph category include four-time world champ Jeg Coughlin, Team Mopar's Allen Johnson, three-time champ Greg Anderson and the father and son tandem of Johnny and Shane Gray.
In Pro Stock Motorcycle, series leader Andrew Hines was impressive at Indy on his Screamin' Eagle Harley-Davidson, setting a national record for elapsed time and capturing all 15 bonus points on the table during qualifying. The three-time world champ ultimately lost in the final to rookie LE Tonglet, who moved to second overall with a gritty performance on his Suzuki. Both will be among a talented field of riders at zMAX Dragway looking for victory, that also includes defending world champ Arana, local favorite Matt Smith, past Charlotte winner Steve Johnson and the ultra-fast Michael Phillips, a three-time winner this season. 
• SCHEDULE: Two qualifying sessions will be held Friday, Sept. 17 at 2:30 p.m. and 6 p.m. The final two qualifying sessions will be held Saturday, Sept. 18 at 11:30 a.m. and 2:30 p.m. Sunday's final eliminations start at noon.
• ON TV: ESPN2 and ESPN2 HD will televise one hour of qualifying coverage at 10 a.m. (ET) on Sunday, Sept. 19. NHRA Race Day, a 30-minute news magazine show, will air at 6:30 p.m. (ET) on Sunday, Sept. 19. Three hours of eliminations coverage will air on ESPN2 HD at 7 p.m. (ET) on Sept. 19. The race will be featured live on ESPN3.com starting at noon (ET) on Sept. 19.
---
---