Sat., Sept. 18, 2010
McClenathan atop NHRA Full Throttle Drag Racing Top Fuel Qualifying In Charlotte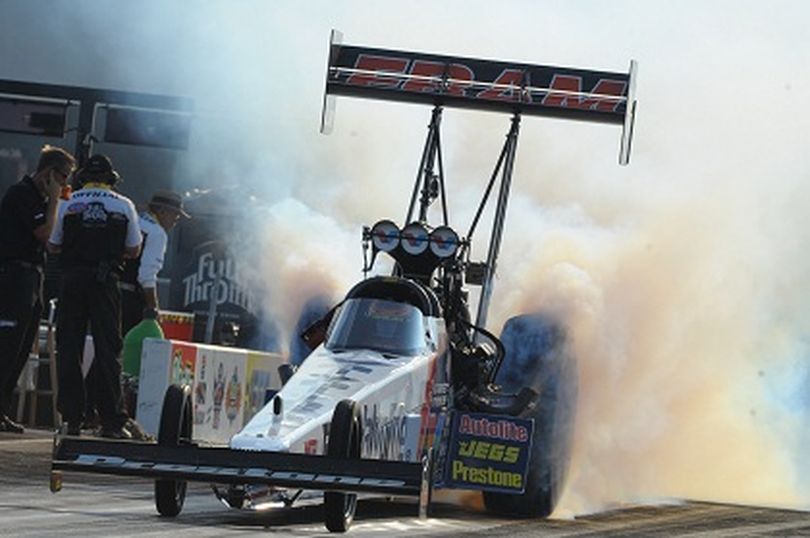 Cory McClenathan means business in his march to topple Tony Schumacher and Larry Dixon in drag racing's Top Fuel division. After one round of qualifying in Charlotte the FRAM Filters dragster driver is atop the speed charts.
Courtesy: NHRA Media Relations
CONCORD, N. C. – Cory McClenathan continues his push for his first NHRA Full Throttle Drag Racing Series Championship with a strong run to lead the Top Fuel field during the first day of qualifying at the O'Reilly Auto Parts NHRA Nationals at zMax Dragway. 
Other provisional number one qualifiers were Cruz Pedregon (Funny Car), Greg Anderson (Pro Stock) and Andrew Hines (Pro Stock Motorcycle) at the 19th of 23 events in the NHRA Full Throttle Drag Racing Series and the second of six races in the Countdown to the Championship. 
McClenanthan piloted his FRAM dragster to a pass of 3.831 seconds at 321.12 mph, which set a track speed record.  He trails current point's leader Larry Dixon by only 46 points coming into the event.
"Have I told you how much I love zMax Dragway lately?" McClenathan asked rhetorically. "Tony [Schumacher] made a good run in the early session, and [Larry] Dixon and we both missed it. We were a little overzealous, but we backed it up and went A to B. When it hikes up the front end at halftrack going 278 [mph], it's gettin' it.
"Phil [Shuler] and Todd [Okuhara] are such opposites that they work great together as co-crew chiefs. Phil just wants to throw the whole trailer at it, while Todd is well thought out. We probably did about half of what Phil wanted, and it might a great lap. It nosed over at the end when it got on the rev limiter, or else it could have been even faster."
In the Funny Car category, Pedregon made the most of the night qualifying session as his Snap-On Tools Toyota Camry leads the field with a run of 4.078 seconds at 303.57 mph.  If Pedregon is able to hold onto the top spot it would be the first of the season and his first since the event at zMax Dragway in 2009.
"It was an odd scenario, because we blew up on both runs," said Pedregon. "We had an issue with a rod cap being put in backwards, and it broke a rod four seconds into the last run. I didn't think the time would hold as number one for that reason, because there was more out there. It's nice to know we're turning the knobs the right way. I hope it gets hotter than blazes tomorrow so the 4.07 holds."
Anderson is looking for his first number one qualifying position of the year and provisionally holds the top spot with his pass in his Summit Racing Pontiac GXP of 6.624 seconds at 208.62 mph.  The three-time series champion is currently fifth in Countdown to the Championship points. 
"I haven't ever been in the press room at zMax Dragway. I've seen it from the inside but not the outside until now. I can't think of a better place to be than here. I love it. I wanted to be able to show what we can do and make a few of my friends and family proud.  They're all here this weekend and to be honest, I've been embarrassed before this. I don't know why, but I just haven't quite found the handle on this track," said Anderson, a resident of Charlotte.  "We went back to an old car for this race. We just felt like we needed to shake things up. We've been a little bit off but this car is now working flawlessly. We need a big weekend in the points. We need to make up some ground on Mike Edwards and get back in the game. This is absolutely the time to pick up points.
Current Pro Stock Motorcycle point's leader, Hines led the category on his Screamin' Eagle Vance & Hines Harley-Davidson after two rounds of qualifying with a pass of 6.913 seconds at 192.25 miles per hour.  Hines has two consecutive number one qualifying positions and is looking for his third of the season if he stays in the top spot following the conclusion of qualifying on Saturday.
"We've never run good here at zMax Dragway but the starting line is very good and we ran a good number, especially early in the run where we've been struggling.  LE [Tonglet] was also good, but we were able to make up ground on him," said Hines following the run.  "I saw LE run a 6.91 but I knew my bike was right there with his. I must have been thinking about it because I didn't roll in deep. As soon as I staged, I got on the throttle. I wanted every bit of E.T. that I could get."
The final two rounds of qualifying for the O'Reilly Auto Parts NHRA Nationals will be on Saturday at 11:30 a.m. and 2:30 p.m. with eliminations taking place on Sunday starting at Noon.
---
---