Sun., Sept. 19, 2010
Bernard and Villwock win heat races in San Diego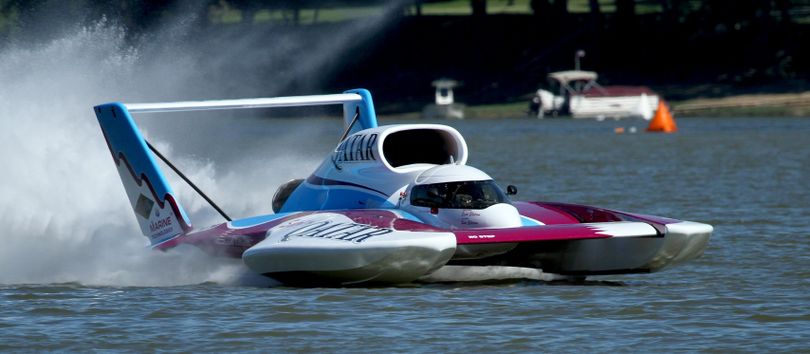 Jeff Bernard, the defending champion of the San Diego Bayfair Air Guard Championship presented by Degree Men and Dave Villwock continued their winning ways in the Golden State as each won their H1 Unlimited Hydroplane Series heat race to set-up a grand duel for the title on Sunday afternoon.
Courtesy: H1 Unlimited Hydroplane Series Media Relations
Drivers Jeff Bernard and David Villwock continued their winning ways on San Diego's Mission Bay to capture their respective heats Saturday at the Air Guard Championship Presented by Degree Men.
Bernard, the defending Bayfair champion, used his inside lane position to hold off a hard-charging Greg Hopp in the preliminary heat. Bernard got a strong start in the Graham Trucking presents Formulaboats.com boat and Hopp couldn't close the 2-second gap. The U-5 team opted to change gear boxes to increase rpm shortly before the start of the heat to improve on the team's 154.921 mph qualifying speed. That speed put them squarely in the middle of the 12-boat pack.
"That change helped out a lot," Bernard said. "Once I broke out front, I was able to make sure I kept the distance between myself and Greg."
Thanks to an inside lane advantage, Villwock had an easier time dispatching H1 Unlimited tour points leader Steve David in the second preliminary heat of the day. Buoyed by a strong start, Villwock in the Spirit of Qatar held the lead from start to finish. Villwock has won a record-setting seven Bayfair championships with his last coming in 2005.
After the preliminary victory, he was already looking toward to Sunday's second preliminary heat. "It was a good win but we've got some fast boats in our heat tomorrow," Villwock said.
There are two additional rounds of preliminary heats Sunday followed by the final in the afternoon. The tour will wrap up its 2010 season with its World Championship in Doha, Qatar.
Heat 1A Final Results
              Driver                            Boat,                                                           Avg Speed,     Points
1.  Jeff Bernard,    U-5 Graham Trucking presents Formulaboats.com,  147.894 mph,   400
2.  Greg Hopp,             U-100 Mirageboats.com,                                       145.257 mph,   300
3.  Kip Brown,              U-17   Miss Red Dot,                                              142.372 mph,   225
4.  Brian Perkins,        U-21  Go Fast Turn Left,                                         129.521 mph,   169
5.  Mark Evans,           U-57 Formulaboats.com,                                             DNS,              O
6.  Cal Phipps,     U-13 Advance Automotive Technologies/Spirit of Detroit, DNS,          O
Heat 1B Final Results
1.   Dave Villwock,       U-96 Spirit of Qatar,                                             151.544 mph,   400
2.   Steve David,          U-1 Oh Boy! Oberto,                                             147.530 mph,   300
3.   J Michael Kelly,      U-7 Air Guard,                                                       143.395 mph,   225
4.   Ken Muscatel,        U-25 Miss Peters & May,                                     125.383 mph,   169
5.    Jon Zimmerman,   U-37 Degree Men,                                                120.169 mph,   127
6.    Mike Webster,       U-22 Matrix System,                                             118.844 mph,     96
---
---