Sun., Sept. 19, 2010
Bowyer Wins Chase opener When Stewart Runs Out Of Gas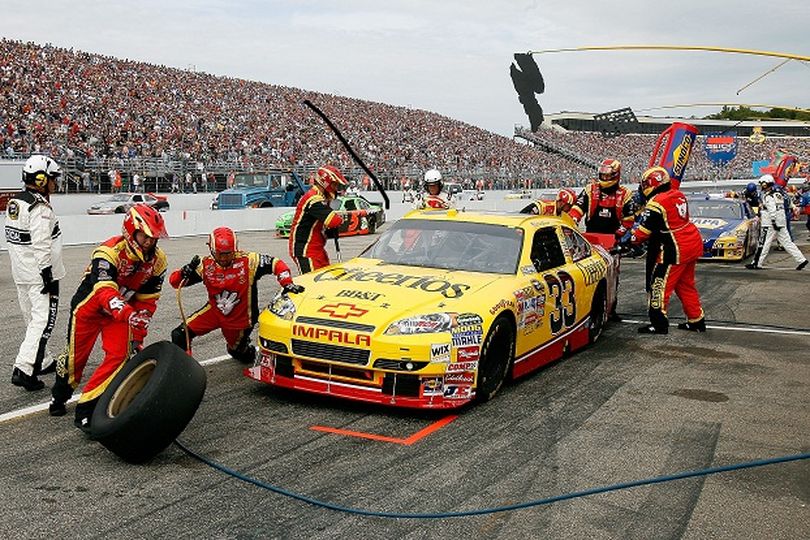 With Tony Stewart and Clint Bowyer gambling on fuel to last for a run to the checkers late Sunday afternoon in New Hampshire it was Bowyer who struck gold as Stewart's fuel tank ran dry with two laps left in the Sylvania 300.
By Reid Spencer
Sporting News NASCAR Wire Service
LOUDON, N.H.(Sept. 19, 2010) — The picture told the story.
Clint Bowyer's No. 33 Chevrolet spun in a cloud of smoke as Bowyer celebrated Sunday's victory in the Sylvania 300 at New Hampshire Motor Speedway.
In the same frame, Tony Stewart's No. 14 Chevy coasted slowly across the finish line, out of fuel and out of the running for a race win that had seemed a distinct possibility barely more than a lap earlier.
Bowyer, the last driver to qualify for the Chase for the NASCAR Sprint Cup, and Stewart both gambled on fuel after pitting for the last time on Lap 208 of 300 at the 1.058-mile racetrack.
Bowyer won, beating resilient Denny Hamlin to the finish line by .477 seconds and surging into second place in the Chase standings after the first of 10 races. Hamlin leads Bowyer by 35 points as the Sprint Cup Series heads to Dover.
Stewart lost, running out of fuel off Turn 4 while leading with the white flag—signaling one lap left—clearly in his sights.
"Just ran out," was Stewart's immediate, terse reaction to his fuel crisis, but it spoke volumes. The two-time series champion left Loudon in 11th place, 124 points behind Hamlin.
Bowyer was still in fuel-saving mode with Hamlin running him down on the final lap, but he mashed the pedal out of Turn 4.
"Wide open, stay in it—come on!" spotter Mike Dillon radioed to Bowyer as he rounded the final corner, almost as if he were driving a thoroughbred down the stretch.
Jamie McMurray finished third, and Dale Earnhardt Jr. fourth. Kevin Harvick, who led the standings after the first 26 races, ran fifth despite fighting handling problems throughout the race and is third in the standings, 45 points out of the lead. Jeff Gordon, David Reutimann, Ryan Newman, Kyle Busch and Sam Hornish Jr. rounded out the top 10.
Bowyer approached the first Chase race with optimism, his 2007 maiden victory at New Hampshire still fresh in his mind.
"I just had a feeling—this race just felt like (it did) back in 2007, and we did it again," said Bowyer, who broke an 88-race winless drought with the third victory of his career.
The win didn't come, however, until Stewart ran out of gas.
"I thought I could run (Stewart) down, but I was using so much fuel through the middle of the corner that I just had to back down," Bowyer said. "I could tell in (crew chief Shane Wilson's) voice—once you get that relationship with somebody, you can tell in his voice how nervous he was, and he sounded pretty nervous."
Bowyer finally ran out of fuel during his burnout, and a wrecker pushed the winning car to Victory Lane. Stewart finished 24th on a day that saw Jimmie Johnson's quest for a fifth straight championship slowed by a loose wheel late in the race. Johnson finished one position behind Stewart.
Hamlin, the top seed entering the Chase, survived a spin in Turn 4 that dropped him temporarily from third to 22nd. On Lap 214, as Hamlin was rolling through the corner, Carl Edwards' No. 99 Ford slid up the track into Hamlin's car and caused the spin.
"Can't hold his line, can he?" Hamlin said sardonically, before Edwards' spotter relayed a message of apology from his driver to Hamlin.
"I got mad on the radio for like 10 seconds, and it was like, 'All right, what do we got to do; just tell me what we've got to do to get back up there,' " Hamlin said after the spin that forced him to pit road and eliminated potential fuel-mileage issues for the No. 11 Toyota.

"Normally, I think years ago, I really would have kind of flipped out, but I think now it's just a little bit more relaxed."
---
---