Sun., Sept. 19, 2010
Kyle Busch outduels Buescher at New Hampshire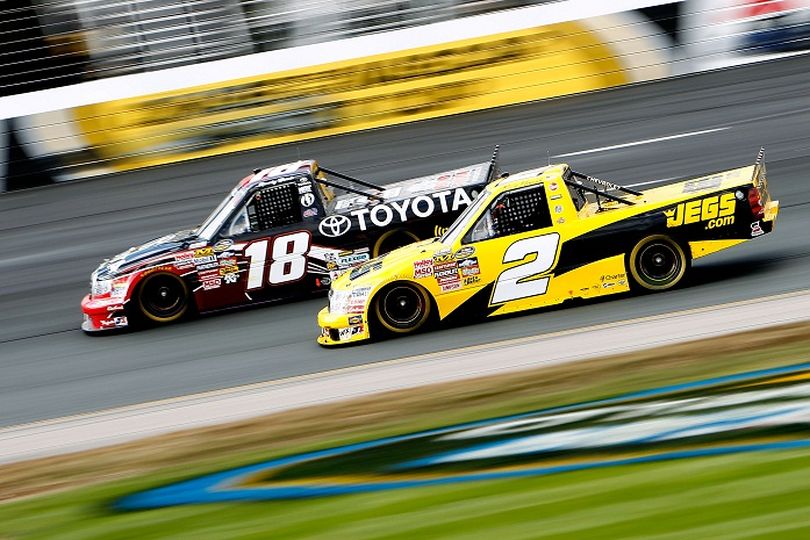 Kyle Busch continued his winning ways on the NASCAR Camping World Truck Series and also made a trademark move for the lead that ruffled the feathers of his closest competitors.
Sporting News NASCAR Wire Service
LOUDON, N.H. (Sept. 18, 2010)—
At the end of a long two-man duel between polesitter and race winner Kyle Busch and Kevin Harvick, James Buescher came within a whisker of stealing the show.
Driving his own No. 18 Toyota, Busch, however, surged ahead off Turn 2 Saturday at 1.058-mile New Hampshire Motor Speedway after a restart with two laps left in TheRaceDayRaffleSeries.com 175 to win the NASCAR Camping World Truck Series race by .280 seconds over Buescher, who took issue with Busch's tactics on Lap 174.
Buescher had taken the lead on Lap 166, diving beneath the two lead trucks after Harvick forced Busch up the track. When Ron Hornaday Jr. spun after contact from Timothy Peters' Toyota and smacked the Turn 4 wall to cause the eighth caution of the race on Lap 169, Busch got his chance on the Lap 174 restart.
Buescher chose the outside lane and led Busch through Turn 1, but Busch powered back to the inside and nosed ahead of Buescher off Turn 2. Before he was clear of Buescher's No. 31 Chevrolet, Busch moved up the track, turned across the left front of Buescher's truck and hit the outside wall.
"On the restart before that, I kind of got washed up in the marbles and, unfortunately, got back there behind the 31," said Busch, who won his fifth race in 11 truck series starts this season and the 80th race of his career in NASCAR's top three series combined. "Then, on that last restart, I knew I needed to have a good run through (Turns) 1 and 2, and if I didn't clear him off of 2, then he was going to run all the way down the back straightaway, side-drafting me and get back alongside of me and get me loose in 3.
"I knew I had to clear him. Regardless of what was going to happen, I had to clear him, and I tried rubbing off of him, and he was still there just a little bit, and it turned me into the wall. It was a hard hit. It knocked my helmet crooked. I wasn't sure what I had getting into Turn 3 … but the truck felt fine through 3 and 4—I was surprised, really, that it felt the way it did—and we were just kind of able to mosey around for the next couple laps and bring it home."
To Buescher, who has never won a race in any of NASCAR's top three series, Busch's aggressiveness went too far.
"He just went to the fence," Buescher said. "He wasn't clear at all. He drove like he had no truck on his outside, and he hit my left front and ended up in the wall. He just drove us dirty and got the win, and we hung in for a second-place finish."
Harvick, who swapped the lead with Busch 14 times before Buescher passed them both on Lap 166, finished third. Matt Crafton ran fourth, followed by rookie Austin Dillon.
Todd Bodine came home ninth and leads eighth-place finisher Aric Almirola by 257 points in the battle for the series championship.
Harvick watched the incident between Busch and Buescher and offered his own perspective.
"I saw the 31 take off, and the 18 got a run on the bottom, and it looked to me like the 18 just drove over the front of him—that's what it looked like," said Harvick, who had raced side-by-side with Busch for large segments of the race. "I turned all the way to the left, because I thought they were going to be hung together—wrecked.
"But look, this is a short track, and everybody's digging for everything they can get. I bounced off of Kyle as many times as he bounced off of everybody else. It's not anything that any of us wouldn't do to the other 10 times over again."
---
---