Sun., Sept. 19, 2010
Pedregon, McClenathan, Line and Tonglet atop NHRA Charlotte qualifying charts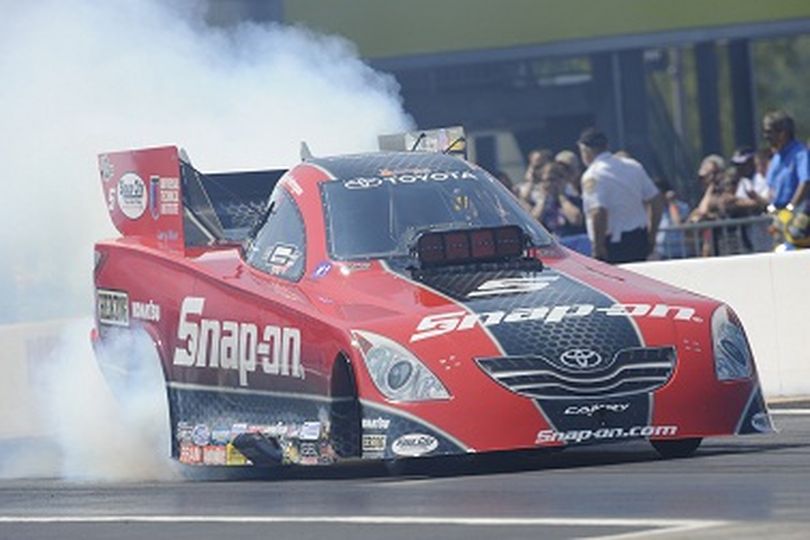 Cruz Pedgregon blazed to his first No. 1 qualifying position of the season with a run of 4.11-sec. and showed his driver-owned race team can be a contender during the NHRA playoof Countdown to 1 format.
Courtesy: NHRA Media Relations
CONCORD, N. C. – Cory McClenathan remained atop the Top Fuel field and secured his fifth No. 1 qualifying position of the season for the O'Reilly Auto Parts NHRA Nationals at zMax Dragway. 
Remaining No. 1 qualifiers were Cruz Pedregon (Funny Car), Jason Line (Pro Stock) and LE Tonglet (Pro Stock Motorcycle) at the 19th of 23 events in the NHRA Full Throttle Drag Racing Series and the second of six races in the Countdown to the Championship. 
McClenathan secured the No. 1 qualifying position with his run of 3.831 seconds at 321.12 mph in his FRAM dragster that he posted during the optimal conditions during the Friday night qualifying session.  He was the No. 1 qualifier at this track in March and this is the 38th No 1. qualifier of his 397 race career.  McClenathan is currently second in the Countdown to the Championship and knows that while qualifying is important, having the best car on race-day is the key to winning a championship.
"Today, we got basically a race-day tune-up," said McClenathan. "It's much warmer, and the humidity's here, and it looks like it's going to be a little bit warmer tomorrow, so we just need to be careful. We can make it A to B. You can't get the big E.T.s and speeds that we saw last night, but last night was perfect conditions as far as trying to go out there and lay one down, so we took advantage of it and picked up a few points along the way. That's good for us.
"Today was just all about let's go A to B and let's get a race-day tune-up so we're able to make it through some rounds. Our side of the ladder looks awful tough tomorrow, so we're going to have to fight for it. You know what, I've had to depend on other people to take out some of the frontrunners here, and now maybe we'll get a chance to do it ourselves tomorrow instead."
Current Top Fuel point's leader Larry Dixon qualified in the fourth position and will take on the 13th place qualifier Troy Buff in the first round of eliminations.   
Leading the field in Funny Car was Pedregon in his Snap-On Tools Toyota Camry, who secured his first No. 1 position of the season and his first since the 2009 event at zMax Dragway.  The run of 4.078 seconds at 303.57 mph he posted Friday, gives him his 39th career No. 1 qualifier in Funny Car.
"We had a great day and made two great runs," said Pedregon. "I didn't expect the car to run a 4.11 in the last session, but sometimes the car does great things on its own. The way we struggled early in the year and came around to have a car like this, anything we do tomorrow is absolute gravy. It's my first year as a driver/crew chief, and Danny DeGennaro and the crew have done a great job.
"I had a third of the budget I needed and no crew chief at the start of the season, but I wanted to race. I look at it like being on a desert island; you can lay down and die, or you can eat the bark off trees and little critters to survive. I've won two championships, but I'm not quite done yet. Nobody would have given me a chance at the start of the season, but here we are. I hope to inspire people by showing them that patience and perseverance pays off."
Countdown to the Championship contender Tim Wilkerson saw his championship hopes fade dramatically as he failed to make the 16 car field in Funny Car.  This was the first time he hadn't made a race since the opening Pomona race in 2009 and comes off his first round loss at the previous event.
Line blasted to the top spot with a run of 6.604 seconds and 209.56 mph in his Summit Racing Pontiac GXP to secure the No. 1 qualifying position in the Pro Stock category.  For Line, the 2006 series champion, it is his first No. 1 of the season and the 17th in his career.    
"It feels good to be No. 1 anywhere but here is great because we have more friends and family at the track.  Honestly, it's been so long I can't remember what it feels like. Either Greg [Anderson] or I were No. 1 in all four sessions, and our other teammate Ronnie [Humphrey] ran good as well. We're headed in the right direction. It's good to be back near the top," said Line after the session.  "We have power to run up front and getting [bonus points] is good. It's been a hard season for us; we're not as good as we're accustomed to being.
"It's a new day tomorrow. It feels good as a driver to know you can run as fast or faster than everyone else, especially if you're an engine guy because you have a part in making the car go faster. When the car doesn't run good your thoughts are on that. Tomorrow, I can focus on my driving. There is no reason that one of us can't come through. It's do or die as far as the championship. This is a defining moment and we need to make it happen."

Tonglet continues his recent hot streak coming off his win at the Mac Tools U. S. Nationals and secured his first ever No. 1 qualifying position in the final session of the day.  His newly sponsored Nitro Fish Suzuki posted run of 6.910 seconds at 193.29 mph that puts him at the top charts going into finals on Sunday.  Tonglet is in his rookie season of NHRA Full Throttle Drag Pro Stock Motorcycle racing and is not only a candidate for the Automobile Club of Southern California Road to the Future Award but also a contender in the championship battle.
"Those eight points we got will be huge going into the next race. We need to get as many as we can. Now, I hope to be able to go some rounds tomorrow on the Nitro Fish Suzuki. My dad, (Gary) has been working on our tune-up. We've been spinning the tire but it's getting better and better," said Tonglet following qualifying.  "With this new [sponsor] he's not so conservative anymore. In the final session we stepped it up. It slowed a bit in 60-feet but picked up in back half. I was really surprised that we ran that good. When I went to Gainesville, we just wanted to be No. 16. Now, we're No. 1. The whole thing has turned upside down for us.
"Having the support of Nitro Fish takes a lot of the pressure off. Now, we know we can make the rest of the races. It's great for all of us. I can concentrate on riding and my dad and brother [GT] and tune the bike. Kenny [Koretsky] saw us in a bind and he stepped up to help us this year and hopefully next season. "
 
Eliminations for the O'Reilly Auto Parts NHRA Nationals begin on Sunday at Noon at zMax Dragway.
---
---