Sun., Sept. 26, 2010
Johnson makes statement with Dover win on NASCAR Sprint Cup Series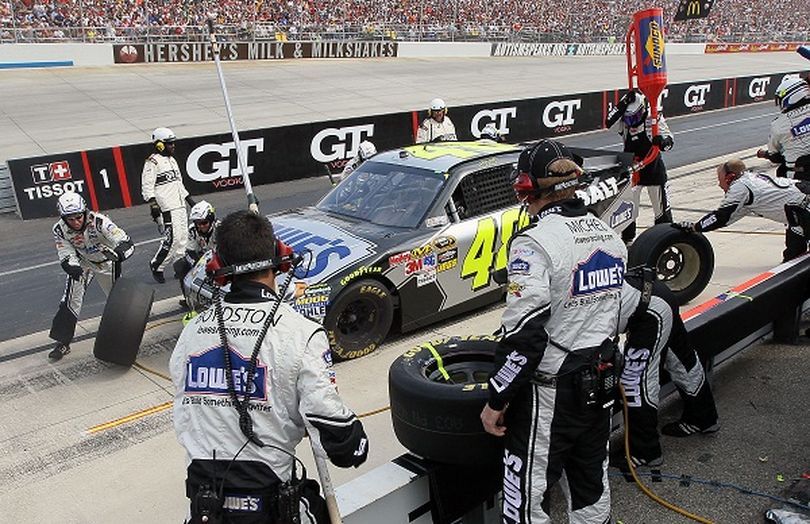 While the talk had been centered on Denny Hamlin's verbal sparring with Richard Childress Racing's Kevin Harvick heading into the AAA 400 at Dover International Speedway, Jimmie Johnson kept his head down and focused on winning his first race in the 2010 NASCAR Chase for the Sprint Cup.
By Reid Spencer
Sporting News NASCAR Wire Service
DOVER, Del.(Sept. 26, 2010) —The leading rebounder in NASCAR's Sprint Cup Series solidified his status in Sunday's AAA 400 at Dover International Speedway.
Lest any of his competitors happened to forget that Jimmie Johnson will be a factor in the Chase for the NASCAR Sprint Cup, Johnson gave them a smoky reminder Sunday afternoon as he rallied from last week's rocky start to the Chase at New Hampshire.
Moments after beating Jeff Burton to the checkered flag by a convincing 2.637 seconds on the 1-mile concrete oval, Johnson stirred up a cloud of smoke with a burnout on the Monster Mile's asphalt apron near the entrance to the garage.
As the drivers he beat rolled through the gate to the garage area, they had to pass through Johnson's smoky celebration. It wasn't exactly a case of "eat my dust," but it was close.
"Man, you are rubbing it into all these guys' faces here," crew chief Chad Knaus radioed to the driver, after Johnson completed the best-case rally from last week's 25th-place run.
Indeed. Johnson won the pole, led the most laps (191) and scored maximum points (195) as he vaulted four positions to second in the Chase standings, 35 points behind ninth-place finisher Denny Hamlin, who posted a respectable result at a track that has plagued him in past Chases.
"It's a huge weight off my shoulders that we were able to come here and win a race in the Chase, rebound from last week," said Johnson, who won for the sixth time this season, the sixth time at Dover and the third time in the past four races at the Monster Mile.
With 53 Cup victories, Johnson is 10th all time, one behind Lee Petty and two behind Rusty Wallace.
Johnson regained the lead from Carl Edwards on Lap 366 of 400, when Edwards brought his No. 99 Ford to pit road during a cycle of green-flag stops. Johnson pulled away from Burton over the final 35 laps.
"Today is a great day for us, because it shows us what we are capable of and the fact that we can win races and be competitive in this Chase," Johnson said. "This summer was hard on us—there's no way around that. We had bad races and finished bad. We had good races and finished bad. So it's nice today to do things start-to-finish all weekend long on the right foot."
Joey Logano—the only non-Chase driver in the top six—finished third. Kurt Busch ran fourth, Edwards fifth and Kyle Busch sixth. Kyle Busch remained third in the standings and trails Hamlin by 45 points.
Burton hadn't written off Johnson's No. 48 team after New Hampshire—far from it.
"Well, they're good," he said before correcting himself. "They're not good—they're great. That word is not being overused when I say that. They've won four (championships) in a row. You're not good doing that. You have to be great to do that.
"They've been in the hunt. They've been in the mix. I think they're as seasoned as you can possibly be together. They fought the fights together. They haven't won every championship together. They've lost some, too. Through losing some, you gain wisdom. Through winning some, you gain wisdom. They perform. That's what they did.
"I expected them to come here and perform. This is one of their best race tracks. It didn't surprise me to see them run as well as they did."
Notes: A problem on the final green-flag pit stop dropped Jeff Gordon to 11th at the finish. He lost four spots in the standings to eighth, 83 points behind Hamlin. … Hamlin's 35-point lead is the largest in Chase history after two races, but no driver who has led the standings after two races has gone on to win the title. … Clint Bowyer finished 25th, three laps down, and trails Hamlin by 235 points pending the result of Wednesday's appeal of a 150-point penalty NASCAR levied against Bowyer when his race-winning car at New Hampshire failed inspection. … Tony Stewart went a lap down early and ultimately came home 21st, two laps down. After running out of fuel and finishing 24th at Loudon, Stewart is 10th in the standings, 162 points behind Hamlin.
---
---