Sun., Sept. 26, 2010
Rookie Austin Dillon Wins Las Vegas Truck Race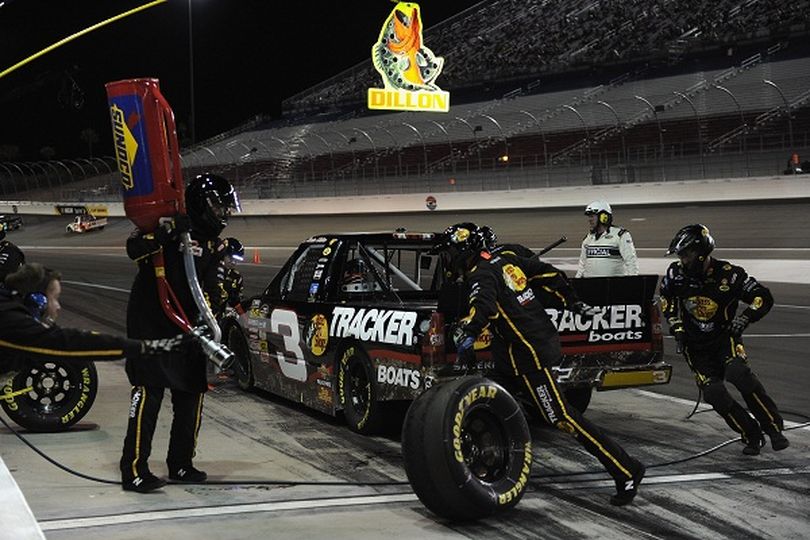 Austin Dillon made history in Las Vegas on Saturday night as he became the youngest driver in the track's history to win a NASCAR series event. Dillon won the pole and had the dominant truck throughout the night en route to the victory.
By Brian Hilderbrand
Special to the Sporting News NASCAR Wire Service
LAS VEGAS—
Rookie Austin Dillon grabbed the lead from James Buescher with 35 laps remaining and pulled away to post a commanding victory Saturday night over Johnny Sauter in the NASCAR Camping World Truck Series race at Las Vegas Motor Speedway.
 
Dillon's 5.588-second margin of victory in the Smith's Food & Drug Stores 350 was the largest winning margin in 14 truck series races in Las Vegas. Buescher finished third, series points leader Todd Bodine was fourth and Matt Crafton was fifth.
Aric Almirola, Brian Ickler, Justin Lofton, Ricky Carmichael and Ken Schrader rounded out the top 10.
Dillon, who earned his first series victory at Iowa Speedway in July, had the dominant truck all night—once he got out front and was running in clean air. Dillon, 20, led 93 of the 146 laps.
 
"Anytime you're in victory lane, it's awesome," said Dillon, whose grandfather is longtime NASCAR team owner Richard Childress. "This Chevy was awesome all night and (my crew) is the bomb."
Dillon, who started from the pole, and Buescher waged a back-and-forth battle for much of the last third of the race before Dillon took the lead one lap after a restart on Lap 111. Buescher stayed on Dillon's bumper before losing second place to Sauter on a restart on Lap 119 following the final caution of the race.
 
Dillon extended his lead over Sauter to nearly seven seconds before a spinning truck on the final lap forced Dillon to slow coming to the checkered flag.
Dillon had lost the lead to Buescher on a couple of restarts earlier in the race after choosing to start on the outside. On the final restart, Dillon moved down to the inside position and got the jump on Buescher and pulled away.
 
"At the beginning of the race, James was laying back so I was kind of timing it and that's why I could get a really good restart," Dillon said. "Then he started catching onto it, and there at the end I just waited for him to do his little move and I was able to catch it and (my truck) pulled off."
 
Dillon's victory no doubt provided an emotional lift for Childress, whose No. 33 Sprint Cup Series team was penalized by NASCAR and suffered accusations of cheating for much of the week.
 
"I talked to (my grandfather) earlier in the week, and he said, 'Man, you've got to go win this race for me out here,' " Dillon said. "To come out here and do it is pretty awesome. You dream about stuff like this and when it comes true, it's great."
By virtue of finishing two places ahead of Almirola, Bodine increased his lead in the drivers' standings to 262 points over Almirola with five races remaining. Sauter remained in third place in the standings, 300 points behind Bodine.
 
There were 14 lead changes among nine drivers and the race was slowed by seven caution periods for 30 laps.
---
---