Sun., Sept. 26, 2010
Saldana's Championship Bid Tougher After Scary Crash at Eldora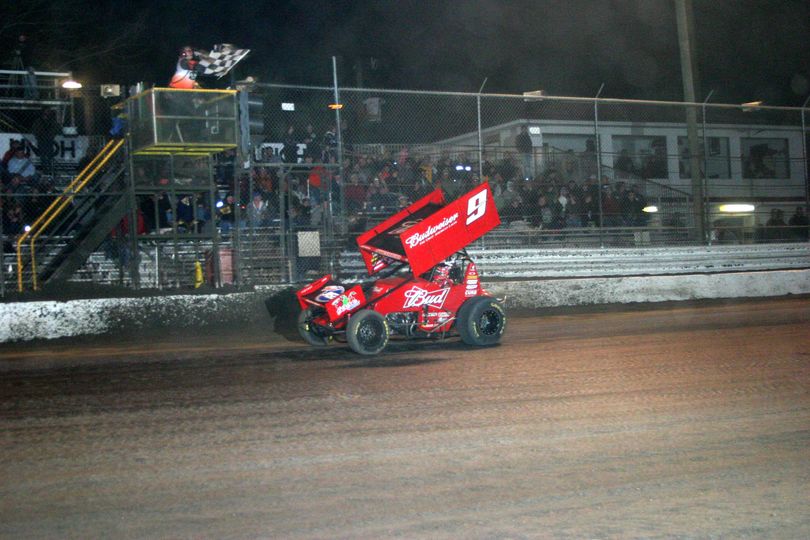 Joey Saldana's chances of winning the 2010 World of Outlaws Sprint Car Series championship took a major step back after the driver of the Budweiser car owned by Kasey Kahne was involved in an incident at Eldora Speedway.
Courtesy: WoO Sprint Car Series Media Relations
CONCORD, N.C. - Sept. 25, 2010 - Jason Meyers and Kasey Kahne Racing's Joey Saldana have been in a back-and-forth battle for their first World of Outlaws Sprint Car Series championship all season, with 20-time champion Steve Kinser looking to pounce from only a few points back.

However, a scary crash on the opening lap at Friday night's main event at Eldora Speedway has had a major impact on that battle. Saldana, who had moved back atop the standings after qualifying, started on the outside of the front row when a caution came out before the field could complete a circuit at the high-banked track in Rossburg, Ohio, owned by Tony Stewart. Saldana made contact with pole-sitter Sammy Swindell and was sent hard into the fence, ending his night in last place.

Saldana was taken to a hospital for observation and released on Saturday before the series competed at Lernerville Speedway. His lead in the standings turned into a 20-point deficit, which will grow since he won't be competing on Saturday night in the Commonwealth Clash.
"He's doing pretty good," said crew chief Willie Kahne. "From talking to (his wife) Shannon he is still pretty groggy. His jaw hurts and his back hurts and his memory is not quite right. He's not fit to race tonight, that's for sure, but he'll make a full recovery in the next few days I'm sure.

Kasey Kahne Racing's Brad Sweet will fill in at Lernerville for Saldana, who will receive 75 medical exemption points in the drivers' standings while Sweet will attempt to close the gap to Meyers' Elite Racing Team in the owners' standings. Not only are Meyers and Saldana trying to capture their first World of Outlaws championships, but their teams are also looking for their first crowns.

"It's a good benefit to our program that when we get into tough situations like this that we have drivers that can fill in and that are familiar with our program. Hopefully we won't skip a beat."
The World of Outlaws Sprint Cars Series competes next in the National Open on Oct. 1-2 at Williams Grove Speedway.
---
---