Sun., Sept. 26, 2010
Wilkerson tops Funny Car qualifying in Dallas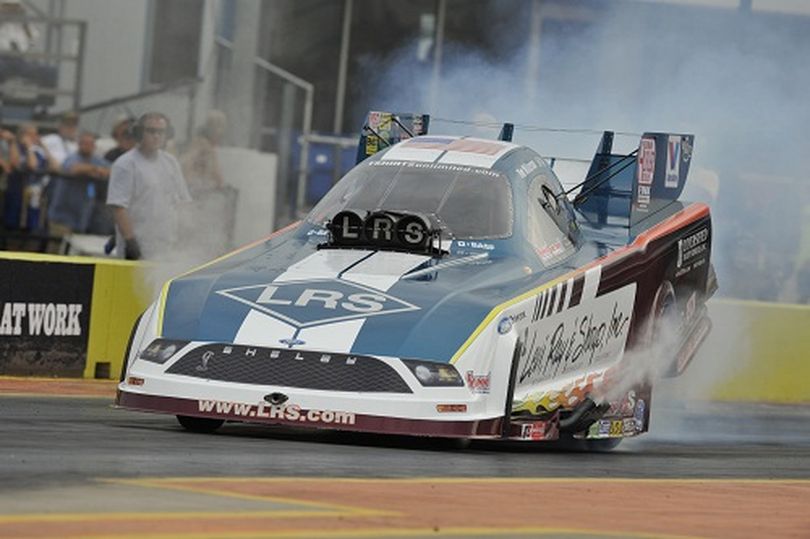 Tim Wilkerson earned his first No. 1 qualifying position of the 2010 NHRA Full Throttle Drag Racing Series campaign. Running the Dallas strip at 4.079-sec. with a speed fo 305.77 mph on the all-concrete Texas Motorplex. Larry Dixon (Top Fuel), Allen Johnson (Pro Stock) and Matt Smith (Pro Stock motorcycle) also secured top qualifying positions on Saturday.
Courtesy: NHRA Media Relations
ENNIS, Texas – Funny Car driver Tim Wilkerson raced to his first No. 1 qualifying position of the season Saturday at the O'Reilly Super Start Batteries NHRA Fall Nationals presented by Castrol Syntec near Dallas.
Larry Dixon (Top Fuel), Allen Johnson (Pro Stock) and Matt Smith (Pro Stock Motorcycle) also will lead their categories into Sunday's eliminations as No. 1 qualifiers in the NHRA Full Throttle Drag Racing Series event.
Wilkerson earned the top spot in a rain-shortened day of qualifying for Funny Car. Due to scattered rain showers throughout the day resulting in more than five hours of delays, NHRA officials set the Funny Car lineup with only three sessions. The other three Full Throttle Series categories were able to complete all four qualifying sessions.
After failing to qualify for the second of six races in the Countdown to the Championship playoffs last weekend in Charlotte, N.C., Wilkerson made the necessary adjustments to get his Levi, Ray & Shoup Ford Mustang back in form and it responded with a category-best performance of 4.079 seconds at 305.77 mph at the all-concrete Texas Motorplex.
 "We have a new combination that we're testing and obviously it's working pretty well," said Wilkerson, who won at the famed Texas dragstrip in 2008. "I don't know if I know how to race it yet, and we won't find that out until tomorrow, but I think I do. We'll just see how things go. Hopefully, I can prove that we're not as dumb as we looked last weekend. Hopefully, we can go some rounds tomorrow and get back in the [Countdown]. That's what we need to do and if the right people lose maybe we can get right back in the middle of it."
Wilkerson will face Dale Creasy Jr. in the opening round as he seeks to make up some ground in the championship hunt, while series leader John Force will face teammate and defending world champ Robert Hight in the first round. Ashley Force Hood was second in her Castrol GTX Mustang with a 4.100 at 307.72 and Jeff Arend was third in his DHL Toyota Camry with a 4.121 at 305.56.
Dixon claimed his seventh top qualifying effort of the year in Top Fuel by posting a track record time of 3.793 at 320.05 in his Al-Anabi Racing dragster. He will meet Scott Palmer in the opening round as goes for his third consecutive playoff victory.
"I really thought the two Schumacher cars that ran behind us would run better than that and I'm sure they did, too," Dixon said. "We were just lucky to run a little quicker and get the pole. I've got a winner's circle picture when I was crewing for Ed "the Ace" McCulloch in 1987 and I was with "Snake" [Don Prudhomme] when he got his last win in Top Fuel and Funny Car here, so I've got a lot of great memories from this track and we're trying to make our own now."
Tony Schumacher was second in his U.S. Army dragster with a 3.799 at 321.65 and will face Mike Strasburg, while Cory McClenathan was third in his FRAM dragster with a 3.805 at 321.58 and will meet Morgan Lucas in the opening round.
Johnson posted a 6.611 at 209.04 in his Team Mopar Dodge Avenger to claim his fifth No. 1 of the season and 12th of his career. He will face four-time world champion Jeg Coughlin – who ran just quick enough in his JEGS.com Chevy Cobalt to sneak into the 16-car field on the last qualifying attempt – in the opening round.
"We don't look at having to run Jeg Coughlin in the first round as a negative," Johnson said. "Well maybe a slight little negative, but it gives me an opportunity to take out one of the contenders. We'll take this number one and smile about it, and go for it and see if we can turn it into a win tomorrow."
Pro Stock series leader and defending world champ Mike Edwards was second in his Penhall/Interstate Batteries Pontiac GXP with a 6.619 at 208.42 and Jason Line was third in his Summit Racing GXP with a 6.634 at 208.30. Edwards will square off against Richie Stevens, while Line will meet Warren Johnson in the first round.
Smith rode his Al-Anabi Racing Buell to the top of the Pro Stock Motorcycle order and earned his second No. 1 qualifying position of the season. He covered the distance in 6.923 at 190.89.
"We made a picture-perfect pass," Smith said. "The rain cleaned the track and then we had six pairs of Funny Cars in front of us and they laid down so much rubber, I knew we had to go for it. When I saw how good the track was, I got my laptop and upped the rpm and did everything I could to lock that clutch up as fast as I could. I threw everything I had at it down low and it stuck. It didn't shake or spin. It was really good."
Eddie Krawiec took the second spot on his Screamin' Eagle Vance & Hines Harley-Davidson with a 6.924 at 195.03 and Friday top qualifier Karen Stoffer dropped to third overall with a best of 6.953 at 192.41 on her GEICO Powersports Suzuki.
---
---