Mon., Feb. 14, 2011
Jason Sides tops World of Outlaws at DIRTcar Nationals by UNOH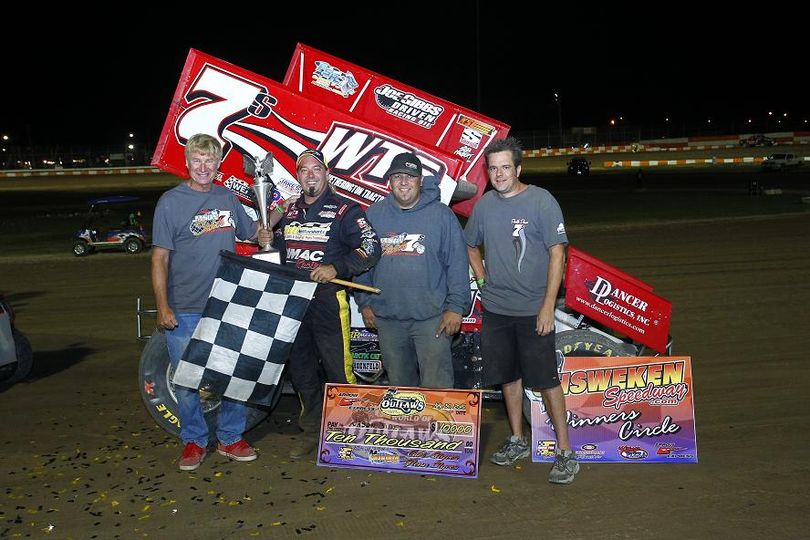 Jason Sides scores an emotional win to cap the weekend's racing at Volusia Speedway Park.
Courtesy: WoO Sprint Car Series Media Relations
BARBERVILLE, Fla. — Feb. 13, 2011 — An emotional night at Volusia Speedway Park in
the Sprint Car finale of the 40th Annual DIRTcar Nationals by University of
Northwestern Ohio wrapped up with Jason Sides and his daughter celebrating in
victory lane.

After splitting the first four nights, all eyes were on Steve Kinser and Sammy
Swindell to see if one of the legendary drivers could win for the third time in five
nights. For Craig Dollansky, Sunday night was about redemption after going out three
laps short of victory on Saturday. In the end, it was Sides who capped off a strong
season-opening weekend with the ninth victory of his career in the Wetherington
Tractor Services Maxim.

"This is a very special win for me," said Sides, of Bartlett, Tenn. "It means the
world to me that my family could be here. It's the first time that my wife, daughter
and parents were here to see me win a race."

Like Saturday, Dollansky again was dominating the main event in his Big Game
Treestands car. He charged out to a big lead and was holding off Kinser's Bass Pro
Shops Maxim when trouble began, and by Lap 24 he could no longer hold his ground at
the front of the field.

"It felt like something broke, like a shock or something," said a dejected
Dollansky. "Come to find we had a bolt come loose on a left front radius rod so we
were very lucky to make it around in once piece."
Dollansky's misfortune — he wound up fading to 11th — opened the door for Sides and
Kinser. Sides, who started fourth, swept past Kinser into second, preventing the
King of the Outlaws from sweeping the weekend.

"It was another great night for us in the Bass Pro Shops car," Kinser said. "Coming
out of here with the finishes that we've had is a good way to start the season off
for the #11 team."

Fred Rahmer was able to wheel his way to a third-place finish with Cody Darrah in
the Great Clips car and defending series champion Jason Meyers in the All-Star
Performance car rounding out the Top 5.

Joey Saldana raced his way to an 8th-place finish in his CARQUEST Maxim to win the
DIRTcar Nationals by UNOH Sprint Car Week championship second consecutive year.

"It's great to win another golden eagle," said Saldana, referencing the trophy given
to winners and champions at the 40th Annual DIRTcar Nationals by UNOH. "It's good to
see that consistency start early for us and I hope we can maintain it throughout the
season."

As the Outlaws depart from Florida, Steve Kinser is already off to an impressive
start to 2011 with two wins and a runner-up finish. Jason Sides hopes to build on
his early season momentum as the series takes a week off and then roars to life at
the Pike County Raceway in Magnolia, Miss., on Friday, Feb. 25, and at Royal Purple
Raceway (formerly Houston Raceway Park) in Baytown, Texas.
DIRTcar Nationals by University of Northwestern Ohio Statistical Report; Volusia
Speedway Park; Barberville, Fla., Feb. 13, 2011

A-main (30 laps) - Starting Position [#] - 1) 7S-Jason Sides[4] [$10,000]; 2)
11-Steve Kinser[1] [$5,500]; 3) 51-Fred Rahmer[10] [$3,200]; 4) 91-Cody Darrah[6]
[$2,800]; 5) 14-Jason Meyers[7] [$2,500]; 6) 15H-Sam Hafertepe Jr.[12] [$2,300]; 7)
33-Danny Lasoski[8] [$2,200]; 8) 9-Joey Saldana[5] [$2,100]; 9) 83X-Tim Shaffer[18]
[$2,050]; 10) 63-Chad Kemenah[13] [$2,000]; 11) 7-Craig Dollansky[2] [$1,500]; 12)
49-Brad Sweet[14] [$1,200]; 13) 27-Daryn Pittman[15] [$1,100]; 14) 17-Tyler
Walker[9] [$1,050]; 15) 30C-Lance Dewease[19] [$1,000]; 16) 5W-Lucas Wolfe[25]
[$100]; 17) 15-Donny Schatz[20] [$800]; 18) 2-Dale Blaney[21] [$800]; 19) 1-Sammy
Swindell[23] [$800]; 20) 6-Kraig Kinser[26] [$0]; 21) 1Z-Stevie Smith[3] [$800]; 22)
24-Terry McCarl[24] [$800]; 23) 2B-Ben Gregg[27] [$0]; 24) 1J-Bronson Maeschen[22]
[$800]; 25) 83-Paul McMahan[17] [$800]; 26) 6R-Bill Rose[16] [$800]; 27) 22-Brian
Ellenberger[11] [$800]. Lap Leaders: Craig Dollansky 1-24, Jason Sides 25-30. KSE
Hard Charger Award: Tim Shaffer

Qualifying (Two laps) - 1) 9-Joey Saldana 13.488; 2) 22-Brian Ellenberger 13.536; 3)
1Z-Stevie Smith 13.557; 4) 15H-Sam Hafertepe Jr. 13.584; 5) 7-Craig Dollansky
13.589; 6) 11-Steve Kinser 13.598; 7) 63-Chad Kemenah 13.618; 8) 7S-Jason Sides
13.620 9) 49-Brad Sweet 13.679; 10) 27-Daryn Pittman 13.681; 11) 33-Danny Lasoski
13.683; 12) 91-Cody Darrah 13.697; 13) 51-Fred Rahmer 13.706; 14) 17-Tyler Walker
13.717; 15) 14-Jason Meyers 13.720 16) 6R-Bill Rose 13.765; 17) 14Z-Jessica Zemken
13.779; 18) 83-Paul McMahan 13.786; 19) 83X-Tim Shaffer 13.814; 20) 5W-Lucas Wolfe
13.831; 21) 80-Spud Gustin 13.861; 22) 30C-Lance Dewease 13.878; 23) 15-Donny Schatz
13.895; 24) 2-Dale Blaney 13.914; 25) 1J-Bronson Maeschen 13.934; 26) 1-Sammy
Swindell 13.953; 27) 89G-David Gravel 13.981; 28) 6-Kraig Kinser 13.986; 29) 39-Greg
Hodnett 14.078; 30) 24-Terry McCarl 14.132; 31) 55-Chad Layton 14.213; 32) 2B-Ben
Gregg 14.350

Heat 1; (8; Laps, top 5; finishers transferred to A-feature) - 1) 7-Craig
Dollansky[3]; 2) 51-Fred Rahmer[1]; 3) 49-Brad Sweet[2]; 4) 9-Joey Saldana[4]; 5)
1J-Bronson Maeschen[7]; 6) 14Z-Jessica Zemken[5]; 7) 80-Spud Gustin[6]; 8) 39-Greg
Hodnett[8].

Heat 2; (8; Laps, top 5; finishers transferred to A-feature) - 1) 17-Tyler
Walker[1]; 2) 11-Steve Kinser[3]; 3) 27-Daryn Pittman[2]; 4) 83-Paul McMahan[5]; 5)
30C-Lance Dewease[6]; 6) 22-Brian Ellenberger[4]; 7) 1-Sammy Swindell[7]; 8)
24-Terry McCarl[8].

Heat 3; (8; Laps, top 5; finishers transferred to A-feature) - 1) 14-Jason
Meyers[1]; 2) 33-Danny Lasoski[2]; 3) 1Z-Stevie Smith[4]; 4) 63-Chad Kemenah[3]; 5)
15-Donny Schatz[6]; 6) 83X-Tim Shaffer[5]; 7) 55-Chad Layton[8]; 8) 89G-David
Gravel[7].

Heat 4; (8; Laps, top 5; finishers transferred to A-feature) - 1) 7S-Jason Sides[3];
2) 91-Cody Darrah[2]; 3) 6R-Bill Rose[1]; 4) 15H-Sam Hafertepe Jr.[4]; 5) 2-Dale
Blaney[6]; 6) 5W-Lucas Wolfe[5]; 7) 6-Kraig Kinser[7]; 8) 2B-Ben Gregg[8].

Dash (6; laps, finishing order determined first 10 starting positions of A-feature)
- 1) 11-Steve Kinser[1]; 2) 7-Craig Dollansky[2]; 3) 1Z-Stevie Smith[3]; 4) 7S-Jason
Sides[5]; 5) 9-Joey Saldana[4]; 6) 91-Cody Darrah[7]; 7) 14-Jason Meyers[10]; 8)
33-Danny Lasoski[6]; 9) 17-Tyler Walker[9]; 10) 51-Fred Rahmer[8].

B-main (12; laps, top 4; finishers transferred to A-feature) - 1) 22-Brian
Ellenberger[1]; []; 2) 1-Sammy Swindell[6]; []; 3) 83X-Tim Shaffer[3]; []; 4)
24-Terry McCarl[9]; []; 5) 6-Kraig Kinser[8]; [$200]; 6) 55-Chad Layton[10];
[$180]; 7) 5W-Lucas Wolfe[4]; [$175]; 8) 80-Spud Gustin[5]; [$160]; 9) 14Z-Jessica
Zemken[2]; [$150]; 10) 89G-David Gravel[7]; [$150]; 11) 2B-Ben Gregg[11]; [$150];
12) 39-Greg Hodnett[12]; [$150].

World of Outlaws Sprint Car Series Driver Standings
Pos. Driver Total Diff Wins Top 5 Top 10 QT
1. Steve Kinser 446 2 3 3 0
2. Joey Saldana 433 -13 0 2 3 2
3. Tim Shaffer 414 -32 0 1 3 0
4. Jason Sides 410 -36 1 2 2 0
5. Jason Meyers 396 -50 0 1 2 0
6. Cody Darrah 386 -60 0 1 1 0
7. Brad Sweet 384 -62 0 0 1 0
8. Donny Schatz 382 -64 0 1 1 0
9. Danny Lasoski 381 -65 0 0 2 0
10. Paul McMahan 378 -68 0 1 1 1
11. Fred Rahmer 374 -72 0 1 1 0
12. Kraig Kinser 372 -74 0 1 1 0
13. Dale Blaney 370 -76 0 0 1 0
14. Chad Kemenah 370 -76 0 0 1 0
15. Sammy Swindell 364 -82 0 1 1 0
16. Daryn Pittman 364 -82 0 0 1 0
17. Lance Dewease 358 -88 0 0 1 0
18. S. Hafertepe Jr. 354 -92 0 0 1 0
19. Stevie Smith 351 -95 0 0 1 0
20. Craig Dollansky 341 -105 0 0 0 0
---
---