Fri., Feb. 18, 2011
Burton and Busch score Gatorade Duel wins at Daytona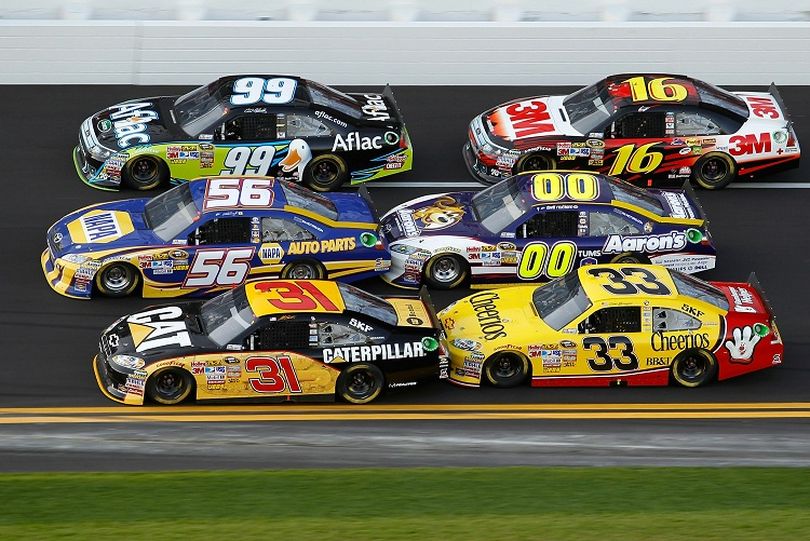 Kurt Busch picked up where he left off in last Saturday night's Budweiser Shootout by scoring his second win of the week while Jeff Burton raced his way to a first-ever Gatorade Duel victory at Daytona International Speedway. The twin race format set the starting line-up for Sunday's Daytona 500.
By Reid Spencer
Sporting News NASCAR Wire Service
DAYTONA BEACH, Fla.—Kurt Busch proved his victory in Saturday's Budweiser Shootout was no fluke.
Jeff Burton, with an assist from Clint Bowyer, used the Shootout as an object lesson and figured out how to stay in front at the finish at Daytona International Speedway.
On Thursday afternoon, Busch and Burton each won a Gatorade Duel 150 qualifying race for the first time—Busch capturing the first event with a sustained push from Regan Smith, Burton edging Richard Childress Racing teammate Bowyer in a photo finish in the second Duel.
Busch earned an extra bonus for his victory. He'll lead the field to the green flag in Sunday's Daytona 500, because pole winner Dale Earnhardt Jr. wrecked during Wednesday's practice, went to a backup car and must start NASCAR's most important race from the rear of the field.
Jeff Gordon, who qualified second on Sunday and finished 12th in the second Duel, will start from the outside of the front row based on his effort in time trials. Burton will start behind Gordon in fourth position.
Smith finished second in the first Duel and will line up in third position for the 500 after Earnhardt drops to the rear before the start. Kevin Harvick, Matt Kenseth and Kasey Kahne completed the top five in the first Duel.
Bowyer crossed the finish line .005 seconds behind Burton and will start sixth in Sunday's race. Michael Waltrip raced his way into the 500 by virtue of a third-place finish in the second Duel, followed by Kyle Busch and Brian Keselowski, who was pushed to his fifth-place finish by his brother Brad Keselowski.
"It's the Double Deuce power right now," said Kurt Busch, who changed sponsors from Miller Lite to Shell/Pennzoil and car number from 2 to 22 this year. "Great ride through these Speedweeks—being in the right place at the right time.
"To be in those positions, you have to have a good drafting partner. I had that with Regan Smith (Thursday), had it with (Jamie) McMurray on Saturday night (in the Shootout). But you can't be in those positions if you don't build a great racecar."
Busch was reluctant to savor the victory too much, but his success bodes well for the 500.
"I can't get too far ahead of myself, because this is Daytona, and this place can jump up and bite you pretty quick," Busch said. "But we're going to ride this wave. We've made all the right decisions so far with all of our adjustments on our car, adapting to the rule changes with restrictor-plate sizes and grille opening sizes. This is a new era at Daytona in my mind."
It was a new era, too, in the eyes of the fans, who saw cars racing in pairs throughout the afternoon, despite NASCAR's best efforts to break up the two-car drafts through rule changes that theoretically would make water temperatures reach limits more quickly.
Nevertheless, the Fords in particular were able to push other cars for sustained periods simply by ducking out from behind the lead car and getting air to the engines.
In Burton's view, being able to work with Bowyer was a distinct plus. The Chevrolet drivers took turns pushing each other until Bowyer made a run at the win as the cars approached the finish line.
"It's an advantage to have a teammate—there's no question about it," Burton said. "Everybody can see that. The difficult part is getting with a teammate.
"We worked diligently to make sure we were with a teammate. We tried very hard to be with Clint. Everywhere he went, I went. Everywhere I went, he went. (Crew chief) Todd (Berrier) said it best: It's a shame there wasn't room in victory lane for both cars."
Bill Elliott and J.J. Yeley transferred to the Daytona 500 from the first Duel, joining Waltrip and Brian Keselowski in Sunday's race. Joe Nemechek, Travis Kvapil and Dave Blaney also made the field as the fastest three cars in time trials not otherwise qualified. Terry Labonte will start the race on a past champion's provisional.
Note: The first Duel set a record for lead changes (21), since the format of the Duels went from 125 to 150 miles in 2005. The second Duel reset the standard with 22 lead changes.
---
---