Sat., Feb. 19, 2011
Stewart Wins Fourth Consecutive Daytona NASCAR Nationwide Series Race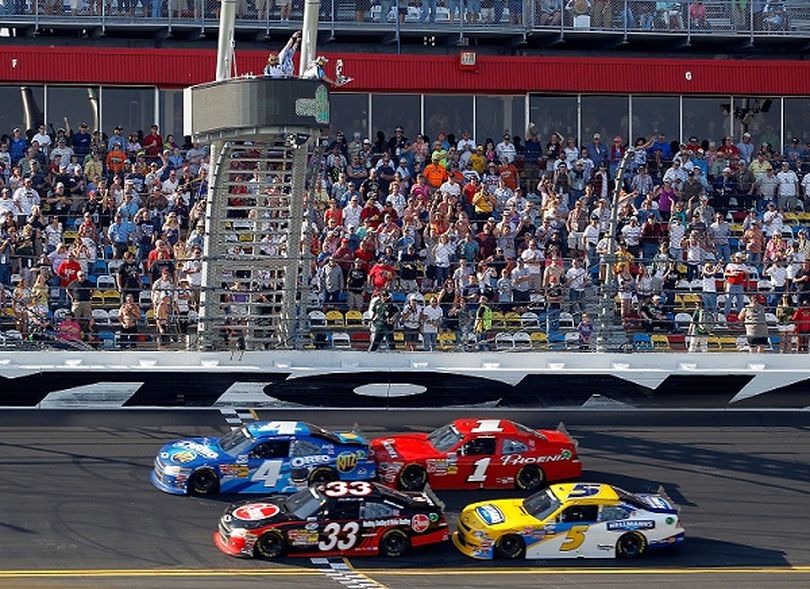 The Smoke Show was at his best when it counted just nipping Clint Bowyer at the line for his fourth straight NASCAR Nationwide Series victory at Daytona.
By Reid Spencer
Sporting News NASCAR Wire Service
DAYTONA BEACH, Fla.—With a shove from Landon Cassill, Tony Stewart surged past Clint Bowyer at the finish line to win Saturday's season-opening Drive4COPD 300, his fourth straight NASCAR Nationwide Series victory at Daytona International Speedway.
Bowyer ran second .007 seconds behind Stewart. Cassill came home third, followed by Dale Earnhardt Jr., who had pushed Bowyer for six laps after a restart on Lap 115 of the 120-lap race. The margin of victory was the third-closest in series history and the closest ever for a NASCAR Nationwide finish at Daytona.
Danica Patrick finished 14th, one lap down, her best result in 14 NASCAR Nationwide starts.
Cassill also was involved in another pivotal moment of the race.
With the field bunched after a restart on Lap 104, Cassill moved down on drafting partner Brad Keselowski, knocking Keselowski's No. 22 Dodge into the infield grass. Keselowski, the defending NASCAR Nationwide Series champion, turned back across the track and sandwiched the No. 39 Ford of Josh Wise against the outside wall in the tri-oval, then bounced off the wall himself.
The crash ended Keselowski's streak of 102 straight races without a DNF (did not finish).
It was restrictor-plate racing like no one had ever seen before. By Lap 55 of 120, a paired-up four-car breakaway involving the tandems of Keselowski-Trevor Bayne and Kyle Busch-Joey Logano had opened a 17-second lead over Stewart and Bowyer, who were running fifth and sixth at the time.
By the time NASCAR called a debris caution on Lap 100, there were only 12 cars on the lead lap—unheard of in modern-day restrictor plate racing, which typically features large packs of cars racing in close quarters within a few seconds of each other.
Note: Pit road at Daytona has been a veritable briar patch for Earnhardt, and Saturday was no exception. Stopping under caution on Lap 17, Earnhardt drove past his No. 5 pit stall and headed for the No. 88, his NASCAR Sprint Cup number. The crew remedied that by holding out a No. 88 pit sign for Earnhardt on the next stop, meaning that both Earnhardt and JR Motorsports teammate Aric Almirola had No. 88 signs.
---
---