Sat., Feb. 19, 2011
Waltrip storms to NASCAR Camping World Truck Series victory at Daytona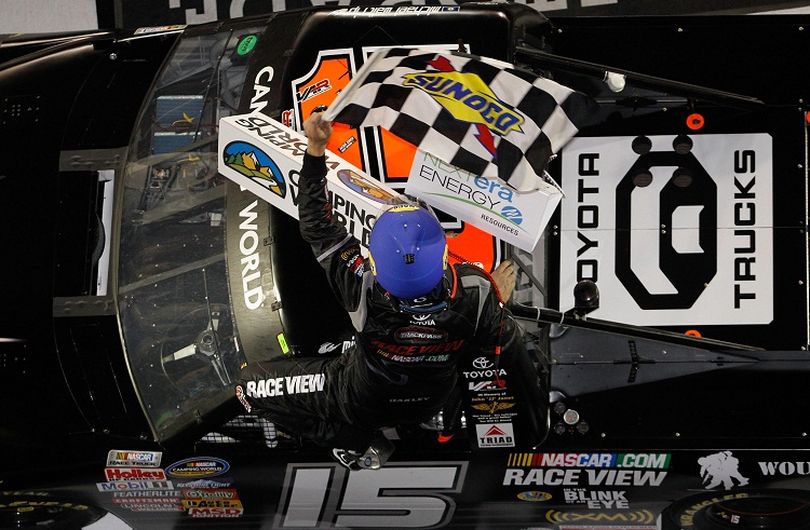 Waltrip wins at the historic speedway ten years to the day of his Daytona 500 victory. Elliott Sadler finished a close second followed by Clay Rogers, Miguel Paludo and Kyle Busch.
By Reid Spencer
Sporting News NASCAR Wire Service
DAYTONA BEACH, Fla.—Ten years to the day from his first victory in the Daytona 500, Michael Waltrip made a slingshot pass of Elliott Sadler at the end of a green-white-checkered-flag finish Friday night to win the NextEra Energy Resources 250 Camping World Truck Series race at Daytona International Speedway.
The victory in the season opener, which went three laps past its scheduled distance of 100 laps, was Waltrip's first in the truck series.
It also was the 10th anniversary of the death of Dale Earnhardt Sr., who owned the car Waltrip drove to his 2001 Daytona 500 victory. Waltrip is racing in all three of NASCAR's top three touring series this weekend, and he decaled his truck and cars to honor Earnhardt.
"I came here to celebrate his life with my black truck and my No. 15 car," an emotional Waltrip said after the race. "I didn't come here to celebrate a win."
Sadler crossed the line in second place, followed by Clay Rogers, Miguel Paludo and Kyle Busch.
"I went to victory lane to congratulate him," Sadler said, "and I said to Michael, 'If anyone deserves to win a race today, you do.' "
Jennifer Jo Cobb finished sixth, the highest finish in the truck series for a woman. Cobb, 37, also became the first woman to finish in the top 10 in any of the top three divisions at Daytona.
Sadler held the lead for a restart on Lap 89 and surged ahead with help from Waltrip. Busch made his move in the closing laps, pushing Chris Fontaine toward the front. But contact between Brad Sweet and Parker Kligerman on Lap 96 started a chaotic wreck that took out most of the cars that were still running, after a 14-car pileup on Lap 75 trimmed the field.
James Buescher led the first 55 laps, which included a cycle of green-flag pit stops, before the bed cover of No. 07 Chevrolet of Donnie Neuenberger's truck flew off in Turn 4 to cause the second caution of the race.
Timothy Peters, the winner of last year's season opener at Daytona, took the lead after a fuel-only pit stop under caution on Lap 56. Ricky Carmichael was second off pit road, with Buescher third for a restart on Lap 58.
Those three drivers remained 1-2-3 until the hood of Justin Marks' Chevy came loose on Lap 66, flew up and covered the windshield. Unable to see the track ahead of him, Marks slammed into the Turn 1 wall to bring out caution No. 3.
Carmichael won the race off pit road after fuel stops on Lap 67, as the trucks reached a pit window that would allow them to complete the race without another stop. Rogers, who remained on the track during the caution, led the field to the green flag on Lap 70, but Sadler quickly surged into the lead from the outside line, bringing Buescher with him.
Sadler stayed on point until a wild 14-truck wreck on Lap 75, ignited when Travis Kvapil blew a tire, collected a number of trucks that figure to be championship contenders this season, including those of defending champ Todd Bodine, Ron Hornaday Jr. and Matt Crafton.
---
---