Mon., Feb. 21, 2011
Wood Brothers make improbable return to Victory Lane at Daytona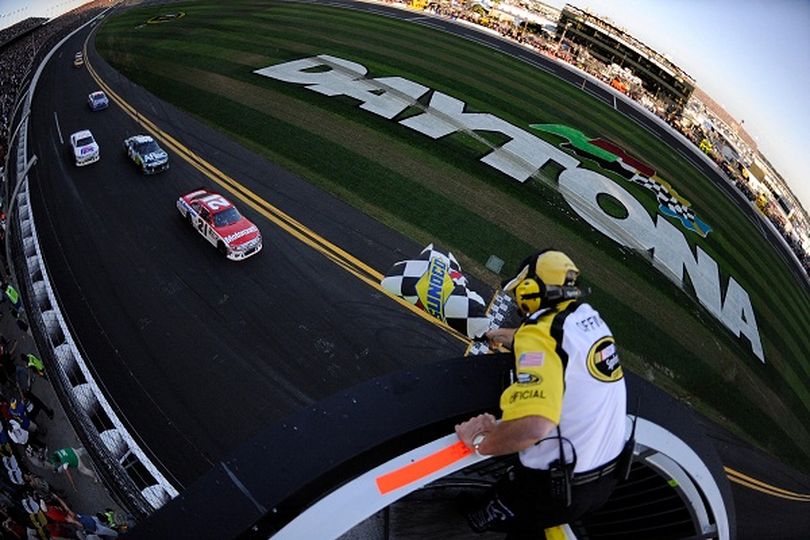 Twenty-year-old Trevor Bayne held on for a stunning win in the Daytona 500, becoming the youngest winner of the Great American Race while driving for NASCAR's oldest team.
Paul Newberry
Associated Press
DAYTONA BEACH, Fla. – The Wood Brothers were once a juggernaut in NASCAR, a family team that perfected the modern pit stop and raced to win after win with David Pearson behind the wheel of the powerful No. 21 machine.
As the years passed, though, the brothers got left behind.
Big-spending teams swiped their innovations, assembled a garage full of stars and pushed the Woods to the back of the field, scrambling just to get one car on the track.
"Things haven't been easy for us the last few years," said 85-year-old Glen Wood, one of the team's founders.
Well, look who was back in Victory Lane on Sunday.
In the biggest event of all, no less.
Twenty-year-old Trevor Bayne held on for a stunning win in the Daytona 500, becoming the youngest winner of the Great American Race while driving for NASCAR's oldest team. Fittingly, he steered a Ford adorned with a throwback red-and-white paint scheme, much like the one that was on the car for so many of Pearson's wins.
"I had hope," Wood said, looking toward the winner's circle as the triumphant day turned to night, still a bit of disbelief in his eyes. "But it's been a long time since we won."
Nearly a decade, to be exact.
The Wood Brothers' last win had been with Elliott Sadler at Bristol in 2001. The team hasn't been able to afford a full-time ride the last few years, picking and choosing their events while rarely running near the front of the pack against powerful teams such as Hendrick Motorsports and Richard Childress Racing.
Considering where this team used to be, becoming an also-ran didn't go down easily.
"It was very hard to deal with," said Wood, who has turned over the day-to-day operations to his sons Eddie and Len. "There have been some depressing times. I wouldn't deny that. But they've kept their heads above water and somehow managed to do with what we had. To come out and win this is unbelievable."
Bayne's victory was the 98th for the Wood Brothers, who had their greatest success in the 1970s with Pearson behind the wheel, Glen and his brother Leonard running things behind the wall.
From 1972-78, the Silver Fox won 43 races even though he never ran a full schedule. His most dominating performance came in '73, when he posted 11 wins and three other top-five finishes in just 18 starts. Three years later, he gave the Woods Brothers what had been their most recent Daytona 500 victory until Sunday.
But the brothers' influence goes beyond wins and losses.
They are credited with perfecting the pit stop, realizing that if they could change tires and refill the tank faster than anyone else, it would improve their chances of winning the race. To that point, the driver would pull leisurely into the pits and switch off the car while it was being serviced, with no particular emphasis on speed.
"It was just good common sense," Wood said. "If you made a quick stop under the green, you would be way down the track from (the other cars) when you went back out."
Leonard perfected a jack that could hoist a car off the ground in three or four strokes, instead of 15 or more. One of the team's earliest drivers, Marvin Panch, didn't even worry about running up front.
"He knew if he got a little behind that when he stopped, he'd go back out ahead," Glen Wood said. "But everyone has caught up now."
That, in a sense, is what happened to the Wood Brothers in every facet of their operation. They might have faded away like so many other old-time teams if not for a longtime relationship with Ford Motor Co.
Now, a team that was set to run only 17 races this year – less than half the schedule – might have to adjust its plans.
"It could mean a lot," Glen Wood said. "You never know what this might lead to. I don't know how much we win, but I'm guessing it's more than $24,000."
That was Tiny Lund's payday when he captured the first of the Wood Brothers' five Daytona victories in 1963.
Leonard Wood was amazed at the elaborate ceremony that broke out in Victory Lane after Bayne pulled in.
"This is the biggest celebration in the winner's circle I've ever seen," Leonard said. "I didn't know they did all this. Of course, it's been a long time since we've been here."
---
---