Tue., Feb. 22, 2011
Johnson a pre-season pick for NHRA Pro Stock championship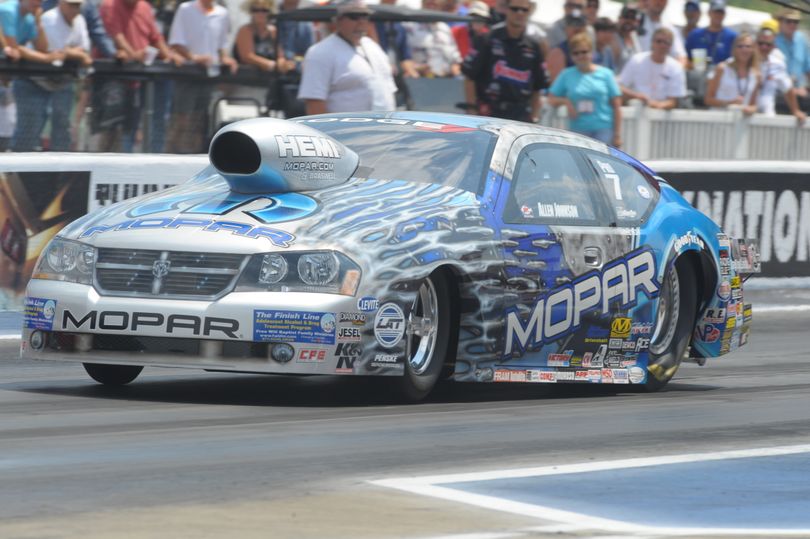 Allen Johnson had a career season in 2010 and looks to kick-off a run towards this year's NHRA Full Throttle Drag Racing Series Pro Stock championship this weekend in Pomona, CA.
Courtesy: NHRA Media Relations
POMONA, Calif. – With a pocket full of red-hot timeslips from a very successful Florida testing trip, NHRA Pro Stock racer Allen Johnson can't wait to get the 2011 NHRA Full Throttle Drag Racing Series underway.
After having one of his best seasons ever behind the wheel of the J&J Racing/Team Mopar Dodge Avenger in 2010, which included one victory in four final rounds and a career-high eight No. 1 qualifying positions, Johnson has emerged as a pre-season championship favorite for many in the 200 mph category and is among the pre-race favorites at the 51st annual Kragen O'Reilly Auto Parts NHRA Winternationals, Feb. 24-27 at historic Auto Club Raceway at Pomona. Larry Dixon (Top Fuel), John Force (Funny Car) and Mike Edwards (Pro Stock) are the defending race winners of the tradition-rich season-opening NHRA Full Throttle Drag Racing Series event that will be televised on ESPN2 HD.
Johnson has said he's hungry to post a series finish this year that's better than his career-best effort of fourth from 2007. He wants to keep the momentum going from last year and given the results of his recent test, he feels like all the hard work is starting to materialize. A new race car and a few tweaks here and there are producing positive results, Johnson says.
"I don't think I've ever been so excited to get the year going," Johnson said. "Our pre-season testing numbers have been awesome, posting a 6.498-second run. I think the consistency we had in testing with our Mopar Dodge Avenger is the biggest thing. It was very consistent. It might not be as ultra-fast right now as we want it to be, but the new chassis is more consistent with a bigger window on the set up."
Johnson says if weather conditions are right at Pomona, fans could see a milestone performance in the Pro Stock category.
"I do think we will have a run in the 6.4-second range this year," Johnson said. "The air will have to be right to do it. If we get somewhere and there is 500 foot of air or less, corrected, I think you'll see a 6.4-second run."
Johnson will be joined by a very tough field of Pro Stock competitors at Pomona, including defending world champ Greg Anderson, No. 2 points earner Greg Stanfield, defending event winner Edwards, NHRA Finals winner Shane Gray, and Erica Enders, who is returning to competition in a Chevy Cobalt fielded by Cagnazzi Racing.
"I think my J&J Racing/Mopar team is up there among the favorites, among the elites," Johnson said. "I do feel like some other teams have made some gains; Greg Anderson and Jason Line will be fast, I think Larry Morgan is closer to getting locked in, and the Cagnazzi group will be as tough as ever. I believe we will have the Mopar Dodge at the forefront, but there will be about six or eight teams that are right there."
With the NHRA celebrating its 60th anniversary in 2011, current drivers will have plenty of time to reflect on the heroes who led them to choose a career in the cockpit. Johnson says he had plenty of legends in Pro Stock to look up to.
"I always watched Ronnie Sox, Don Carlton and Bob Glidden growing up, you know, the Pro Stock legends," Johnson said. "Those were some the NHRA stars I really admired. And of course my dad Roy raced Mopars for years when I was young and I watched him and tried to emulate him, so he would be in that group as well."
And Johnson says kicking off the season in Southern California has always been one of his favorite races. His only final round appearance at the Winternationals came in 2003 when he lost to Warren Johnson, a five-time winner of the season-opener. While his final round encounter with drag racing's legendary 'Professor' is high on his list of moments for this event, he says nothing comes close to his first visit to hot-rodding's home.
"I think my favorite Winternationals memory is my first one," Johnson said. "Seeing those snow-capped mountains in the background for the first time, racing there when it's 70 degrees on your first trip to California — that was pretty special."
---
---