Sun., Feb. 27, 2011
Busch makes it two Phoenix victories in as many days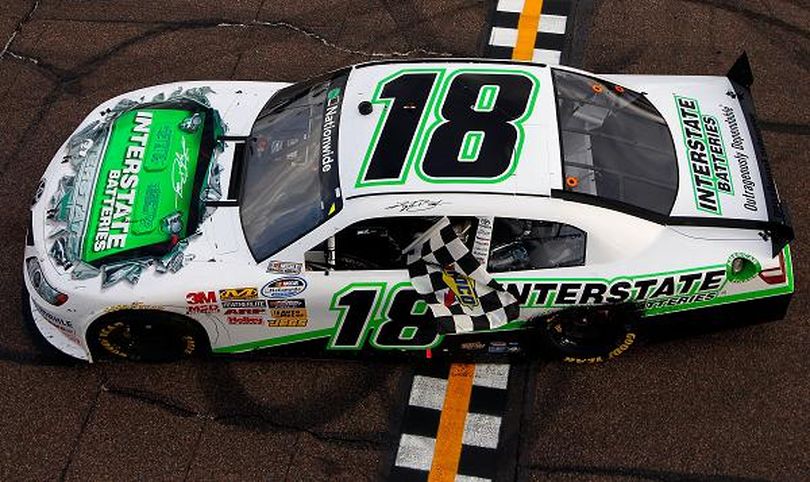 Kyle Busch moved within one race victory of his second-ever NASCAR sweep of the three top series races at held at the same racing facility.
By Reid Spencer
Sporting News NASCAR Wire Service
AVONDALE, Ariz. —
Kyle Busch held off a frenetic challenge from Carl Edwards in the closing laps of Saturday's Bashas' Supermarkets 200 at Phoenix International Raceway and collected his 44th NASCAR Nationwide Series victory.
Having won Friday night's NASCAR Camping World Truck Series race at the 1-mile track, Busch will try for a weekend sweep Sunday in the Subway Fresh Fit 500 Sprint Cup event.
Busch became the only driver to sweep races in NASCAR's top three series at the same track on the same weekend when he accomplished the feat last August at Bristol.
Edwards, who finished .514 seconds behind Busch, made a contest of the race over the final 20 laps, running side by side with Busch for extended stretches as the race neared its end.
Busch became the first driver to lead every lap of an event in one of NASCAR's top three series since Dale Earnhardt Jr. accomplished the feat July 4, 2003, in a NASCAR Nationwide series race at Daytona.
Danica Patrick finished 17th, three laps down, and posted her third straight top-20 result in the series.
As Busch continued his domination in the desert, the fortunes of 2010 series champion Brad Keselowski continued to ebb. On Lap 105, Keselowski blew a right front tire and clobbered the Turn 4 wall to bring out only the second caution of the race.
Keselowski, who had finished 102 consecutive Nationwide races before falling out of last week's Drive4COPD 300 at Daytona, suffered his second straight DNF.
"All I know is that we blew up a right front tire, and I ended up throwing the car into the Turn 4 wall," Keselowski said.
Goodyear provided a softer right-side tire for all three series this weekend, one designed to enhance grip. The tire was chosen based on tests conducted at Richmond.
"Our team never saw this tire until we got to the track this weekend," Keselowski said. "It's a combination of the new tire and the new (Nationwide) car, and that was the recipe for disaster."
---
---