Sun., Feb. 27, 2011
Gordon scores NASCAR Sprint Cup Series victory in Phoenix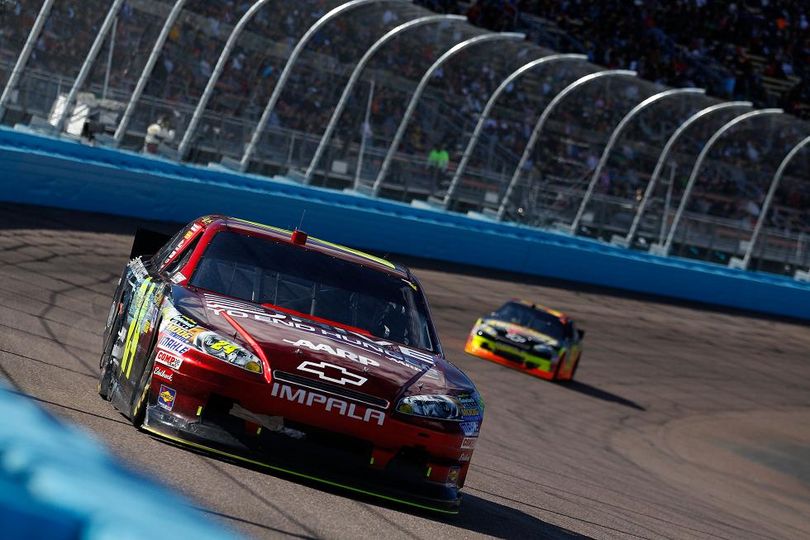 Jeff Gordon denied Kyle Busch's march to a Phoenx International Raceway weekend sweep of NASCAR events on the famed one-mile.
By Reid Spencer
Sporting News NASCAR Wire Service
AVONDALE, Ariz.—Jeff Gordon didn't just drive to end hunger Sunday—he drove to end a famine.
With a convincing victory in the Subway Fresh Fit 500 at Phoenix International Raceway, where he beat runner-up Kyle Busch to the checkered flag by 1.137 seconds, Gordon ended a 66-race winless streak dating to April 2009 at Texas.
The win was Gordon's second at the one-mile flat track and the 83rd of his career, tying him with Cale Yarborough for fifth on the NASCAR Sprint Cup victory list.
He won for the first time in his second start with crew chief Alan Gustafson and in his second race under "Drive to end hunger" sponsorship, an initiative of AARP.
"Pinch me, man. Pinch me," Gordon said in mock disbelief, after killing his engine in an ill-fated burnout on the frontstretch.
Five-time defending Cup champion Jimmie Johnson finished third after starting 28th. Kevin Harvick came home fourth, a substantial improvement over his 42nd-place result in last week's Daytona 500, and Ryan Newman claimed fifth.
Kasey Kahne, Tony Stewart, Kurt Busch, AJ Allmendinger and Dale Earnhardt Jr. completed the top 10.
In victory lane, Gordon was positively bubbly.
"God, it feels so amazing," the four-time Cup champion said. "I can't tell you how amazing this feels. So thankful to (owner) Rick Hendrick, all that he does. It's been a long time, I know. I'm going to savor this one so much, but I've got to say thanks to the fans.
"I mean not only the fans at home—I've been tweeting lately for the first time and all of the stuff that people have been saying, the motivation has been unbelievably inspiring. And then to see that crowd stick around to see my really lame burnout—because I stink at them—but they love that show. Man, we hope we can give them some more shows like that this year."
Taking the lead on Lap 304 of 312, Gordon prevented Busch from achieving the second weekend sweep of his career. Busch had won Friday's Camping World Truck Series race and Saturday's Nationwide Series event.
On Sunday, however, he fell nine laps and one position short of matching the feat he accomplished at Bristol last August, when he became the first driver to win races in all three of NASCAR's top national touring series at the same track on the same weekend.
"There's always got to be the one car out there to ruin the whole weekend," Busch quipped. "Today it was the 24."
Gordon nosed to the inside of Busch's No. 18 Toyota at the start-finish line and cleared him in Turn 1 to complete the winning pass.
"He was gaining on me really good, and I knew he was going to get to me eventually, and this place is so flat and it's one groove that we all run the bottom," Busch said of the sequence where Gordon got to his bumper on Lap 304.
"He got so tucked up behind me in (Turns) 3 and 4, he got me loose, and I could not put the gas down," Busch said. "I mean, he was so far up underneath me that I could not go forward."
Busch, at least, could find some degree of consolation in taking over the lead in the series standings by three points over his brother, Kurt.
Gordon had to survive a number of early wrecks, including a 13-car pileup on the backstretch that blocked the track with crippled cars and stopped the action on Lap 67.
Slight contact between Matt Kenseth's No. 17 Ford and Brian Vickers' No. 83 Toyota cut Vickers' left rear tire and ignited a wild wreck that damaged the cars of Clint Bowyer, Jeff Burton, Jamie McMurray, David Reutimann, Casey Mears, Travis Kvapil, David Gilliland, Bobby Labonte, Regan Smith, Andy Lally and Robby Gordon.
"We're all better racecar drivers than this," a disgusted Bowyer said after the incident. "It's pretty embarrassing, to be honest with you."
The wreck occurred eight laps after contact between Kyle Busch and the No. 99 Ford of polesitter Carl Edwards sent Edwards into the Turn 3 wall. Edwards, who entered the race with the points lead, was able to return to the race but finished 28th, 52 laps back.
"I'm not exactly sure what happened," Edwards said. "I'll have to talk to Kyle about it. I thought at first he was just frustrated and he turned left to get back in line and he didn't know I was there. But I watched the tape, and I think he really did get loose. He hit me hard, and I was left with nothing."
Busch acknowledged responsibility for the wreck, saying repeatedly he owed an apology to Edwards.
---
---