Sun., Jan. 30, 2011
Homecoming Sweet For SoCal's Bowles As He Storms To Showdown Victory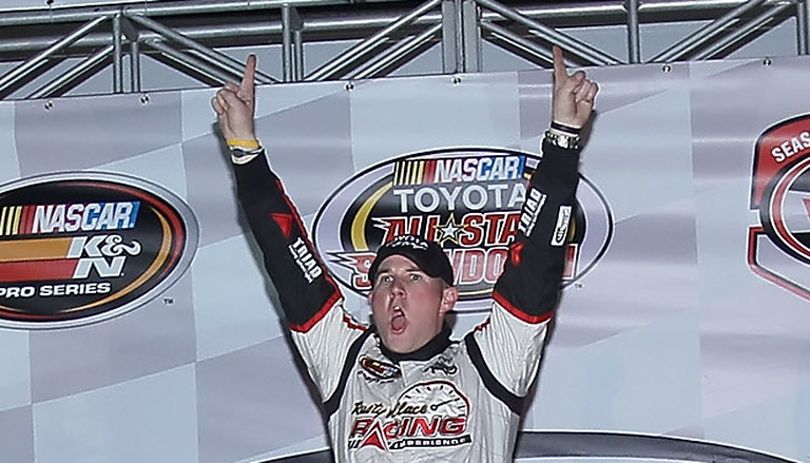 2009 NASCAR K&N Pro Series champion Jason Bowles took advantage of Greg Pursley's misfortune late in the 225-lap NASCAR Toyota All-Star Showdown to claim his first victory in the prestigous event.
IRWINDALE, Calif. – Jason Bowles got the one victory that had eluded him during his NASCAR K&N Pro Series West career. The Ontario, Calif., native drove the No. 75 Rusty Wallace Racing Experience Toyota to the win in the NASCAR Toyota All-Star Showdown Saturday night.
Bowles grabbed the lead on the race's final restart and held off DJ Kennington through the final eight laps. The win for Bowles, the 2009 NASCAR K&N Pro Series West champion, came in front of a sold-out crowd at NASCAR's premier short-track event.
While he was a three-time winner at Toyota Speedway at Irwindale (Calif.) in his NASCAR K&N Pro Series West career, Bowles' best finish in the three previous starts in the 'Daytona 500 of short-track racing' was a third in 2009.
"This is the biggest win of my career," Bowles said. "Race wins are huge right for me right now, trying to put my name on the map and get a job doing this for a living.
"I've got to thank the guys at RWI," he said. "They gave us a car to run. I actually wrecked my primary car in testing. We had this one in the trailer as a backup. We pulled it out and went to work on it."
Despite it being a backup car, Bowles knew he still had a good shot at winning the race.
"I knew we had a good car in practice," he said. "It's the best car I've had here at the Showdown in race trim. So, I was real happy. I've been here four times and I've seen guys wreck on Lap 25, Lap 50, Lap 100 and they never make it to the end. I know you've got to make it to Lap 225. So, we just kind of kept our nose clean. When the green came out for that last 25, it was time to go."
Kennington, the 2010 NASCAR Canadian Tire Series champion, drove to a runner-up finish in his debut at Irwindale.
"It was awesome for us," Kennington said. "We knew we had a pretty good car in practice. I wasn't sure if it was going to be that good. We avoided the wrecks and were able to be there at the end.
"It was a bit too tight to make a run on Jason. I wish we would have had something for the win, but you can't complain with a second."
Jonathon Gomez finished third, while Luis Martinez Jr. and Johnny Borneman rounded out the top five.
Making his NASCAR debut, action sports star Travis Pastrana finished sixth, followed by Derek Thorn, Travis Motley, Moses Smith and NASCAR Nationwide Series driver Steve Wallace.
"It was absolutely awesome," said Pastrana. "I was just happy not to be a complete road block. I learned a lot.
"That last green, it was just chaotic, it was four wide, three wide. I just have to thank (spotter) Matt (Crafton) for keeping me out of most of the trouble. It was a lot of fun. It felt like a win. I know I had a lot of guys in front of me a lotr of guys faster than me out there, but doggone, it was a good time out there."
Martinez earned the Sunoco Rookie of the Race Award, while Borneman won the Coca-Cola Move of the Race Award after starting 37th and improving 32 spots for his finish.
The race featured five lead changes among five drivers and was slowed by 11 cautions.
Thorn, who won the Coors Light Pole Award Friday, was on cruise control in the first segment, with a two-second lead as the competition caution came out for the first of two 10-minute breaks.
Out of the first break, Andrew Myers quickly became the dominant car. Myers built a five-second lead as the second break approached, but a punctured tire brought him to pit road on Lap 190, and he never recovered.
Paulie Harraka, who assumed the lead when Myers relinquished it, was running at the front on Lap 206 after the final break. Coming through Turn 4, Thorn made contact with the left rear of Harraka's car, spinning him out of the lead. Thorn was penalized to the tail end for aggressive driving, while Bowles inherited the lead.
Bowles' first lead of the race was short-lived as Greg Pursley got past him on the ensuing restart. Pursley couldn't make it last, however, as he broke down on Lap 217. From there, it was Bowles' race to win.
---
---