Sat., July 23, 2011
Dillon scores first trucks win of season at Nashville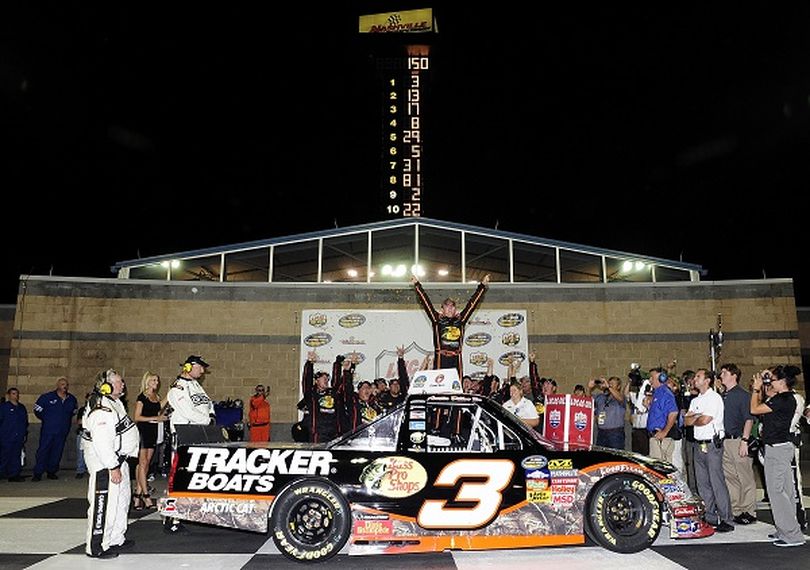 Austin Dillon scored his third career NASCAR Camping World Truck Series victory with a pit stop strategy that took two new tires while his competitors picked up four. From there the grandson of Richard Childress scooted around Johnny Sauter with less then 25 laps to go and sailed to the victory.
By Brian Citino
Special to Sporting News NASCAR Wire Service
(July 22, 2011)
LEBANON, Tenn.—Austin Dillon passed Johnny Sauter with 23 laps to go and did not look back, winning Friday night's Lucas Deep Clean 200 NASCAR Camping World Truck Series race at Nashville Superspeedway for his first trip to victory lane this season.
Dillon, who won two races in 2010, picked up his third career win and his first since Sept. 2010 at Las Vegas Motor Speedway.
Trailing Dillon and Sauter across the finish line were Timothy Peters in third, Nelson Piquet Jr. in fourth and Parker Kligerman in fifth.
Starting the race from the pole position, Dillon made a gutsy call with 46 laps to go, when on a yellow flag pit stop he opted to take two tires while much of the field changed all four, and pulled into the lead on the restart.
Three laps later, he was overtaken by Sauter, but pulled ahead again on Lap 128 and gained a wide margin of space to win by 3.981 seconds. He then attempted a celebratory slide through the grass to a loud and approving grandstand crowd, but comically couldn't slide very far.
Dillon and crew chief Danny Stockman agreed on the two-tire pit stop, saying tires weren't an issue during the race, but track position was.
"It was all about sticking with (Sauter) as long as I could, keep the pressure on," Dillon said. "I knew he was getting looser and looser and I finally had to get up in there with him and loosen him up a little more, and when it happened we just went on."
"I looked at all the tire wears all day and the tires weren't wearing, and I knew if we had track position and clean air, we were gonna go," Stockman said. "And we didn't even have clean air and we still win. Tires weren't an issue tonight."
Sauter, who leads Dillon by 18 points in the standings, was looking for his second win of the season but said at the end of the day the victor's truck was just better.
"He obviously knew that he had a fast truck, because before that pit stop he was dogging me lap after lap," Sauter said. "I knew it was just going to be a matter of time before he got around me."
With the win, Dillon claimed one of the most coveted trophies in the sport—a Sam Bass custom-painted Gibson Les Paul guitar.
"I've been talking about it all week," he said. "They said in the driver's meeting today that it was voted one of the 10 coolest trophies by Sports Illustrated. It's just a beautiful trophy."
Dillon also said the win boosted his confidence moving forward.
"It's just so great to have a win," he said. "When you get a win, everything just seems to be a lot easier."
---
---