Tue., March 1, 2011
NHRA season opener a California thrill show for Lucas, Hight and Line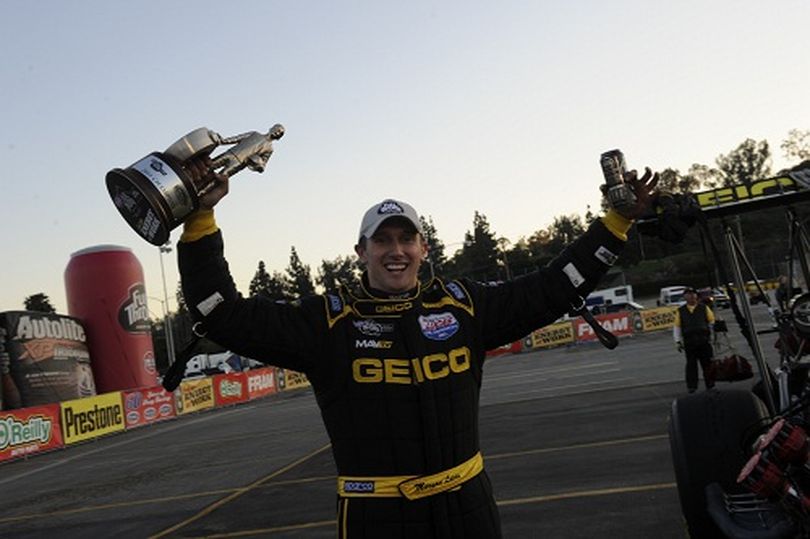 Morgan Lucas proved he belongs in the conversation with regards to NHRA Full Throttle Drag Racing Series Top Fuel title contenders with his win at Pomona while Robert Hight (Funny Car) and Jason Line also made their presence felt with victories.
Courtesy: NHRA Media Relations
POMONA, Calif. – Morgan Lucas defeated Shawn Langdon in a matchup of former high school classmates in the Top Fuel final Sunday at the season-opening Kragen O'Reilly Auto Parts NHRA Winternationals
presented by Valvoline
at historic Auto Club Raceway at Pomona.
The other winners
of the first of 22 races in the
NHRA Full Throttle Drag Racing Series were Robert Hight (Funny Car) and Jason Line (Pro Stock).
Lucas powered to a performance of 3.835 seconds at 316.38 mph in his GEICO Powersports/Lucas Oil dragster and was too much for Langdon, whose Lucas Oil/Speedco dragster lost traction for a moment and slowed to a 4.047 at 313.73. The two Lucas Oil Racing teammates graduated in 2001 from Jurupa Valley High School in nearby Mira Loma, Calif.
"I've never been in the points lead in Top Fuel before, and I don't really even know how to feel right now," said Lucas of his fourth career win and first since Oct. 2009. "Getting to race my teammate Shawn, who I went to high school with, this is just a dream come true, it really is. We were really fortunate in 2009 to get three wins, then we went on a big drought last year in 2010. I think that is one of those things that makes you appreciate success. I think as a team we're really going to appreciate this day and just enjoy it because, you know what, who knows when the next one is going to happen."
Lucas qualified ninth and defeated Brandon Bernstein, Terry McMillen and Del Worsham to advance to the final. Lucas said winning one of NHRA's "majors" is a big deal for him.
"The thing about it is this is probably one of the most special races there is," Lucas said. "In my eyes, it's here, Gainesville, Indy, and the Finals. Those are the races that if you're going to win one, those are the ones you want to win, and maybe a little, in a selfish way, the Lucas Oil Nationals in Brainerd just because of family."
In Funny Car, Hight used a quicker reaction time to defeat 2010 Full Throttle Series runner-up Matt Hagan in a close final round. Hight powered his Auto Club Ford Mustang to a 4.056 at 312.71 to edge Hagan's DieHard Dodge Charger at the finish line, which posted a quicker, but losing performance of 4.023 at 310.20. It is Hight's 19th career win and his third Winternationals victory.
"To win the Winternationals, the first race of the year, at Auto Club Raceway is just awesome," Hight said. "The biggest deal for me is how long it's been since we won, even a round. It goes clear back to Brainerd last year. What's really important to me is this is the fourth year in a row that my guys have stayed together, the complete team 100 percent of them, and that makes it so easy to get out here and do what you know how to do. And it makes it that much more special when you win because you pull together, you stay together. You become a family, and that's what makes these times so special."
To get the victory, Hight's Auto Club Mustang got progressively quicker in each round, starting with a 4.121 to outrun Bob Tasca in the first round and then finishing with the 4.056 to hold off Hagan in the final.
"You look at the class, it ain't that easy to get wins," Hight said. "Look at the guys I had to beat today: Bob Tasca; John Force, the 15-time champ; [Ron] Capps; Hagan. It's not that easy. If we would have slipped up just a little in the final, we would have been dust."
In Pro Stock, Line defeated Greg Stanfield to win for the 22nd time in his career and second time at this race. Line claimed his second win at this event with a run of 6.529 at 211.89 in his Summit Racing Pontiac GXP, while Stanfield trailed with a 6.595 at 210.70 in his Safety Sentry GXP.
"You can't start any better, I guess," Line said. "I've said before the year started that I wanted to win all the races, and if you want to win them all, you have to win the first one. It was kind of a strange weekend with the weather and everything else, but it was a great weekend, a great way to finish it. It feels awful good to win here, that's for sure. It's been kind of another strange offseason for us, so to start this way feels good."
Line, who qualified 11th, advanced to the final by beating V. Gaines, Vincent Nobile and teammate Greg Anderson in the first three rounds.
"My confidence wasn't that high [entering eliminations], but I kept thinking about Greg last year at Vegas and Dallas, where he qualified in the bottom half," Line said. "I thought, 'You know, if we can get down the right lane decent enough to win first round then we have a shot at it.' We actually went .53 and .53 in the right lane. The car, I would say, it was phenomenal. It drove like a Cadillac today and not a Pontiac. It was pretty good."
The NHRA Full Throttle Series continues March 10-13, in Gainesville, Fla. with the 42nd running of the Tire Kingdom NHRA Gatornationals at Gainesville Raceway.
---
---