Sun., March 13, 2011
Busch earns spot in NHRA Gatornationals Pro Stock field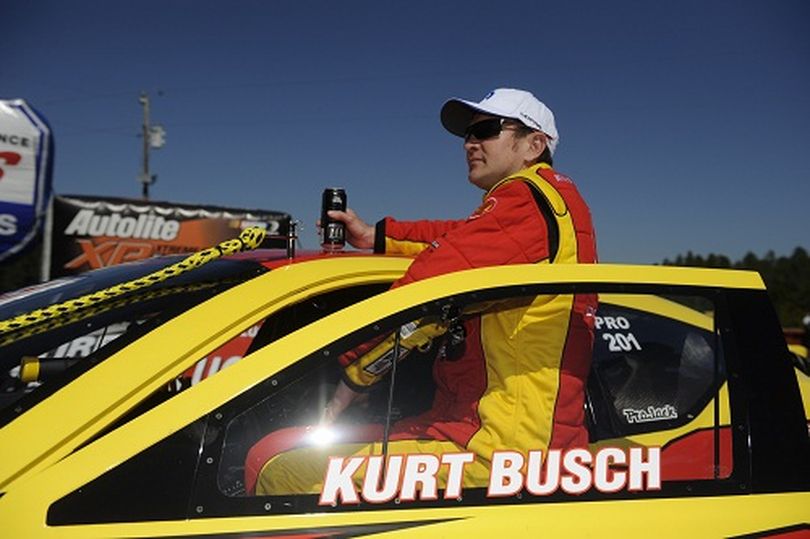 NASCAR champion, Kurt Busch, qualified his NHRA Full Throttle Drag Racing Series Pro Stock machine into the field for this weekend's Gatornationals. The 2004 Sprint Cup Series champion nabbed the 12th quickest pass on the famed Gainsville, Florida track.
Courtesy: NHRA Media Relations
GAINESVILLE, Fla.– After a shaky NHRA Full Throttle Series debut on Friday, 2004 NASCAR champion Kurt Busch qualified solidly into the 16-car Pro Stock field on Saturday with 6.532-second pass at 211.46 mph.
Busch ended the day qualified No. 12 and he will have as interesting a matchup as he could draw in Erica Enders, the 27-year old from Houston who was the subject of the Disney original movie, Right on Track.
"You have to have those tough days to go through to appreciate what a good day can be and today was that day," said Busch, who drives the Shell Dodge Avenger. "We're in the show, that was goal number one; goal number two is to get into race mode (Sunday) morning."
Enders, driver of the ZaZa Energy Chevy Cobalt, added: "It doesn't matter, Kurt Busch or George Bush, we're going to do the same thing, put our helmet on the same way."
The No. 1 qualifiers at the second of 22 races in the 2010 NHRA Full Throttle Drag Racing Series season were unchanged from Friday's provisionals: Tony Schumacher (Top Fuel), Matt Hagan (Funny Car), Rodger Brogdon (Pro Stock) and Hector Arana (Pro Stock Motorcycle).
Hagan, who will match up with Melanie Troxel in R1 as he seeks to make is fifth final round in the last six races, secured his second straight No. 1 at Gainesville Raceway with a track-record 4.030-second pass at 309.84 mph in his DieHard Dodge Charger.
"Florida's been kind to us," Hagan said. "It's nice to come out here and reset our own track record."
In Top Fuel, seven-time champion Tony Schumacher earned the top spot with a 3.814-second pass at a track-record 325.45 mph in the U.S. Army dragster.
"We wanted to see if we could go faster and you know what, we couldn't," said Schumacher, who spun the wheels twice on Saturday.
The No. 1 was the 62nd overall for Schumacher, who has been to five final rounds at the Gatornationals with event titles in 2004, 2007, 2008 and 2010.
In Pro Stock, Brogdon earned the No. 1 with a 6.495-second pass at 213.47 mph in his Attitude Apparel Pontiac GXP. This was the first No. 1 qualifier in Brogdon's career that spans 62 races.
"It is a little bit special, this is the first national event I ever went to when I started drag racing (Super Stock in 1994). There's only one race bigger, Indy, so it feels good, it feels real good," Brogdon said.
In Pro Stock Motorcycle, Arana remained No. 1 with the national-record time of 6.777 at 195.36 mph that he set on Friday aboard the Lucas Oil Buell.
"Qualifying No. 1 is great, it means you did the best, you were the best in qualifying, but when it comes to Sunday, that doesn't mean anything … on raceday, of course, anything can happen," said Arana, who will open with Joe DeSantis Sunday.
Also of note in the Pro Stock Motorcycle class, the field will include three women and one of those three, Angie Smith, will square off against her husband, Matt.
The 42nd annual Tire Kingdom NHRA Gatornationals begin Sunday at 11 a.m. ET and will be televised on ESPN2 beginning at 6 p.m. ET.
---
---