Tue., March 29, 2011
Capps chasing milestone heading to Las Vegas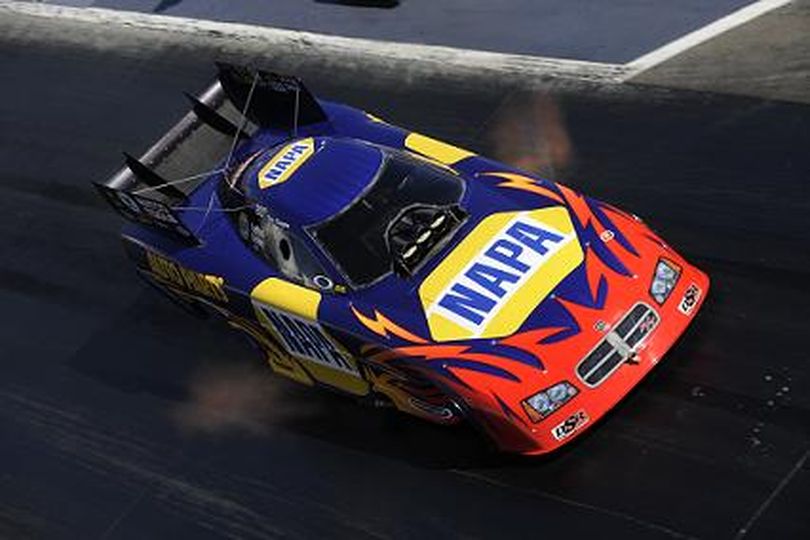 With three more round victories Ron Capps will become the 16th driver in NHRA history to record 400 in a career. The NHRA Full Throttle Drag Racing Series resumes this weekend in Las Vegas, Nevada.
Courtesy: NHRA Media Relations
Las Vegas, NV (March 29, 2011)- Ron Capps is looking forward to this weekend's SummitRacing.com NHRA Nationals here on the Strip at Las Vegas Motor Speedway because to the driver of the NAPA Auto Parts Dodge Charger R/T Funny Car this is a home race.
"I always run in front of a lot of family and friends here," said the Southern California native. "My brother lives in Vegas and lots of other family members and friends come out to see me. There are lots of things to do; making sure everyone has their tickets and making it on time for the first round, but it's all outweighed by being able to enjoy the weekend with them.
"And it's always cool racing there and winning there!"
Capps last won the spring Las Vegas race in 2009, the third win he has had in five final round appearances at the track. He heads into this year's event sixth in the NHRA Full Throttle Funny Car championship competition after the season's first two races and feels on the verge of better things.
"I feel so good," he said. "We're very close to a win, I can feel it. With John Medlen and the rest of the NAPA team doing a great job, we are just about there.
"And those guys are working real hard. I was once a crew member, I drove the 18-wheeler to the races, so I understand how hard they work, so much work for a four-second run."
Capps has been driving since 1995 in the professional category, racking up 31 national-event victories and 397 round wins. Three more round wins and the Don Schumacher Racing driver will be the 16th to achieve 400 round wins.
"It's cool to hear things like that," he said. "But drivers don't think about things like this; don't get caught up in these types of things. We're out there trying to win races, not worrying about individual statistics."
---
---