Sun., May 1, 2011
Friday top qualifiers hold onto positions heading into Houston eliminations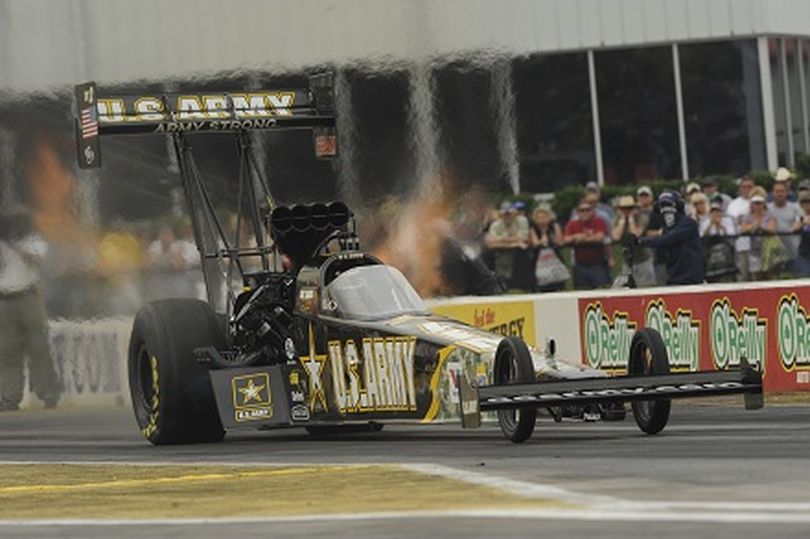 Schumacher, Force, Tonglet and Humphrey maintain speed during Saturday's qualifying to sit atop the speed charts as Sunday's O'Reilly Auto Parts NHRA Spring Nationals looms large.
Courtesy: NHRA Media Relations
BAYTOWN, Texas – John Force moved to within one of NHRA Pro Stock great Warren Johnson's all-time No. 1 qualifying record by racing to his third consecutive top qualifying performance of the season Saturday at the O'Reilly Auto Parts NHRA Spring Nationals presented by Pennzoil at Royal Purple Raceway near Houston.
The other three top qualifiers from Friday also held on to their positions as Tony Schumacher (Top Fuel), Ronnie Humphrey (Pro Stock) and LE Tonglet (Pro Stock Motorcycle) will lead their categories into Sunday's 11 a.m. eliminations at the NHRA Full Throttle Drag Racing Series event.
Force earned the 137th No. 1 qualifying position of his Funny Car career with his Friday pass of 4.097 seconds at 310.27 mph in his Castrol GTX High Mileage Ford Mustang as slightly warmer weather conditions prevented the majority of racers in all categories from improving their performances during Saturday's two sessions. Force will face rookie Brian Thiel in the first round of eliminations as the 15-time world champ is seeking his 133rd career victory and eighth at this track. A win by Force or either of his teammates would give the John Force Racing team its 200th NHRA victory.
"My team has given me a good car and it's going down the race track," Force said. "The track got a little tricky out there. I still drive my car with a brake handle and with my foot. When the crew chief tells me 'I don't know if it will go,' that's when I get excited because I know it's in my hands and I can make some magic and get it through there. You look at some of these cars out here who got in the show. A big high-horsepower car ain't what you need unless we get a cold front roll in here. You could call this a match racer's race. The big dogs may step up if the cold front comes through and everybody tries to run (low numbers). Otherwise it could be anybody's race day."
In Top Fuel, U.S. Army dragster driver Schumacher posted his second No. 1 of the season and 63rd of his career based on his Friday run of 3.817 seconds at a track record speed of 323.81 mph. Schumacher will meet Troy Buff in the opening round.
With similar weather conditions expected for Sunday, two-time Houston winner Schumacher is looking forward to the challenge.
"We all have the same race track so if one (crew chief) figures it out before the others that team will have a good chance of winning the race," Schumacher said. "Tomorrow is going to be about awesome battles. You are going to see a lot of people have to pedal the cars. When two guys blow (their tires) off at the tree it's pretty cool. It's game on. At the end of the day I have an incredible amount of faith in my team. We are trying to get a trophy. Those pewter trophies are looking good on everyone else's shelf but I have a shelf too and I need to fill it. We're just going to go out there and motor it down there and get some data in the first couple of rounds and go fast later."
In Pro Stock, journeyman racer Ronnie Humphrey earned his first career No. 1 qualifying position with his performance of 6.571 at 211.16 from yesterday. Humphrey, who drives the Summit/Genuine Hotrod Hardware Pontiac GXP, will face first round opponent Steve Kent, a rookie in the 200 mph category who is making his first career start.
"This is a dream that's come true for our team and it is a team effort," Humphrey said. "We were No. 2 in the final session today and now we need to get into race day and make it happen. I came to this race with a different plan. I quit thinking. I want to thank Jason Line because he told me to stop thinking about it so much and just go up there and have fun. Now we just have to get relaxed and go up there on race day and make some good runs."
Tonglet claimed the second No. 1 qualifying position of his career in Pro Stock Motorcycle, as his Friday effort of 6.849 at 195.45 on his Nitro Fish Suzuki remained at the top of the 16-bike order. Tonglet will race veteran rider Steve Johnson in the first round.
"Qualifying ended on a high note when we stayed number one," Tongletsaid. "It felt good to have a performance like that at our home track. Conditions were a lot different than Friday. I'm glad we were able to capitalize on that, because it was really hot and humid Saturday.We had a bunch of people hanging around our pit area, and we're expecting more on Sunday. We're hoping to have a long day."
---
---