Sun., May 1, 2011
Pursley adds to points lead with NASCAR K&N Pro Series victory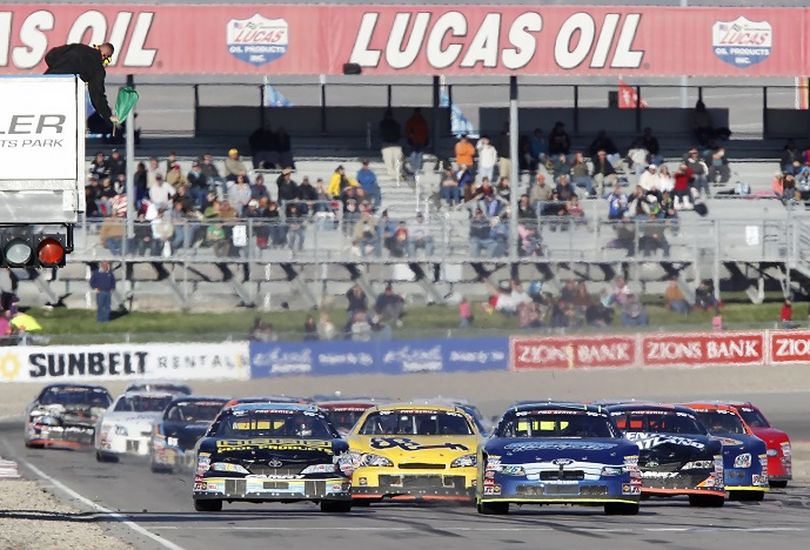 Greg Pursley held off Moses Smith's furious challenge as a pair of green-white-checkered attempts pushed the scheduled 50-lap race to 63 laps.
Courtesy: NASCAR Media Relations
TOOELE, UTAH -- Greg Pursley picked up his second straight win at Miller Motorsports Park on Saturday. His victory in the Larry H. Miller Dealerships Utah Grand Prix came in similar good-luck fashion as his win in 2010 on the road course just outside Salt Lake City.
Pursley held off Moses Smith's furious challenge as a pair of green-white-checkered attempts pushed the scheduled 50-lap race to 63 laps.
It was the second win of the season for Pursley, who has led the championship standings from the start of the season, and the fourth in the last six NASCAR K&N Pro Series West events dating back to last year.
"Me and Eric Holmes had a great race there," Pursley said. "I've got to thank him for a little give and take there. We were having a great race together. And Moses gave us a great race there at the end."
Pursley emphasized the importance of fuel mileage on the road course events, such as this.
"Pretty much all the road courses we run, it comes down to fuel mileage," he said. "We've really worked on our stuff for our fuel mileage. You never know how many green-white-checkers you're going to get.
"I actually thought we were going to run out there at the end," he said. "We sputtered a couple of times. We got lucky there at the end. I'd rather be lucky than good right now. We've got a lucky streak going on."
Eric Holmes seemed poised to collect his first road-course win. The three-time series champion, however, ran out of fuel on Lap 59 under caution after a stalled car forced a second attempt at a green-white-checkered finish. Last year, Pursley inherited the lead late in the race when the dominate car of Patrick Long cut a tire in the closing laps.
Holmes and Pursley swapped the lead back and forth through the second half of this year's event. Pursley made an outside pass on a restart to take the lead on Lap 42. Holmes gained the top spot back, however, on Lap 46 and appeared headed to victory. But a stalled car on the course brought out the caution just before the leaders took the white flag.
The first green-white-checkered finish was then interrupted by a multi-car incident that nearly blocked the track and resulted in another caution. That appeared to set up a duel between Holmes and Pursley, before Holmes ran out of gas and coasted to a stop in Turn 11. A service truck pushed Holmes' car to pit lane for fuel and he returned to competition without losing a lap.
Smith charged after Pursley in the final two-lap dash to the finish, but was not able to get by.
Jim Inglebright finished third, followed by Jonathon Gomez and David Mayhew. Rounding out the top 10 were Luis Martinez Jr., Brian Wong, Michael Self, Carl Harr and Greg Rayl, who gained his first career top 10 finish in the series. Holmes ended the day in 13th.
Andrew Ranger won the Coors Light Pole Award and led the first 17 laps before pitting. He lost two laps on a subsequent pit stop when the team had to replace a battery. He returned to the track and was as fast as the leaders, but was unable to get either of his laps back and he finished 20th.
The NASCAR K&N Pro Series West will return to the track on Saturday, May 21, in the annual East-West Combination Race presented by Tompkins Industries at Iowa Speedway in Newton, Iowa.
Pursley remains in the lead in the championship standings, with 550 points. He is followed by Smith with 492, Gomez with 438, Mayhew with 437 and Martinez with 423. Completing the top 10 are Holmes at 410, Brett Thompson at 394, Michael Self at 381, Daryl Harr at 354 and Greg Rayl at 325.
---
---