Tue., May 10, 2011
NHRA Pro Stock parity should continue this weekend at Atlanta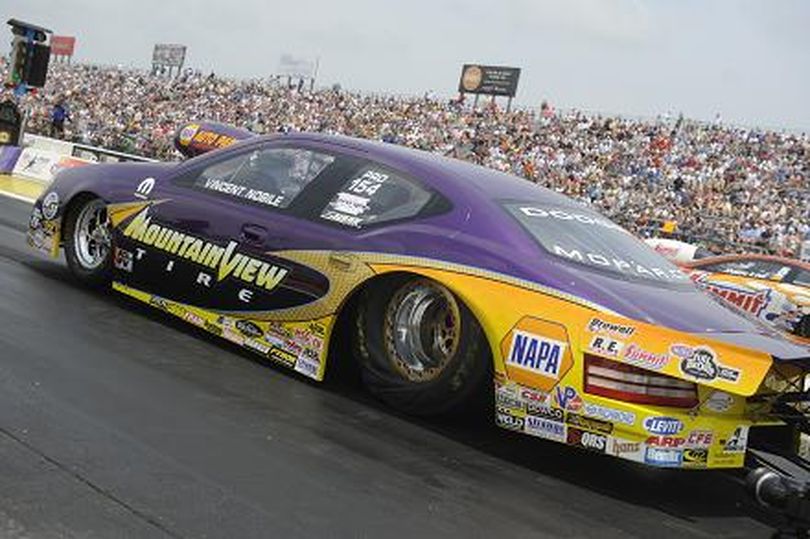 Once dominated by the likes of Bob Glidden, Lee Shepherd, Johnson and most recently by the Summit Racing tandem of Anderson and Jason Line, NHRA Pro Stock racing these days is proving to be filled with quite a bit of parity. In five races so far, there have been five different No. 1 qualifiers and four different winners.
Courtesy: NHRA Media Relations
COMMERCE, Ga. – The final round thriller between rookie Vincent Nobile and Rodger Brogdon two weeks ago in Houston continued to support the claim that the extremely close side-by-side racing in NHRA's 200 mph Pro Stock category is as good as it gets in motorsports.
From the first qualifying run to the last pass in eliminations, NHRA Pro Stock racing has proven to be as cutthroat as it gets in the world of auto racing, as winning or losing is often decided by less than a thousandth of a second.
Second-generation racer Nobile beat Brogdon by a margin of .0016 of a second, which translates to a little less than six inches with both cars moving at that speed. Brogdon was confident he had enough in the performance tank to get his first victory, but Nobile had other plans and held him off in a very close photo finish.
Fans attending the Summit Racing Equipment NHRA Southern Nationals, May 13-15 at Atlanta Dragway can expect the same kind of doorhandle-to-doorhandle racing from the NHRA's factory hot rod division when the Full Throttle Drag Racing Series rolls into North Georgia for the sixth race of the season. Larry Dixon (Top Fuel), Robert Hight (Funny Car), Jeg Coughlin (Pro Stock) and Andrew Hines (Pro Stock Motorcycle) are the defending event winners. The "Professor" of Pro Stock, five-time event winner Warren Johnson from nearby Buford, Ga., who has six world championship titles to his credit along with 97 career victories, will compete in the event and be honored as the official NHRA Legend of the event as part of NHRA's 60th anniversary celebration.
As Brogdon now understands all too well, just thinking you have a winning hand ultimately doesn't get the job done at the end of the day in this high-stakes category of racing. Brogdon's near-perfect reaction time of .009 was bettered by Nobile's stellar .007 start. Even though Brogdon's Racers Edge Pontiac GXP was a tick quicker all the way down the track, Nobile's fast start at the green light made the difference at the end.
"If I offered a bet to 1,000 drag racing fans that gave them a .009 (reaction time) and the third quickest run of the day in the final round, virtually every one of them would take that bet; hell I would take that bet," Brogdon said. "(At Houston) unfortunately, it just wasn't enough. Nobile and the Mountain View Tire guys gave us all a race that we'll still be talking about when the season is over with."
Nobile, the 19-year-old sensation from New York who has advanced to three final rounds in the first five races and certainly has emerged as one of the frontrunners for the Auto Club Road to the Future Award if not the world championship, has been extremely quick behind the wheel of his Nick Mitsos-owned Mountain View Tire Dodge Avenger. The son of veteran driver John Nobile, Vincent grew up around the sport and is well versed in the nature of the class.
"It's crazy how competitive Pro Stock is," the younger Nobile said. "Every driver is great out here. There are no easy rounds."
Four-time Pro Stock world champ Greg Anderson, who drives the Summit Racing Pontiac GXP and is a three-time winner at Atlanta Dragway, says the category has evolved to the point where just having the fastest car isn't enough.
"As tough as the competition is right now, you have to have the complete package," Anderson said. "You're not going to win because you have more horsepower, or a better car set-up, or even a better driver. You have to put all three together it you want to get the Wally, with no room for error."
Once dominated by the likes of Bob Glidden, Lee Shepherd, Johnson and most recently by the Summit Racing tandem of Anderson and Jason Line, NHRA Pro Stock racing these days is proving to be filled with quite a bit of parity. In five races so far, there have been five different No. 1 qualifiers and four different winners. Line is the only driver who has repeated a victory, winning the first two races of the season. The 2006 world champ says there are so many factors at play during eliminations and each particular race that winning races these days is a tough chore.
"There really is no set way to win one of these races, as the circumstances are constantly changing," said Line, a former NASCAR engine builder for Joe Gibbs Racing. "Sometimes you have to win with your right foot using all the power at your disposal, other times you have to win with your left foot, leaving the starting line first, while on occasion it just comes down to luck. In any case, it all comes down to doing a better job than your competitors adapting to the racetrack and the conditions."
Other drivers to watch in Pro Stock include Erica Enders, who is trying to become the first female to win an NHRA Pro Stock race, Greg Stanfield, who finished second in the point standings last year, 2009 champ Mike Edwards, who is always a threat to win, and Allen Johnson, who is off to a slow start but hopes to turn his season around at Atlanta Dragway, where he won his second career race in 2002.
In Top Fuel, Del Worsham holds the series lead with three victories so far in his Al-Anabi Racing dragster. Worsham's teammate, defending race winner and world champ Dixon, hopes to make his first visit of the season to winner's circle at this event. A strong field of contenders also will be racing for the trophy, including seven-time world champ Tony Schumacher, who has never won at Atlanta, along with a group of former winners at this track, including Antron Brown, Doug Kalitta, Brandon Bernstein and Morgan Lucas.
Mike Neff has been pulling double duty this season in Funny Car serving as both crew chief and driver for the Castrol GTX Ford Mustang. His hard work is paying off as the Southern California native leads the point standings with one victory in two final rounds. His teammate, Auto Club Mustang driver Hight, is second with two wins. Other pre-race favorites include seven-time Atlanta Dragway winner John Force, 2009 event winner Jack Beckman, 2010 series runner-up Matt Hagan, two-time world champ Cruz Pedregon and Ron Capps, who has new tuner Tim Richards calling the shots for the NAPA Dodge Charger.
In Pro Stock Motorcycle, the Vance & Hines Screamin' Eagle Harley-Davidson team of Eddie Krawiec and Hines are first and second in the point standings and both have earned victories in the category's first two races of the season. A strong group of challengers in the two-wheel class are eager to break into the victory parade at Atlanta, including Karen Stoffer, Hector Arana Sr., defending world champ LE Tonglet, speedy Michael Phillips, veteran Steve Johnson and newcomer Jerry Savoie.
---
---