Sun., Oct. 30, 2011
Stewart Edges Johnson In Wild Martinsville Race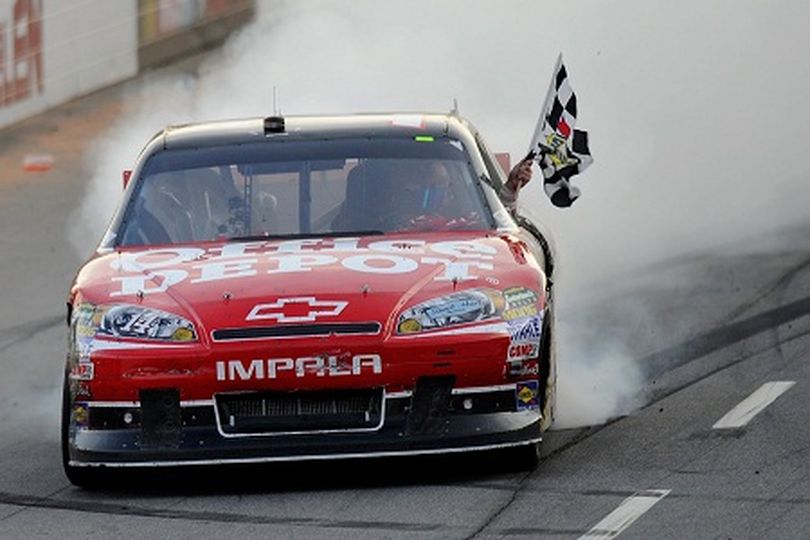 The 2011 NASCAR Sprint Cup Series championship is far from over as Tony Stewart win on Sunday at Martinsville Speedway closed the gap between himself and points leader Carl Edwards to a mere eight markers with three races left in the season.
By Reid Spencer
Sporting News NASCAR Wire Service
MARTINSVILLE, Va.—Tony Stewart passed Jimmie Johnson on a restart with three laps left in Sunday's Tums Fast Relief 500 at Martinsville Speedway and held off Johnson's desperate bid for the win on the final lap.
The victory was Stewart's third in the Chase for the NASCAR Sprint Cup and vaulted him into second place in the standings, eight points behind leader Carl Edwards. Stewart won for the 42nd time in his career.
"He'd better be worried," Stewart said of Edwards after the race. "That's all I can say. He's not going to have an easy three weeks."
There are three races left in the Sprint Cup season—at Texas, Phoenix and Homestead. Stewart has four Cup wins at those tracks, Edwards six.
Miraculously, after twice being lapped on the racetrack, Edwards salvaged a decent run and retained his lead in the Chase standings with a ninth-place finish, as his two closest pursuers entering the race, Matt Kenseth and Brad Keselowski, both experienced late trouble and finished 31st and 17th, respectively.
Edwards also brushed out Stewart's trash talk.
"He's wound up—he won the race," Edwards said. "We'll see what happens at Texas. I feel like we're going to go there and we're going to have as good a shot to win as anyone. This track (Martinsville) has been really, really tough for me.
"Tony and those guys have obviously won three Chase races. When I sat in here on Friday (in the media center), I told you guys that I thought he was one of the guys that could win this race and be a guy that you have to beat for the championship, and he's proven that. We'll have fun. We'll go race hard. They're going to have to race us, too. I'm excited about the next three races."
Stewart's response? "I don't care what he says. We're going to go after him for the next three weeks."
Jeff Gordon ran third, followed by Kevin Harvick, who climbed to third in the standings, 21 points behind Edwards. Denny Hamlin came home fifth, with Jeff Burton sixth and Dale Earnhardt Jr. seventh.
Stewart brought his car to the pits under caution on Lap 416, thinking he might have a flat tire from contact with Harvick's Chevrolet after a Lap 413 restart. Stewart was 21st when the field took the green flag on Lap 420, but a two-tire call during a caution on Lap 459 got the No. 14 Chevrolet off pit road in the fifth position for a restart on Lap 463.
By the time Brian Vickers wrecked for the fifth time to bring out the 18th and final caution—three short of the track record—Stewart had worked his way to second in time for the three-lap run to the finish.
Johnson led the field to the restart on Lap 498 of 500, but Stewart managed to beat him from the outside. Johnson said he thought about leaning on Stewart through the first corner but thought better of it.
"When I was inside of Tony, I went down in the corner and thought that eight tires would be a lot better than four," said Johnson, who trimmed seven points off his deficit to Edwards and is now 43 behind. "I changed my mind. With where he is in the points, what's going on, the fact we raced throughout the day today, (and) he never touched me, I had a hard time doing that."
"I think it would have been great," interjected Gordon.
"Jeff probably would have won the race if I would have done it," Johnson said. "I couldn't bring myself to do that. He got by. I tried to be smart. That's typically how I race guys. I don't run over people to get positions."
After a wild first half of the race had settled into a 97-lap green-flag run after the midpoint, Hamlin squeezed past Gordon on Lap 320 and stayed out front in traffic until David Gilliland's spin caused the 10th caution of the race.
That started a spate of cautions that gave Harvick and Stewart a chance to move to the front with two-tire calls—and allowed Edwards to return to the lead lap under the 12th caution with a free pass for the highest-scored car one lap down.
Note: At the drivers' meeting before the race, NASCAR announced that any driver intentionally causing a caution by stopping on the racetrack will be penalized three laps. The rule is in effect for at least the rest of the season, though the number of laps could vary according to the size of the racetrack.
---
---