Sun., April 1, 2012
Hight, Lucas and Line nail down top qualifying runs in Las Vegas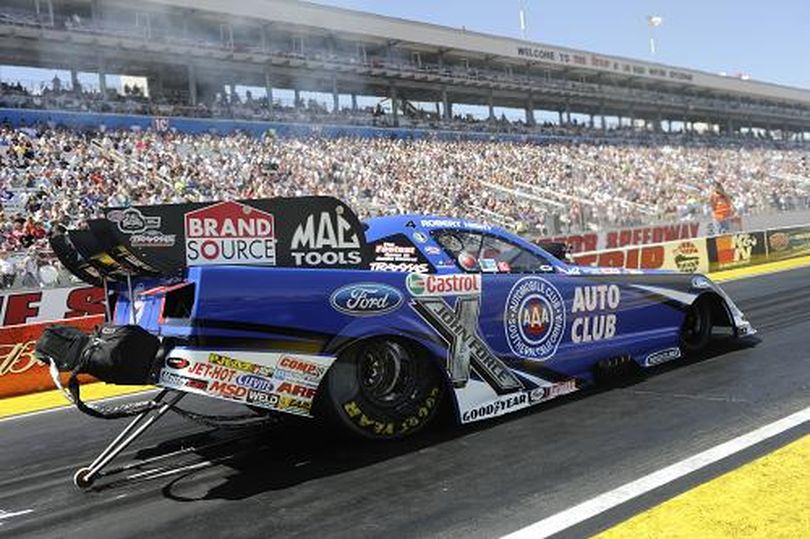 Robert Hight, the defending NHRA Full Throttle Funny Car winner of this event, raced to his second No. 1 of the season and 41st of his career with a performance of 4.132 seconds at 310.41 mph in his Auto Club Ford Mustang.
Courtesy: NHRA Media Relations
LAS VEGAS – Robert Hight will attempt to earn his third consecutive Funny Car victory of the season Sunday from the No. 1 qualifying position at the SummitRacing.com NHRA Nationals at The Strip at Las Vegas Motor Speedway.
Morgan Lucas (Top Fuel) and Jason Line (Pro Stock) also will lead their categories into tomorrow's 11 a.m. eliminations as the No. 1 qualifiers in their respective categories at the NHRA Full Throttle Drag Racing Series event.
Hight, the defending winner of this event, raced to his second No. 1 of the season and 41st of his career with a performance of 4.132 seconds at 310.41 mph in his Auto Club Ford Mustang. Hight, who earned victories at Phoenix and Gainesville, Fla. in the last two events, will face veteran independent racer Terry Haddock in the first round.
"Terry Haddock, he's been a spoiler before," Hight said. "He'd like nothing more than to knock us out first round, so we've got to be on our game tomorrow. I think it's supposed to be a little cooler tomorrow. It's going to be exciting. You're going to see a lot of runs at the finish line that you're going to need that instant-replay camera to tell who won."
Hight claimed the top spot on the day's final qualifying run when he outran fellow Ford driver Bob Tasca, who moved to second in the lineup with an impressive 4.134 at 307.86. Hight tied his top performance of 4.132 in his Mustang. The thrilling side-by-side race gave fans a preview of what to expect tomorrow.
"The last qualifying run, if you were a fan in the stands, that was something to see," Hight said. "I saw Courtney [Force] run the first .14 out there, and then the .14s just kept coming and coming. I knew some of those cars in front of me were capable [of going to No. 1]. Jimmy [Prock, crew chief] was hoping for more than the .13, and it blew up right in the lights, too. I don't know, maybe it was starting to hurt itself a little bit. That's how close this class is: two-thousandths ahead of No. 2. If you look at the top five, it's less than a hundredth of a second. That is Pro Stock racing there."
Some intriguing matchups will highlight the first round of action in Funny Car. Veterans and former teammates John Force and Gary Densham will meet, as will brothers Cruz and Tony Pedregon. Current points leader Mike Neff and defending world champ Matt Hagan also will square off in a titan battle. Ron Capps, who won the fall race here last year, failed to qualify in his NAPA Dodge Charger.
In Top Fuel, Lucas earned his third No. 1 of the season and seventh of his career with his run from Friday, a performance of 3.817 at 321.96 in his GEICO/Lucas Oil dragster. Lucas, who won three weeks ago in Gainesville, Fla., will face Steve Faria in the opening round.
"After the way the car has run, I'm just happy to get in the thing and hit the gas," Lucas said. "That last run today, it was just a good example of consistency. That's what we were trying to do, just go up there and a low 3.9 just in case we get track conditions similar to that we know what the car is capable of. We keep trying new things to see exactly what the car is going to do, and it seems to be responding real well."
Lucas, who advanced to his first career final at this track in 2004, says his team is in a groove and hitting on all cylinders. He didn't win that race here eight years ago, but hopes to keep his current hot streak going tomorrow and notch his first win at The Strip.
"It's such a great group of guys; It's like a fraternity around there," Lucas said of his GEICO team. "It's probably the best group of people I've had to work with as a whole. Aaron [Brooks, crew chief] and I have an easy rapport with each other. We grew up a half an hour from each other, so we kind of understand the Southern California thing, I guess. It's just made for a good fit."
Spencer Massey was second with a 3.817 at 322.88 in the FRAM dragster, while Clay Millican was third overall in his Parts Plus dragster with a 3.844 at 318.77. Series leader Tony Schumacher will start fourth in his U.S. Army dragster (3.849, 318.09) and will face Troy Buff in the first round.
In Pro Stock, Line's Friday run of 6.659 at 207.34 in his Summit Racing Equipment Pontiac GXP secured his 26th career No. 1 position and the second of the season. Line will meet V Gaines in the first round.
"The guys on the team did a great job, and that's good because I have really gotten a lot of pressure from [NHRA announcer] Bob Frey lately [laughing]," Line said. "I was shocked that Mike Edwards didn't end up as No. 1, because he always runs well here. He told me after the last round, 'This is the one place where I can beat you, and now you've taken that away from me.' We're struggling with Greg [Anderson's] car right now, but we hope to have it straightened out by tomorrow. We can't get the new Camaro soon enough for him."
Edwards, who won both races here last year and holds both ends of the Pro Stock track record in his Penhall/Interstate Batteries Pontiac, will start in the second spot and face Lucas Oil Ford Mustang driver Larry Morgan in the opening round. Points leader Anderson, who posted a 6.697 at 206.35 in his Summit Racing Pontiac, will start sixth and face Chris McGaha in the first round.
---
---