Sat., Aug. 25, 2012
Dale Earnhardt Jr. incensed over Brad Keselowski's comments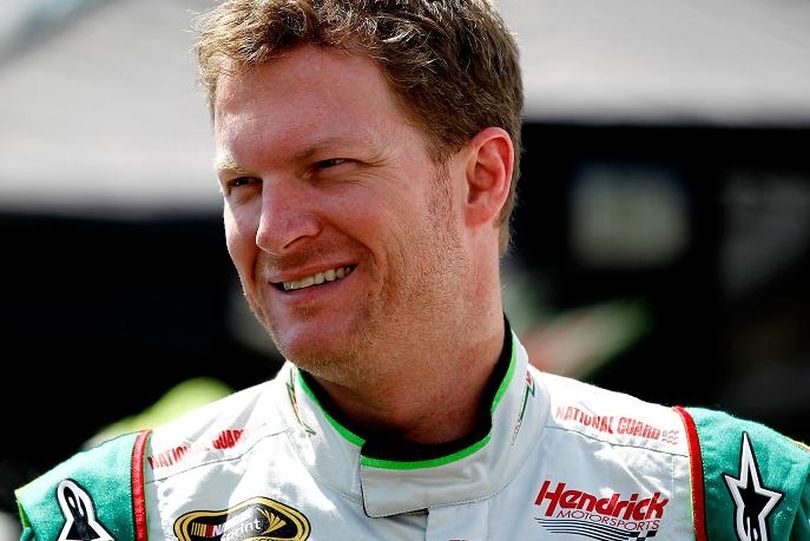 With the close quarters of Bristol Motor Speedway the sight on Saturday's NASCAR Sprint Cup Series event, Dale Earnhardt Jr. and Brad Keselowski's war of words makes for some potentially intersting viewing.
Aug. 24, 2012

By Reid Spencer
NASCAR Wire Service

BRISTOL, Tenn. -- Brad Keselowski insisted he never intended to accuse Hendrick Motorsports -- or anyone else -- of cheating, but his post-race remarks last Sunday at Michigan nevertheless got under the skin of Hendrick driver Dale Earnhardt Jr.

"I don't particularly like the things he says lately about the company I work for," Earnhardt said Friday at Bristol Motor Speedway. "I take offense at the claims and accusations. It's just natural for me to do that, but we're friends, and I don't want any drama between (us)."

Hendrick Motorsports' work with elements of the rear suspension has aroused intense interest within the sport ever since NASCAR introduced a rule before the June 30 race at Kentucky requiring sway bar mounts to be perpendicular to the ground.

After finishing second at Michigan, Keselowski characterized the rear suspension work -- without referring to a specific team -- as "parts and pieces on the car that are moving after inspection that make the car more competitive."

Keselowski said Penske Racing, the organization for which he drives, has been reluctant to work in what he calls "a gray area" for fear of incurring a penalty, should NASCAR decide that the rear suspension innovations cross the line.

In fact, a number of organizations have been working in that area, including Roush Fenway Racing. After Greg Biffle won Sunday at Michigan, team owner Jack Roush acknowledged that he had sought NASCAR's blessing before doing so.

"The 24 car (of Hendrick driver Jeff Gordon) put a left-rear tire through a battery at Darlington," Roush said. "That was a wake-up call. We've been working at it, got assurance from NASCAR that it's OK, it's within the rules."

NASCAR officials confirmed to the NASCAR Wire Service that the rear suspension work currently is within the rules, but that might change next year concurrent with the introduction of a new generation of Sprint Cup race car.

Though Keselowski's remarks were construed in some quarters as an accusation, the driver of the No. 2 Dodge says that wasn't the case.

"I didn't appreciate how those words were twisted into calling out specific teams," said Keselowski, whose remarks created a lively debate in social media. "In fact, I made it a point to not call out specific teams, and I think I said there were a half a dozen to a dozen cars that were running those things, and with the exception of the TV broadcast, hadn't pointed out which ones they were.

"I don't think there's anyone out there that doesn't believe that the Hendrick cars were one of those groups -- and I'm not trying to say that's the case -- but I respect them and their ability to do those things and to be innovators accordingly."

A MODEST GOAL

For her fourth start in the Sprint Cup series, Danica Patrick doesn't have her sights set on Victory Lane. She'll be content to be on the track with her car intact when the race is over.

"Finishing all the laps is the most important thing for me -- to be able to get that seat time, and to be able to feel how the track changes, as well as get used to the distance and work on the car throughout the race," Patrick said Friday at Bristol, where she is competing in both the Nationwide and Cup series.

"I've always said I feel like there is always a rhythm to a race, and you have to kind of get a feel for that by doing the whole thing. Again, (car owner) Tony (Stewart) picked what he thought were the toughest races of the year for me to run. With that in mind, finishing the laps will be the goal for tomorrow night."

In her previous three Cup starts, Patrick's best finish was 30th at Charlotte in May. Patrick's No. 10 Chevrolet was the slowest of 47 cars in both Cup practice sessions on Friday.

But, as Stewart pointed out, it's part of Patrick's trial by fire.

"It's not going to be an easy day for her by any means, but it's not supposed to be," Stewart said Friday. "We picked the hard tracks, and you're going to have to run them at some point.

"The biggest thing is, while she's not racing for points this year, it's better to bring her now and let her get some experience before she does come back and is racing for points next year."

THROWING CAUTION TO THE WIND

Carl Edwards may not want to do the bump-and-run on one of his fellow drivers to win Saturday's Irwin Tools Night Race at Bristol, but he does concede that he'll be willing to take bigger risks for a victory.

Edwards is 12th in the Cup standings, but he hasn't won a race since March 2011. Without at least one victory in the next three races, he's an extreme long shot to qualify for the Chase for the Sprint Cup.

"You could say that stuff and you can have a plan, but, really, it comes down to how the race is going," Edwards said Friday when asked if he would use his bumper to get to Victory Lane. "We're in a position right now where our 99 Fastenal team -- we have to get that win.

"I'd say I would probably hang it out there a little more than normal to get that win."
---
---