Tue., Feb. 28, 2012
Kenseth holds off Earnhardt Jr., survives to win bizarre Daytona 500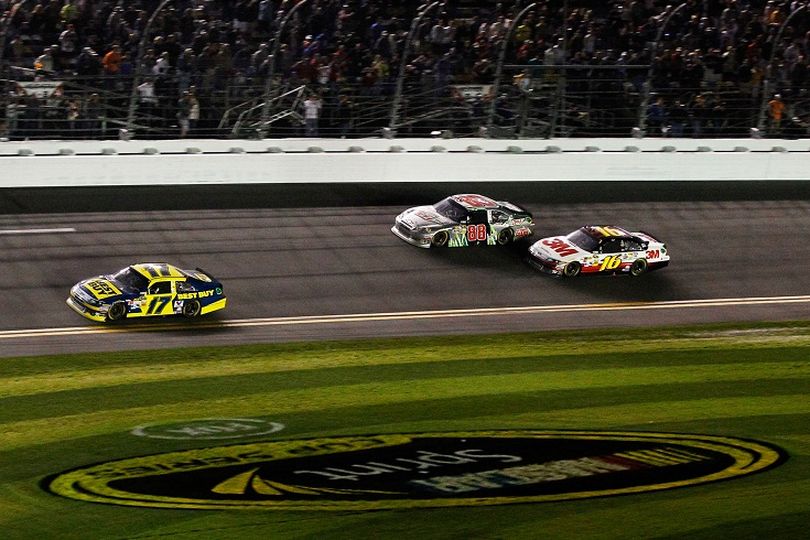 Matt Kenseth had plenty of power at the finish, despite problems with the cooling system that plagued him early in the race.
DAYTONA BEACH, Fla. -- Finally, nothing out of the ordinary happened.
In a Daytona 500 that featured the first postponement in its history, a ball of fire from a racecar vs. jet dryer collision under caution and a surfeit of wild action in the closing laps, Matt Kenseth won his second Daytona 500 when the tandem of Dale Earnhardt Jr. and Greg Biffle couldn't catch the race winner in a green-white-checkered-flag finish.
Earnhardt made a slingshot move around Greg Biffle to run second in the 54th running of the Great American Race at Daytona International Speedway. Biffle came home third, followed by Denny Hamlin and Jeff Burton, as a late caution necessitated two extra laps beyond the scheduled 200.
Paul Menard, Kevin Harvick, pole-sitter Carl Edwards, Joey Logano and Mark Martin completed the top 10.
Earnhardt hooked up with Biffle and pushed the No. 16 Ford after a restart on Lap 201, but the pair could not make headway against Kenseth who moved to the front of the field and stayed there.
Earnhardt expected Biffle to pull out and make a move, but the move never came.
"I was waiting and waiting," Earnhardt said. "It looked like he might have been trying to make a move on the back straightaway, but nothing materialized there. Then we came off (Turn) 4, and I kind of waited till the last minute for him to have his opportunity to try to pass Matt, and nothing was happening, so I just pulled out and went around him."
Kenseth had plenty of power at the finish, despite problems with the cooling system that plagued him early in the race.
"We had a lot of problems -- it was spewing water," said Kenseth, who notched the 22nd NASCAR Sprint Cup victory of his career. "I have to give a lot of credit to (engine builder) Doug Yates and the guys at the engine shop. We had great horsepower.
"I could get a pretty good start on the bottom and either Denny or Dale Jr. could push me for a while and then they just couldn't stay attached and I would get away from them just in time to get in front of Greg, and the two of us together could make some unbelievable speed. I have to thank Greg. We worked together really good all day long. He had a really fast car all day as well."
A multicar wreck on Lap 188 thinned the herd considerably, taking out a handful of competitive cars. Jamie McMurray spun wildly near the entrance to Turn 1, and the chain-reaction collision wiped out the cars of Brad Keselowski, Kasey Kahne and Aric Almirola and damaged the machines of Edwards and Tony Stewart.
Another melee on Lap 196 set up the overtime. After contact from Joey Logano's Toyota, the Ford of Ricky Stenhouse Jr. caromed into Stewart's Chevrolet, turning the defending Cup champion sideways and igniting a pinball-style wreck that also involved Kyle Busch and Ryan Newman.
A strange weekend that saw the first weather postponement in the history of the Daytona 500 got downright bizarre during a round of pit stops under caution late in the race.
Juan Pablo Montoya brought his No. 42 Chevrolet to pit road under caution on Lap 160, complaining of transmission issues. His car fell victim to a strong vibration when he returned to the track, and Montoya slid out of control at the entrance to Turn 3 and slammed into a jet dryer, which was against the outside wall, blowing the track.
The collision ignited the jet fuel in the dryer and set both vehicles ablaze. Montoya and the driver of the service vehicle both escaped the wreckage, but the latter -- Duane Barnes, from Michigan International Speedway -- was taken to nearby Halifax Medical Center for further evaluation.
"Something failed in the rear of the car, and the car just spun into the jet dryer," Montoya said after a visit to the care center. "I left the pits and felt a really weird vibration, and I came back in and checked the rear end and (they) said it was OK, and I got into the backstraight and we were going in fourth gear but wasn't going that fast.
"Every time I got on the gas, I could feel the rear squeezing. When I was telling the spotter to have a look how the rear was moving, the car just turned right."
NASCAR red-flagged the race as safety vehicles arrived on the scene and track workers attempted to put out the fire.
"There's going to be a big speed bump heading into Turn 3," crew chief Steve Letarte told Dale Earnhardt Jr., fearful that the blaze would melt the asphalt. "I will be shocked -- shocked -- if we can get this race restarted."
Safety workers cleared the scene by hoisting the remains of the jet dryer on a tow truck with a boom to prevent further damage to the asphalt. After a stoppage of two hours, five minutes and 29 seconds, the event resumed just before midnight ET.
The race was barely one lap old when contact from the front bumper of Elliott Sadler's Chevrolet turned the No. 48 Chevy of five-time champion Jimmie Johnson hard into the outside wall near the exit from the tri-oval.
Unable to avoid the wreck, David Ragan plowed into the side of Johnson's car. Neither Johnson nor Ragan was able to continue; they retired from the race in the 42nd and 43rd positions, respectively.
The cars of defending race winner Trevor Bayne, Danica Patrick and Kurt Busch were severely damaged in the melee and all three headed to the garage for extensive repairs and later returned to the track.
"The steering's off," Patrick said, as she brought the No. 10 Chevy to pit road. Her crew repaired the rear suspension, but Patrick was 62 laps down when she reappeared on Lap 66. She wound up 38th in her Sprint Cup debut.
Notes: Martin Truex Jr. won the $200,000 bonus for leading the race at the halfway point . . . The top four drivers when Juan Montoya hit the jet dryer were Dave Blaney, Landon Cassill, Tony Raines and David Gilliland, none of whom had come to pit road with the rest of the lead-lap cars. Irreparable damage to the track or an ill-timed rain cell could have made a winner of Blaney. . . . Edwards and Kyle Busch had to restart from the rear when the race resumed for removing tear-offs from their windshields under the red flag.
1. (4) Matt Kenseth, Ford, 202.
2. (5) Dale Earnhardt Jr., Chevrolet, 202.
3. (2) Greg Biffle, Ford, 202.
4. (31) Denny Hamlin, Toyota, 202.
5. (9) Jeff Burton, Chevrolet, 202.
6. (37) Paul Menard, Chevrolet, 202.
7. (13) Kevin Harvick, Chevrolet, 202.
8. (1) Carl Edwards, Ford, 202.
9. (12) Joey Logano, Toyota, 202.
10. (22) Mark Martin, Toyota, 202.
11. (30) Clint Bowyer, Toyota, 202.
12. (26) Martin Truex Jr., Toyota, 202.
13. (7) Marcos Ambrose, Ford, 202.
14. (32) Bobby Labonte, Toyota, 202.
15. (24) Dave Blaney, Chevrolet, 202.
16. (3) Tony Stewart, Chevrolet, 202.
17. (14) Kyle Busch, Toyota, 202.
18. (43) Terry Labonte, Ford, 202.
19. (41) Tony Raines, Ford, 202.
20. (21) Ricky Stenhouse Jr., Ford, 202.
21. (18) Ryan Newman, Chevrolet, 202.
22. (39) Landon Cassill, Toyota, 202.
23. (33) David Gilliland, Ford, 201.
24. (6) Regan Smith, Chevrolet, 200.
25. (36) Casey Mears, Ford, 199.
26. (38) David Reutimann, Toyota, Accident, 196.
27. (10) Elliott Sadler, Chevrolet, 196.
28. (34) Joe Nemechek, Toyota, 194.
29. (20) Kasey Kahne, Chevrolet, Accident, 189.
30. (11) Michael McDowell, Ford, 189.
31. (19) Jamie McMurray, Chevrolet, Accident, 188.
32. (23) Brad Keselowski, Dodge, Accident, 187.
33. (27) Aric Almirola, Ford, Accident, 187.
34. (15) AJ Allmendinger, Dodge, 177.
35. (40) Trevor Bayne, Ford, 164.
36. (35) Juan Pablo Montoya, Chevrolet, Accident, 159.
37. (42) David Stremme, Toyota, Engine, 156.
38. (29) Danica Patrick, Chevrolet, 138.
39. (28) Kurt Busch, Chevrolet, 113.
40. (16) Jeff Gordon, Chevrolet, Engine, 81.
41. (17) Robby Gordon, Dodge, Engine, 25.
42. (8) Jimmie Johnson, Chevrolet, Accident, 1.
43. (25) David Ragan, Ford, Accident, 1.
Average Speed: 140.256 mph.
Time of Race: 3 Hrs, 36 Mins, 2 Secs.
Margin of Victory: 0.210 Seconds.
Caution Flags: 10 for 42 laps.
Lead Changes: 25 among 13 drivers.
Lap Leaders: G. Biffle 1-9; R. Smith 10-11; G. Biffle 12-14; P. Menard 15-16; D. Hamlin 17-40; J. Burton 41-57; J. Gordon 58; T. Stewart 59-60; J. Burton 61-67; G. Biffle 68-76; M. Truex Jr. 77-81; G. Biffle 82; T. Labonte 83-85; G. Biffle 86-99; M. Truex Jr. 100-101; D. Hamlin 102-129; G. Biffle 130; M. Martin 131-132; G. Biffle 133-138; D. Hamlin 139-143; J. Logano 144-145; M. Kenseth 146-157; G. Biffle 158; D. Blaney 159-164; M. Kenseth 165-202.
Leaders Summary (Driver, Times Lead, Laps Led): D. Hamlin 3 times for 57 laps; M. Kenseth 2 times for 50 laps; G. Biffle 8 times for 44 laps; J. Burton 2 times for 24 laps; M. Truex Jr. 2 times for 7 laps; D. Blaney 1 time for 6 laps; T. Labonte 1 time for 3 laps; P. Menard 1 time for 2 laps; J. Logano 1 time for 2 laps; T. Stewart 1 time for 2 laps; M. Martin 1 time for 2 laps; R. Smith 1 time for 2 laps; J. Gordon 1 time for 1 lap.
Top 12 in Points: M. Kenseth - 47; D. Earnhardt Jr. - 42; G. Biffle - 42; D. Hamlin - 42; J. Burton - 40; P. Menard - 39; K. Harvick - 37; C. Edwards - 36; J. Logano - 36; M. Martin - 35; C. Bowyer - 33; M. Truex Jr. - 33.
---
---