Sat., Jan. 7, 2012
Braeden Havens to drive for Thompson Motorsports on NASCAR K&N Pro Series West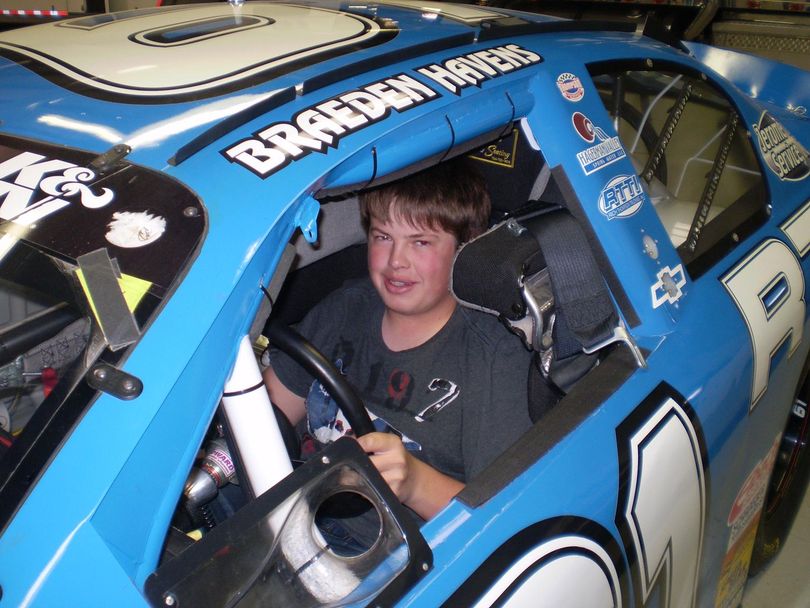 Spokane's Braeden Havens heads to the NASCAR K&N Pro Series in 2012 as he teams with veteran driver Brett Thompson and the Thompson Motorsports team.
For Immediate Release: Killer B Motorsports Media Relations
SPOKANE, Wash. (January 6, 2012)-Braeden Havens, the reigning Inland Northwest Super Stock Association champion, has signed to drive in selected NASCAR K&N Pro Series West events during the upcoming 2012 season.
Havens debut behind the wheel of the Thompson-owned Western Rail sponsored Chevrolet will come April 14 at Havasu 95 Speedway in Lake Havasu, AZ. This year's schedule for Havens includes all of the NASCAR K&N Pro Series short track races and a potential start at Phoenix International Raceway in November.
"It's pretty exciting to know I'll be competing in the NASCAR K&N Pro Series this year," Havens said. "I never thought I would get to this point in my racing career where we're out racing against the best of the best on the West Coast. What a feeling to say I am a NASCAR driver."
Brett Thompson of Thompson Motorsports sees the addition of Havens as a positive step for his race team.
"I've seen what he's capable of and I think he can do well on the series," Thompson noted.
Having a teammate can be beneficial for both drivers, he added.
"You look what Gene Price Motorsports did last season on the short-tracks (including wins in Montana, Las Vegas, Irwindale, Colorado and top-5 finishes in Las Vegas) and you can see there are always benefits in numbers. It will be interesting to see what (Braeden) likes in a car and what I like."
Havens is equally excited about the prospects of having a teammate in his first season on the NASCAR series, he noted.
"Brett is a great racer and has been in this division for some time so with that experience he will be able to help me learn the cars and the tracks. He'll also be able to tell me what other drivers may do (on the race track) since he has raced with them for so long."
Leading Havens team will be veteran NASCAR crew chief, Charlie Wilson. Last season Wilson led Thompson's team to a top-5 finish in the 2011 NASCAR K&N Pro Series West championship standings.
"Charlie has won championships on the West series and has crew chiefed on the (NASCAR) Nationwide Series. We're all still going to work as a team here but Charlie is going to lead Braeden's team in his races this year," Thompson said.
With a strong team around him, Havens looks to be competitive in every race he enters.
"My goal this year (in the NASCAR K&N Pro Series) is to go out and win races. Also, I want to show my abilities and hope to get my name out in front of the right people to move my way up the racing ladder," Havens said.
To reach those goals Havens began working with his new team informally last fall, he added.
"I went with the team to their last race in Phoenix and have been down to the shop to see how they work together. I will also be going to test before the season starts so I can show them my driving style and we all learn to work together on the race track."
In addition to running selected events on the NASCAR K&N Pro Series, Havens has an ambitious schedule behind the wheel of his No. 83 Western Rail Inc. late model. For a complete schedule log onto www.killerb83.com or look for the team's page on Facebook.
---
---