Mon., Sept. 10, 2012
Schumacher earns record setting victory at NHRA U.S. Nationals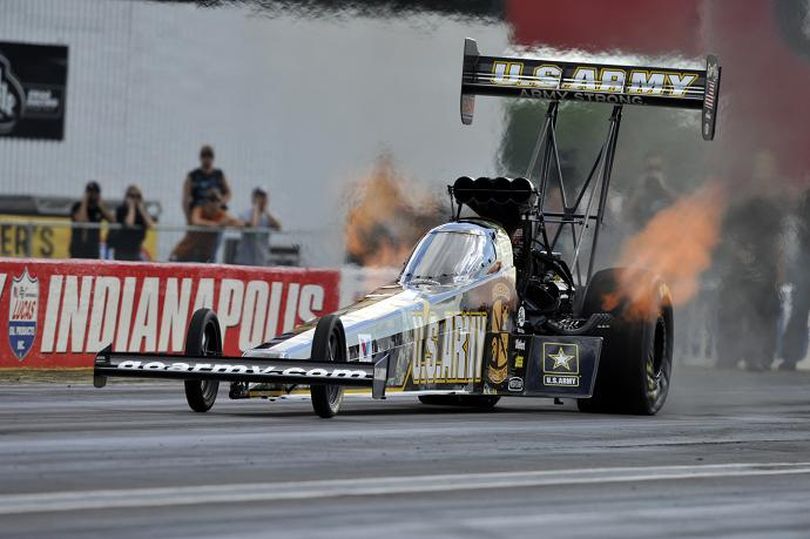 Tony Schumacher moved past "Big Daddy" Don Garlits for most Indy Top Fuel wins and into a tie with Pro Stock great Bob Glidden for most pro category wins at the world's most prestigious drag race. In the final round, Schumacher powered his U.S. Army dragster to a 3.806 at 315.34 to hold off Spencer Massey, who trailed with a 3.828 at 319.37 in his FRAM/Prestone dragster.
Courtesy: NHRA Media Relations
BROWNSBURG, Ind. – Tony Schumacher raced to a record ninth Top Fuel victory Sunday at the rain-delayed Mac Tools U.S. Nationals presented by Auto-Plus at Lucas Oil Raceway at Indianapolis.
Mike Neff (Funny Car), Dave Connolly (Pro Stock) and Andrew Hines (Pro Stock Motorcycle) also were winners of the final regular season event in the NHRA Full Throttle Drag Racing Series.
Schumacher moved past "Big Daddy" Don Garlits for most Indy Top Fuel wins and into a tie with Pro Stock great Bob Glidden for most pro category wins at the world's most prestigious drag race. In the final round, Schumacher powered his U.S. Army dragster to a 3.806 at 315.34 to hold off Spencer Massey, who trailed with a 3.828 at 319.37 in his FRAM/Prestone dragster.
"It may be sweeter [than the first Indy win]," said Schumacher of his second victory of the season and 69th of his career. "Anymore, it's more difficult to win a race, by far, than it has probably ever been. There was a time where we were a tenth ahead of everybody and just needed to not make any mistakes, but the top seven cars are all so close that it's pretty gratifying."
Schumacher beat Hillary Will, Morgan Lucas and top qualifier Shawn Langdon in early rounds to advance to his 11th career U.S. Nationals final round.
"To have a chance to win a ninth against my teammate who was running as good if not better and had lane choice made it a perfect moment," Schumacher said. "I didn't feel like I was stellar on the lights, but I left on everybody, Mike Green [crew chief] made the car run fast, and we got the trophy."
Another Don Schumacher Racing driver, Antron Brown, secured the top seed in the Full Throttle Countdown to the Championship and Bob Vandergriff Jr. held off Clay Millican and Khalid alBalooshi for the 10th and final playoff spot in Top Fuel.
In Funny Car, Neff raced to his second consecutive victory at this event, holding off hard-charging Tim Wilkerson in the final round. The win keeps John Force Racing's domination going at Indy, as it is the fifth consecutive season that a JFR car has won this event.
"This is the U.S. Nationals, and there's something about it," said Neff, who outran Tony Pedregon, Todd Lesenko and defending world champ Matt Hagan to advance to the final round. "You know there's a lot more at stake. You try to tell yourself that it's just another race, but it's not. You can't deny that. It's amazing to me how close everything was to what I went through last year. I didn't qualify real well last year but felt like we were pretty close. I remember getting up on Monday morning last year just not feeling very good. I was talking to my brother last year, saying, 'I dunno. We're really going to have to pull something out of a hat here to do something today.' We were able to do it both times."
Neff took his third win of the season and ninth of his career by powering his Castrol GTX Ford Mustang to a final-round performance of 4.079 at 311.05 to finish in front of Wilkerson's Levi Ray & Shoup Shelby Mustang, which finished in 4.152 at 286.13.
"Tim Wilkerson left on me, and I caught a glimpse of him out of my peripheral at 300-400 feet," Neff said. "When you can see someone in a Funny Car, they're ahead of you. Just when I saw him poke his nose out there, I could see him mixing cylinders. He started going back the other way, and I knew the finish line was coming. I couldn't have pushed any harder on that gas pedal. I didn't even know we won when we crossed the finish line. I was asking, 'Did we get him?" on the radio and didn't hear anything, so I thought, 'Crap. We must've got beat.' As they're pushing me off, the guy at the very end was clapping and pointing toward the TV cameras. I knew it was close and didn't know if I got there first, so there was a lot of emotion going on there."
Wilkerson's runner-up finish elevated him to 10th in the final regular season points and into the Countdown playoffs, along with Jeff Arend, who secured the ninth spot. Defending world champ Matt Hagan just missed making the playoffs as he lost in the semifinals to Neff. Ron Capps earned the top seed in the playoffs in Funny Car.
Connolly used a reaction time advantage to edge teammate Erica Enders in the Pro Stock final round. Enders' full-time crew chief covered the distance in 6.589 at 210.05 in his IDG Chevy Cobalt to finish just in front of Enders, who posted a quicker but losing 6.580 at 210.31 in her GK Motorsports Chevy Cobalt.
"It was definitely bittersweet in the final, to run Erica," Connolly said. "I hope she wins the next six finals, but this was the U.S. Nationals, and there was no laying over. We just somehow, and don't ask me how, we managed to win. We were making pretty ugly runs, and her car was like a bracket car. Our car was not picture perfect by any means, but I'm not giving the trophy back."
It was Connolly's third U.S. Nationals win and the 23rd of his career. The former perennial world championship challenger who is Enders' full-time tuner is running a limited schedule this season in a second Victor Cagnazzi-owned machine. Enders, who has won three races this season, was trying to become only the fourth female driver to win the Mac Tools U.S. Nationals in the Full Throttle Series.
"I was swinging for the fence because I knew I didn't stand a chance," said Connolly, who beat Mike Edwards, Ron Krisher and Vincent Nobile in earlier rounds. "She drives incredibly consistent; she's hard to rattle. She had a .026 [reaction] in the final and that should have been enough for sure. I can't explain what happened to her. I feel for her. You know, like I said, there was no reason why she shouldn't have run a 6.55 again and turned on the win light."
Allen Johnson captured the top seed in Pro Stock for the Countdown playoffs and the final three Pro Stock playoff positions were claimed by V. Gaines, Larry Morgan and four-time world champ Jeg Coughlin.
In Pro Stock Motorcycle, Hines earned his first Indy victory by outrunning Hector Arana Sr. in the final round. Hines rode his Screamin' Eagle Vance & Hines Harley-Davidson to a 6.937 at 191.70 to take the easy win as Arana's Lucas Oil Buell slowed at mid-track and finished in 7.456 at 157.54. It was Hines' fourth win of the season and 29th of his career.
Hines used a string of consistently low 6.90-second runs to defeat Dawn Minturn, Karen Stoffer and Hector Arana Jr. in the first three rounds.
"This is really satisfying," Hines said. "Minus one year, I've raced every year on a Harley. And for us to struggle like we've done here, with inconsistency in tuning and riding, and every scenario possible going against us, like last year when my transmission locked up after the first round burnout, to finally get the Indy win and stand in the U.S. Nationals winner's circle is something I can look back on years from now. I had found the winner's circle four times here with the Pro Bike battle, and to actually stand there with the U.S. Nationals trophy means the world to me."
With the win, the Vance & Hines Harley-Davidson team claimed victories in all 10 regular season events and Krawiec locked up the top seed for the playoffs. Michael Ray, Shawn Gann and Matt Smith claimed the final three playoff positions in the PSM top 10.
"We remained undefeated in the regular season, so [teammate Eddie Krawiec] and I intend to extend our streak," Hines said. "Charlotte and Dallas are two tracks that I've never won at, so those are the last two on my list there. It's a whole new deal now with the Countdown. Luckily I just made up a whole bunch of points on [first place] Eddie, but that doesn't matter because they all get reset. He's 30 in front of me, we've got six races to go, and luckily my motorcycle finally turned the corner and we could have fun with it and tune it."
NHRA's six-race playoffs, the Full Throttle Countdown to the Championship, opens Sept. 14-16 with the O'Reilly Auto Parts NHRA Nationals presented by Super Start Batteries at zMAX Dragway near Charlotte, N.C.
---
---