Mon., April 15, 2013
Larson Withstands Logano Challenge To Win Rockingham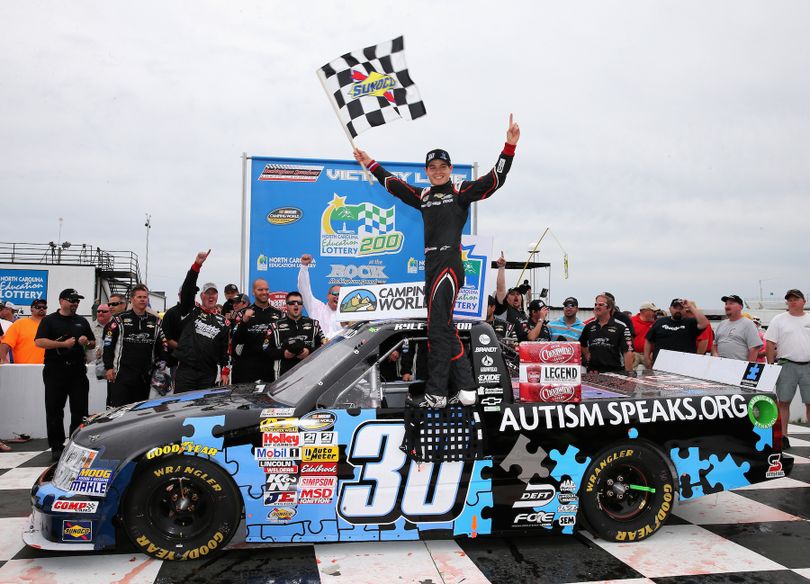 Kyle Larson, 20, won in only his fifth career start in the Truck Series and clearly had the fastest truck in the field all day, leading 187 of the race's 200 laps.
By Joe Menzer
Special to NASCAR wire service

ROCKINGHAM, N.C. -- Kyle Larson thought he was the poor, proverbial sitting duck at the end of Sunday's North Carolina Education Lottery 200 at Rockingham Speedway.

He was wrong, as he held off a furious late-race charge by Joey Logano to earn the first NASCAR Camping World Truck Series of his career in a green-white-checkered finish. Logano, a NASCAR Sprint Cup regular who had much fresher tires on his truck, had to settle for finishing second after spinning his tires on the final restart and permitting Larson to slip away.

"I was pretty nervous on that last restart because Joey was on a lot newer tires than me, and I'm not normally the best on restarts. But I was able to beat him into (Turn 1) and then hold him off for the win," said Larson, the first Drive for Diversity graduate to reach Victory Lane in one of NASCAR's three national touring series.

Larson, 20, won in only his fifth career start in the Truck Series and clearly had the fastest truck in the field all day, leading 187 of the race's 200 laps.

"It's not often that you get to drive a car that dominant, so I know you've got to take advantage of it," Larson said.

Logano did not make it easy, as saving a set of fresh sticker tires for the end of the race nearly paid off for him. The only Sprint Cup driver in the field, Logano arrived at the track in time to qualify seventh after racing at Texas Motor Speedway on Saturday night and finishing fifth in the Cup race there. His pit crew dropped the jack prematurely on his first pit stop, costing him track position, but he rallied from there and bided his time until he could get the set of tires he needed to make his run toward the front.

Logano was one of only two drivers whose teams saved a set of sticker tires for the end of the race, with defending series champion James Buescher being the other. Logano actually fell one lap down before the fifth caution came out and afforded him the chance to pit for the fresh tires. He subsequently restarted in 18th and nearly got caught up in a wreck when Todd Bodine spun in front of him, but then began a frenzied, determined charge through the field over the final 20 laps.

It took Logano just six laps to gain 11 spots, and by Lap 193, with seven laps remaining, he was riding in second and right on Larson's bumper. But after an accident involving Timothy Peters brought out the final caution, Larson beat Logano on the green-white-checkered restart and then held him off for the win.

"I was passing a ton of cars on the newer tires," Logano said. "That's Rockingham for you. That's what makes this race track so cool, because you can play a strategy like that. When we got the last caution, I thought it was playing out perfect for us.

"I just got beat (on the restart). I spun my tires, so it was all my fault. I was so mad at myself. I felt like we should have won this race. We might not have had the truck to win, but we had the strategy to win."

Johnny Sauter, who was attempting to make history by becoming the first driver to win three consecutive races at the start of a Truck Series season, qualified 11th and ran as high as second before settling for a fourth-place finish. Brendan Gaughan finished third behind Larson and Logano, and Chase Elliott rounded out the top five.

Gaughan and Sauter provided much of the mid-race entertainment after a poor pit stop forced Sauter back to 10th. From there, Sauter worked his way back toward the front, passing ThorSport Racing teammate Matt Crafton for third after a spirited battle on Lap 154.

Then Sauter set his sights on Gaughan's truck. But as Sauter and Gaughan battled lap after lap for second as the laps wound down, Larson began pulling away from them and the rest of the pack. Two late cautions bunched up the field again, and allowed Logano the opportunity he needed to get fresh tires on his truck, setting up the duel at the finish.

Sauter maintained his lead in the series standings by 16 points over rookie Jeb Burton, who won the pole during Sunday morning qualifying and finished seventh in the race.
---
---