Mon., Aug. 12, 2013
Kyle Busch holds off Brad Keselowski for Cup win at the Glen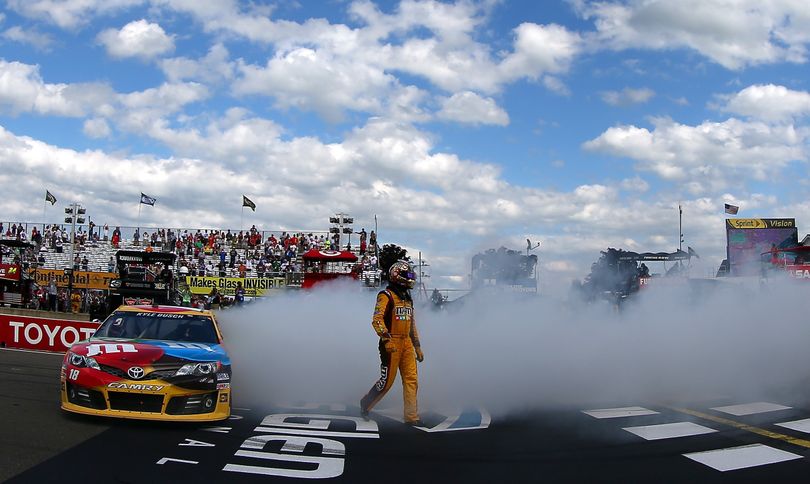 Having surrendered the lead late in the last two NASCAR Sprint Cup Series races at Watkins Glen International, Kyle Busch reversed the trend Sunday in winning the Cheez-It 355 at the 2.45-mile road course by .486 seconds over runner-up Brad Keselowski.
By Reid Spencer
NASCAR Wire Service
WATKINS GLEN, N.Y.--The third time may have been the charm for Kyle Busch, but it was a jinx for pole winner Marcos Ambrose.
Having surrendered the lead late in the last two NASCAR Sprint Cup Series races at Watkins Glen International, Busch reversed the trend Sunday in winning the Cheez-It 355 at the 2.45-mile road course by .486 seconds over runner-up Brad Keselowski.
Ambrose had the race in hand, having led 51 of the first 61 laps, until an inopportune caution in the middle of a pit stop cycle dropped him back to 12th for a restart on Lap 64 of 90. Busch grabbed the lead when Ambrose came to pit road under yellow on Lap 62 and held it the rest of the way.
A wreck on Lap 85 ended Ambrose's bid for a third straight win at the Glen.
Martin Truex Jr. ran third, followed by Carl Edwards and Juan Pablo Montoya. Clint Bowyer, Joey Logano, Jimmie Johnson, Kurt Busch and AJ Allmendinger completed the top 10.
Busch, who was already on pit road when the fifth caution changed the race on Lap 60, nevertheless had to survive a succession of restarts in the final 15 laps before edging Keselowski for the victory in a two-lap shootout. Busch collected his third win of the season, his second at the Glen and the 27th of his career--but nothing about it was easy.
And he can thank Keselowski for resisting the temptation to move him out of the way in the final two corners.
"It was just run as hard as you can, drive your car, try not to worry about what's behind, whatever happens, happens--we'll deal with it," Busch said. "I commend Brad for doing a better job this year at bringing home a cleaner race.
"I felt we ran really hard there those last couple laps. I couldn't get away from him. My car wouldn't turn through the corners as well a s I needed it to. I just couldn't get the front tires to bite, and so he could catch me through the corners. But in the braking zones and exiting the corners, I felt like I was really strong and could get away from him."
Last year, Keselowski spun Busch in Turn 3 with fewer than two laps left, as the cars slid on a glaze of oil. This race was a completely different matter, Keselowski said.
"I could have dumped Kyle and won the race," said the defending Cup champion, who climbed to eighth in the series standings on the strength of the runner-up finish. "That stuff goes back and forth, and I'm sure someone in the tabloid side of the media will make a big deal about that, but it won't be me, because I know I did the right thing…
"It doesn't mean there isn't temptation, but there's a level of respect and a code of honor that you have to have as a man."
The race turned on a dime when Aric Almirola's Ford nosed into a tire barrier after a blowing a tire on Lap 60 to cause a caution that interrupted a cycle of pit stops and knocked Ambrose out of the lead. Kyle Busch, Keselowski, Martin Truex Jr., Clint Bowyer and Kurt Busch had already made their final stops, and that quintet led the field to green on Lap 64.
In fact, Dave Rogers, Kyle Busch's crew chief, credited his race engineers with the call to bring the driver of the No. 18 Toyota to pit road on Lap 59 before NASCAR threw the yellow for Almirola's incident.
"We weren't sure exactly where we were fuel-mileage-wise, so we were going to push to Lap 60, and I've actually got to give credit to my two engineers," Rogers said. "They got talking, and they saw some people sliding around. Steve Hoegler, one of the engineers, said 'There's fluid on the track; you'd better get him in.'
"So it was a last-minute call to get Kyle on pit road, and the next thing you know, there was a caution, so it worked out great."
Absent a threat from Ambrose, Busch pulled away to a lead of more than two seconds before caution for debris slowed the field for the sixth time on Lap 77. The race restarted on Lap 81, with Busch, Keselowski, Truex and Bowyer in the top four spots.
Busch's work, however, was far from over. After the restart, a wild wreck involving Matt Kenseth, Kasey Kahne and Dale Earnhardt Jr. brought out the seventh caution and required another restart on Lap 85.
Contact between Max Papis' Chevrolet and Ambrose's Ford ignited an accident on the restart lap, with Brian Vickers' No. 55 Toyota also collected in the melee. Forced to lead the field to green for the third time in 15 laps, Busch got away on the restart and held off Keselowski in a battle that intensified on the final circuit.
The wildly fluctuating fortunes of Jeff Gordon hit another low point at the Glen. Gordon pulled up behind Denny Hamlin's Toyota as the cars climbed through the esses on Lap 14. Gordon's Chevy twitched left into the Turn 4 guard rail, slid across the track and nosed into the barrier on the opposite side.
The four-time Cup champion lost 23 laps in the garage as his team repaired the car. Though Gordon returned to the track on Lap 37, he finished 36th and fell out of the top 10 in the series standings.
Notes: Not that there was any suspense surrounding Jimmie Johnson's quest to make the Chase for the Sprint Cup for the 10th straight season, but the series leader clinched at least a wild-card spot in the Chase with his eighth-place finish… Max Papis ran 15th subbing for injured Tony Stewart, keeping the No. 14 Chevrolet in the second provisional wild-card spot for the owners' Chase.
NASCAR Sprint Cup Series Race - Cheez-it 355 at The Glen
Watkins Glen International
Watkins Glen, New York
Sunday, August 11, 2013
1. (5) Kyle Busch, Toyota, 90, $236658.
2. (8) Brad Keselowski, Ford, 90, $204876.
3. (3) Martin Truex Jr., Toyota, 90, $161735.
4. (16) Carl Edwards, Ford, 90, $149360.
5. (11) Juan Pablo Montoya, Chevrolet, 90, $132324.
6. (2) Clint Bowyer, Toyota, 90, $135818.
7. (9) Joey Logano, Ford, 90, $118743.
8. (18) Jimmie Johnson, Chevrolet, 90, $131296.
9. (13) Kurt Busch, Chevrolet, 90, $111330.
10. (4) AJ Allmendinger, Toyota, 90, $116018.
11. (6) Jamie McMurray, Chevrolet, 90, $109505.
12. (30) Casey Mears, Ford, 90, $105843.
13. (26) Kevin Harvick, Chevrolet, 90, $123946.
14. (14) Ryan Newman, Chevrolet, 90, $113318.
15. (29) Max Papis(i), Chevrolet, 90, $122210.
16. (17) Greg Biffle, Ford, 90, $92085.
17. (7) Paul Menard, Chevrolet, 90, $107201.
18. (33) Ricky Stenhouse Jr. #, Ford, 90, $123146.
19. (20) Denny Hamlin, Toyota, 90, $92835.
20. (35) Danica Patrick #, Chevrolet, 90, $77635.
21. (31) David Ragan, Ford, 90, $98243.
22. (27) Boris Said, Ford, 90, $87393.
23. (10) Matt Kenseth, Toyota, 90, $110401.
24. (23) Owen Kelly(i), Chevrolet, 90, $92682.
25. (21) David Gilliland, Ford, 90, $75460.
26. (22) Jeff Burton, Chevrolet, 90, $82660.
27. (40) Dave Blaney, Chevrolet, 90, $74435.
28. (41) Landon Cassill(i), Chevrolet, 90, $71285.
29. (37) Alex Kennedy, Toyota, 90, $71110.
30. (25) Dale Earnhardt Jr., Chevrolet, 85, $89460.
31. (1) Marcos Ambrose, Ford, Accident, 84, $117024.
32. (15) Brian Vickers(i), Toyota, Accident, 84, $78585.
33. (39) David Stremme, Toyota, 83, $71435.
34. (19) Kasey Kahne, Chevrolet, 82, $88310.
35. (24) Ron Fellows, Chevrolet, 74, $70160.
36. (28) Jeff Gordon, Chevrolet, 65, $116916.
37. (32) Aric Almirola, Ford, Accident, 58, $106785.
38. (12) Michael McDowell, Ford, Suspension, 58, $64850.
39. (43) Brian Keselowski, Toyota, Brakes, 47, $60850.
40. (38) Travis Kvapil, Toyota, Accident, 41, $64850.
41. (34) Victor Gonzalez Jr., Chevrolet, Accident, 39, $52850.
42. (42) Tomy Drissi, Toyota, Accident, 39, $48850.
43. (36) David Reutimann, Toyota, Engine, 4, $45350.
Average Speed of Race Winner: 87.001 mph.
Time of Race: 02 Hrs, 32 Mins, 04 Secs. Margin of Victory: 0.486 Seconds.
Caution Flags: 8 for 21 laps.
Lead Changes: 5 among 5 drivers.
Lap Leaders: M. Ambrose 1-28; J. Montoya 29; J. McMurray 30; K. Harvick 31-38; M. Ambrose 39-61; Kyle Busch 62-90.
Leaders Summary (Driver, Times Lead, Laps Led): M. Ambrose 2 times for 51 laps; Kyle Busch 1 time for 29 laps; K. Harvick 1 time for 8 laps; J. Montoya 1 time for 1 lap; J. McMurray 1 time for 1 lap.
Top 12 in Points: J. Johnson - 808; C. Bowyer - 733; C. Edwards - 728; K. Harvick - 707; Kyle Busch - 693; D. Earnhardt Jr. - 670; M. Kenseth - 659; Brad Keselowski - 634; G. Biffle - 627; M. Truex Jr. - 625; Kurt Busch - 623; K. Kahne - 622.
---
---